I am the first person you'll see laying out as soon as the weather even thinks about getting warm. Problem is, living in Virginia gives me waaaay less perfectly sunny, not too hot-not too cold days than California. Oh and instead of a year round pool, its open Memorial to Labor day. Just in time for blazing heat.
Enter the answer: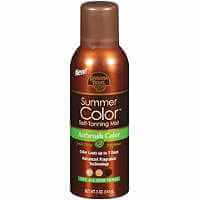 Banana Boat Self Tanning Mist.
When I realized I wasn't the color I want to be for the wedding we are headed to this weekend and that the back of me is much lighter than the front, I went out on a mission. I needed color. Fast.
This stuff was on sale for $6.50 at Target and this week, you get a $5 gift card if you buy 2. I put on a dark bathing suit and sprayed it on in the backyard. I was scared of it getting all over my bathroom! It sprayed great even upside down and I didn't have to rub it in with my hands. I got dressed about 10 minutes after I sprayed it on and nothing got on my clothes. The bottle says color arrives 2-3 hours later, but mine took about 6 hours for me to see the full color. We will see how long it last, but the bottle says it last several days with one application, but 7 days if you apply 2 layers in a row. The color is really natural and a bronze color, not orange. When Hubs got home from work, he asked why I had been laying out in 95 degree weather!
Overall, I am super impressed and just may be addicted. Forget laying around with my huge belly in this crazy heat!
BTW, this is just my honest opinion of this product. I was in no way compensated for this post, but Banana Boat is more than welcome to send me a case of this for the summer. Hehe.