Lacey at Lacey in Love tagged me in a Whats in your Purse? game. Because I am always up for random things to keep me on the internet (ie, I never turn down a survey or a Facebook quiz) I had to do it. Here is goes!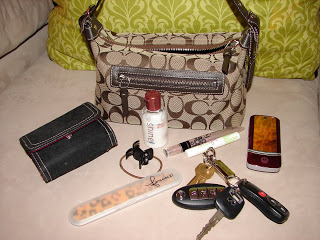 I just changed my purse over to this one so that is why it is not completly crammed with crap. I also carry a diaper bag that gets the brunt of the disaster. Anyway, the things that I can't live without in my bag are:
Wallet (I am in desperate need of a new one and never take the time to actually look.)
Keys (Yep, the same ones that I "lost" last week)
FYI by Arbonne Lipgloss, Strawberry Softlips Chapstick, hair tie and clip.
Forever 21 nail file. No one should be without these. Come on, they are $1.50 for 3!
Shine by Bliss Mandarin and Mint lotion. It smells so yummy.
Last but not least, my phone. My ancient Moto flip. Haha. I will have it 2 years in the fall and am totally switching then for something new. And fabulous.
That's all folks. Pretty unexciting!
The rules are to now tag 6 other people to show their goods!
April @ Dot…Dot…Dot…
Kate @ Bless this Nest
Summer @ Sublime Happiness
Jen @ Tatertots and Jello
Kelly @ Carty Party of Three
Brandi @ The Life of a Small Town Girl
Okay, lets see it girls!
I have been MIA over the holiday weekend, but am catching up and will be back into the swing of things this week. I will get up some pics of girls night out in the next couple days. It was a blast!