Last Thursday, I spent about 14 hours straight cleaning my house and going through those last few pesky boxes that had yet to be unpacked. At midnight, I painted my nails and fell into bed, wondering what kind of crazy person agrees to 16 people in their house for the weekend. But when the doorbell rang Friday morning, I was oh so glad I did!
A few of the families from our old neighborhood in Virginia made the trip down to North Carolina to see us. We really made some awesome friends there and as sad as it was to move away from them, it makes me so happy that we are continuing our friendship.
Friday morning, a handful of the people got their early and we headed to the lake.
(But first…let me take a selfie.)
We spent a few hours trying to flip people off our quickly deflating tube and floating around the lake.
Oh and beer drinking.
By afternoon, the whole crew had arrived, we ate great North Carolina style BBQ for dinner and I was glad I had decided not to cook. It was delish! Apparently, I was more tired than I realized, because when I went to take Cooper to bed, I blinked too long and didn't come out till the morning. Whoops.


Saturday, the whole gang loaded up for a full day on the water.
Callan did his typical boat nap on a bed of beach towels.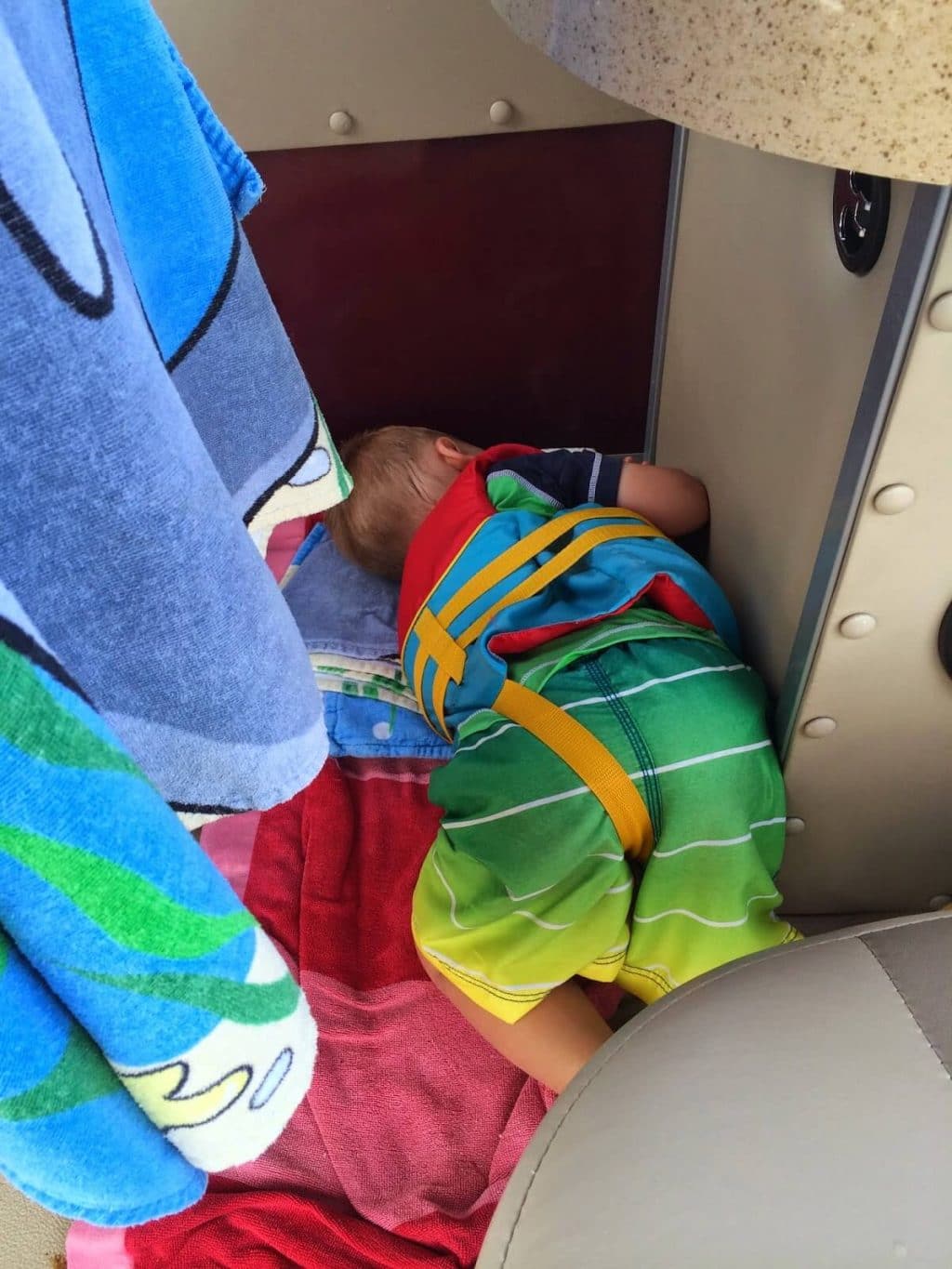 And when everyone else went to a little restaurant to grab some food, I got a little down time with him.
We stayed out until the sun went down, ending the night with music, dancing and grilling dinner at 10pm. The hubs and I spent Sunday napping, between loads of sheets and towels. It was an amazing weekend!
All the guest loved these baskets I made up for each room. I love feeling really comfortable when I go places and I think having a few necessities in your room when you travel is really nice!
I had to show you these downright bad for you dessert that I made when they were all here. Cookie dough, smushed between pretzels, dipped in chocolate and chilled. I would have a better picture except, as you can imagine, they didn't last long at all!