Today is very exciting, because Heather (from My Life Well Loved) and I are kicking off our May collaboration for Mom's Naptime Power Hour! Each Monday in May, we'll be on our blogs sharing helpful ways to encourage each other in motherhood, with housekeeping, fashion, parenting and more! On Tuesday at 1pm est, we will be chatting on Facebook live to answer all of your questions! If you have any, leave them in the comments or shoot them over on social media!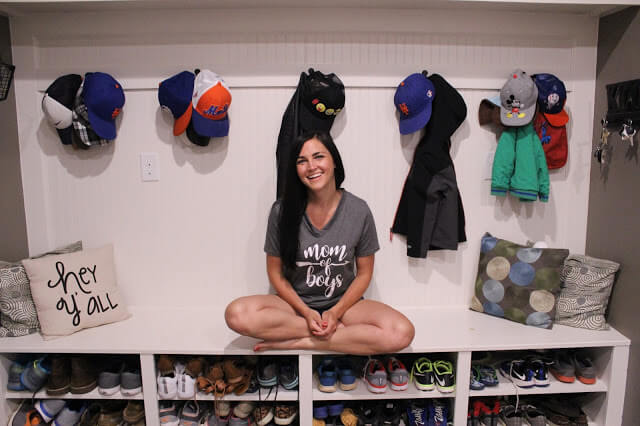 Now I'm going to jump right into the nitty gritty! Growing up, when people asked what I wanted to be, it was a wife and mom. It wasn't until later in my teenage years that I decided I wanted to be a nurse. That's a profession that I'm so grateful to have I have if I ever want to get back into it. But for now, I'm getting to live my childhood dream. My dream was a bit more fancy, with a white picket fence and kids that never talked back to me, but I'm really grateful for this life of motherhood, with a side of housekeeper! And let me tell you. My role as housekeeper is a big one with 3 boys!

One thing I am very grateful for, is my mom teaching me everything I needed to know for this life I live. It may seem old school, but honestly, I'm a little on the old school side myself. I enjoy that traditional housewife role and while my my marriage is more of a partnership than a 50's housewife's was, June Cleaver and I have a lot in common.
My goal with keeping the house intact, is to be as organized as possible.
I meal plan, have a
cleaning schedule
and keep more than one calendar. I like making lists and crossing things off. I would host people at my house all the time, if we didn't live at the ball field and my friends have referred to our house as a bed and breakfast on more than one occasion!
Now, I know not everyone enjoys this kind of thing. But most of you reading this have the same responsibilities that I do. The house has to be cleaned, the meals have to be made and the kids have to have the dirt scraped from between their toes. So, why don't we make our lives as easy as possible?
I keep this DIY dry erase calendar on the wall in the mudroom,
which is arguably the busiest room in our house. It holds shoe storage, backpack drop offs, homework holders, calendars and meal plans. It's the entrance we always use and the only room we wear shoes in. You have to pass through this room on the boys direct route from the car to the bathtub, so there's a lot of boy dirt in it! I love being able to look at this to quickly see our schedule, color coordinated to each family member. I also keep the meal plan on it, so that I don't get asked what we're having for dinner 73 times a day.
I do have to admit that things aren't super tidy around here (I do have 3 boys!), but they're usually clean. I just recently got this Bona Hardwood Floor Mop that I'm loving for fast and easy cleaning of my floors. We have hardwood on the majority of our first floor and between dirt and dust, they're a chore. I love that this mop has dusting cloths you can attach, as well as a microfiber cloth to mop, so it's really an all in one. Bona Free & Simple is a hypoallergenic cleaner that is free of scents and dyes and that makes me feel really comfortable using it on my floors, especially around where food is dropped. We are very lenient with the 5 second rule around here!
What are some of your favorite ways to stay on top of housekeeping? Leave them in the comments below and also message any questions you want answered during our Facebook Live tomorrow!


Bona would like to invite you to get in on the conversation by submitting your best tips and tricks for a chance to win a $100 worth of Bona products or $500 a day! Make sure to check out Bona.com for all the details!


Thank you Bona for sponsoring this post.
All thoughts and opinions are my own.