Well, it's been 1 whole week and I can say this Whole30 thing is way easier than I thought. Sure I've had my moments of wanting junk, but I feel good. Here is my diary of thoughts and foods for the first week!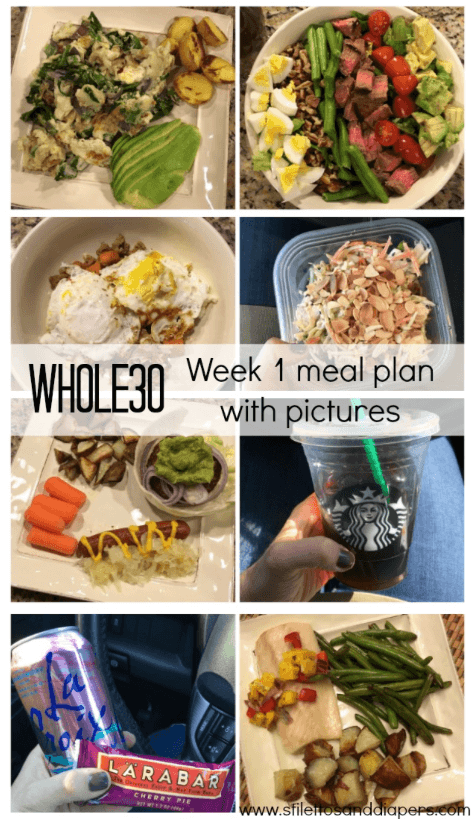 Day 1: I'm feeling pretty good. Pretty baller, actually. My coffee was terrible with a splash of coconut milk this morning. I brewed some creme brûlée flavored stuff this afternoon and it's way better black. Is that even allowed? Whoops. My meals were all really good, but I'd love some dark chocolate.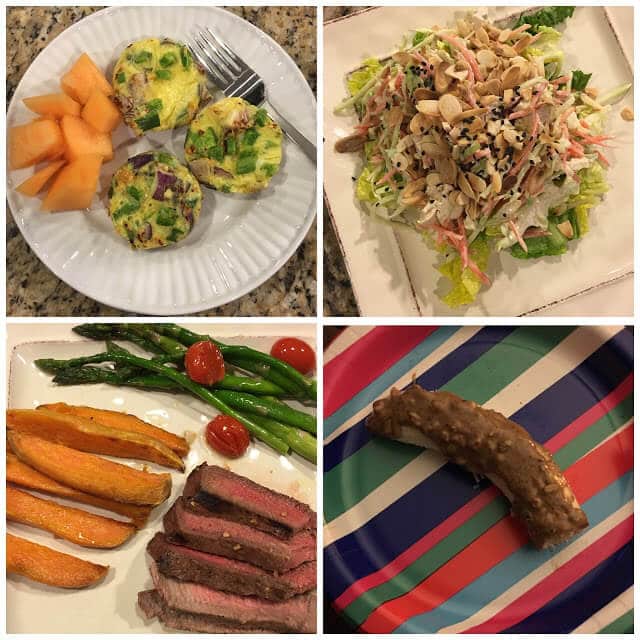 Breakfast: Frittata Muffins, cantaloupe
Lunch: Oriental Chicken Salad (I added some regular lettuce and broccoli slaw instead of purple cabbage in the recipe) *Edit – this recipe isn't on her site anymore, but there's a link where you can download this recipe.
Dinner: Flank steak, asparagus and cherry tomatoes, roasted sweet potato wedges
Snack: Banana with almond butter
Day 2: I'm surprised that I don't feel starving. I did notice last night that my wedding ring slid right off at bedtime without it's normal nighttime tightness. I do have a little bit of a headache, but maybe I'm detoxing?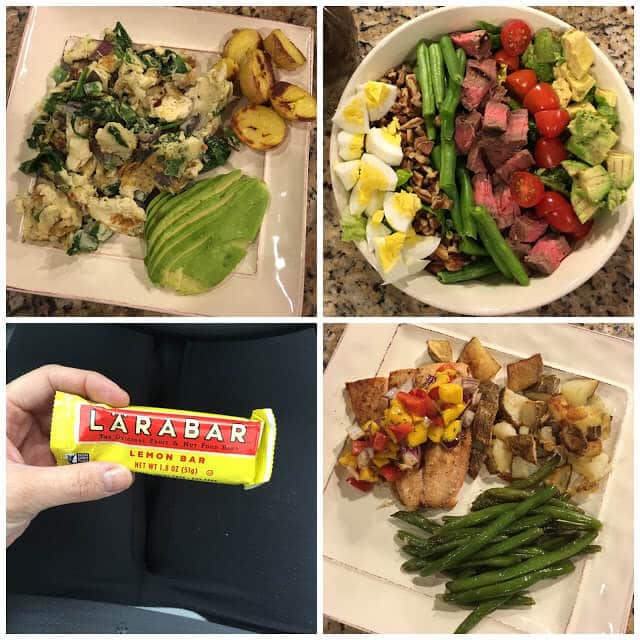 Breakfast: Scramble with peppers, onions and spinach. Side of 1/2 avocado and sautéed potato rounds.
Lunch: Salad with leftover flank steak, cherry tomatoes, boiled egg, avocado, green beans, pecans and homemade balsamic vinaigrette.
Dinner: Wild salmon with mango salsa, roasted potatoes and green beans.
Snack: Lemon bar Larabar


Day 3: I'm in the mad at everyone phase. I thought it took longer for that? Haha. I have a headache and feel bloated. Which is so not cool. Doesn't help that The Hubs is gone and I'm solo momming it tonight!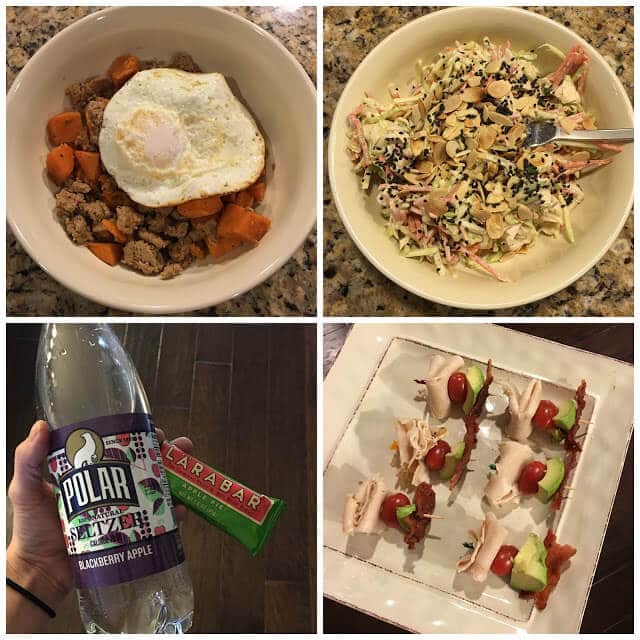 Dinner: Turkey, bacon, tomato and avocado skewers
Snack: Apple Pie Larabar and seltzer


Day 4: My head didn't hurt at all until a little at night. I ate a ton of snacks today, but I'm not giving myself a hard time for that. It's all healthy and I'm breastfeeding, so lay off me! (I kid!)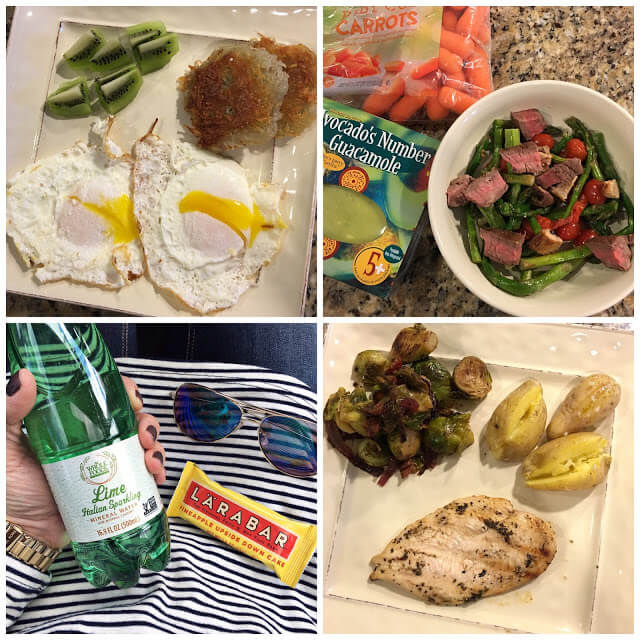 Breakfast: 2 eggs over easy, homemade hash brown patties and kiwi.
Lunch: Random leftovers: steak, asparagus, tomatoes, plus some carrots dipped in guacamole.
Dinner: Grilled chicken, marinated in olive oil, lemon juice and basil, baked new potatoes and brussel sprouts with red onion and bacon.
Snack: Pineapple Upside Down Cake Larabar and lime seltzer.


Day 5: I feel really good. I feel alert and wide awake, even though I wake up 4-5 (or 12) times a night with Lincoln. My stomach is flat and my headache is gone completely. I went through Target today and felt so good for not buying crap! Then I headed to the car and ate the salad I packed for a busy day.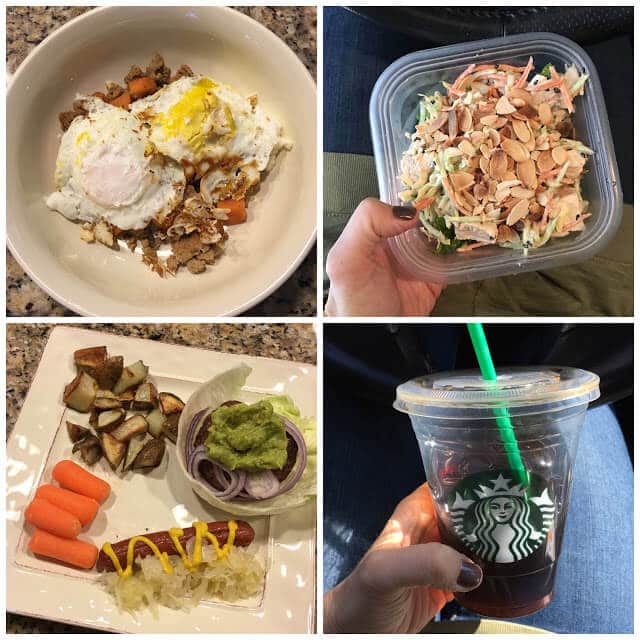 Breakfast: Sweet Potato Hash, 2 fried eggs
Dinner: Burger on lettuce "bun" with guacamole and onion, hot dog with sauerkraut and mustard, carrots and roasted potatoes.
Snack: Black iced coffee and an apple later on.
Day 6: The Hubs threatens to quit all the time, which is tempting…but I feel good. I'm wanting to see it through. I feel like my head is less itchy, surprisingly. Not less flaky, so we'll see what time does for that.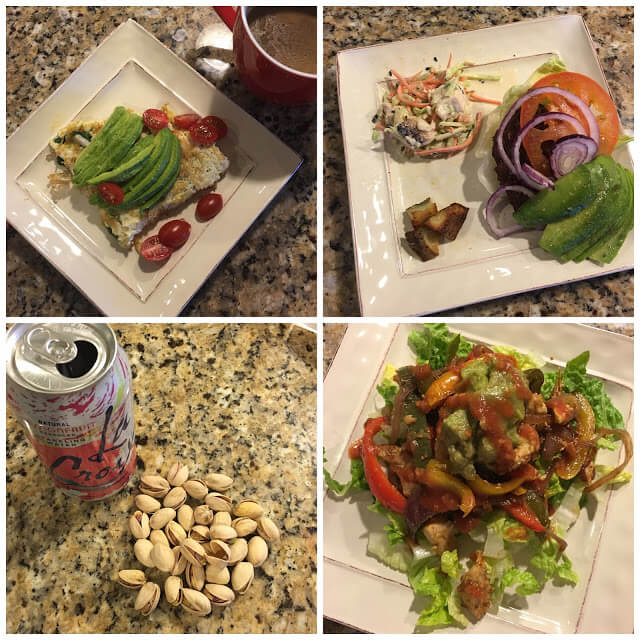 Breakfast: Spinach Omelet, topped with avocado and cherry tomatoes.
Dinner: Fajita salad: lettuce topped with sautéed chicken, peppers and onions, guacamole and salsa.
Snack: La Croix and pistachios.
Day 7: We rushed out the door for church, but I had made boiled eggs and sausage patties the night before, thank goodness! The Hubs sister was in town and we went out to lunch with her. It was our first time eating out on this, but I was happy and felt good sticking to the plan!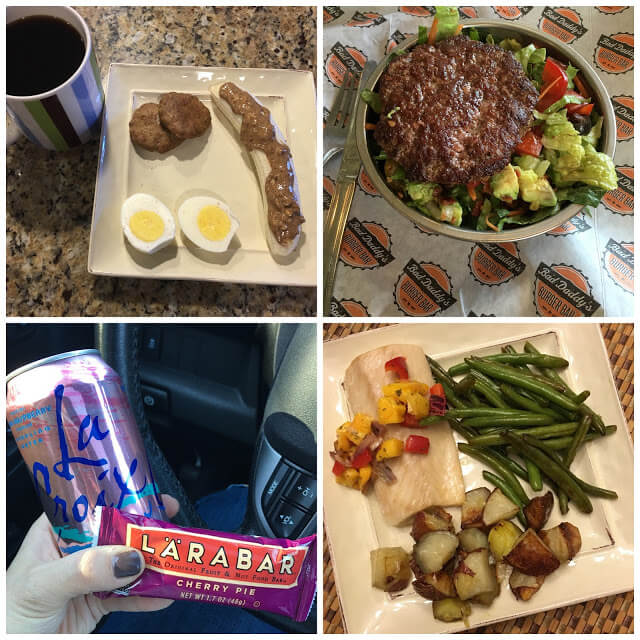 Lunch: Out! Ordered a build your own salad with romaine, avocado, red pepper, red onion, carrots, black olives, tomatoes, tossed in oil and vinegar, then topped with a plain burger.
Dinner: Mahi Mahi with mango salsa, green beans, roasted potatoes.
Snack: La Croix and Cheery Pie Larabar
The biggest part of success is being prepared and support. Be ready for meal times to prevent being hungry and support when you're ready to throw in the towel. My friend Lisa, as well as some local friends are doing it at the same time as me and have been a HUGE support during the tough times!
Some tips to get you started:
-Buy tons of meat, potatoes and veggies.
-Trader Joes had the best selection of compliant foods for decent prices. Grab their coconut flour, dried, unsweetened fruit, dried plantains and cauliflower rice.
I have a few new recipes I'm excited to try this week and will post again next Monday with week 2 progress! I also have a list of the things I think I'll add back in and things I'll leave out, but I'm absolutely sticking to a version of this long term. I feel that good!
FYI, tomorrow's post was written far before Whole30 started. You'll see why! 🙂