This July Amazon Haul is filled with Summer pieces at affordable prices from dressed up to casual, there's something for every wardrobe.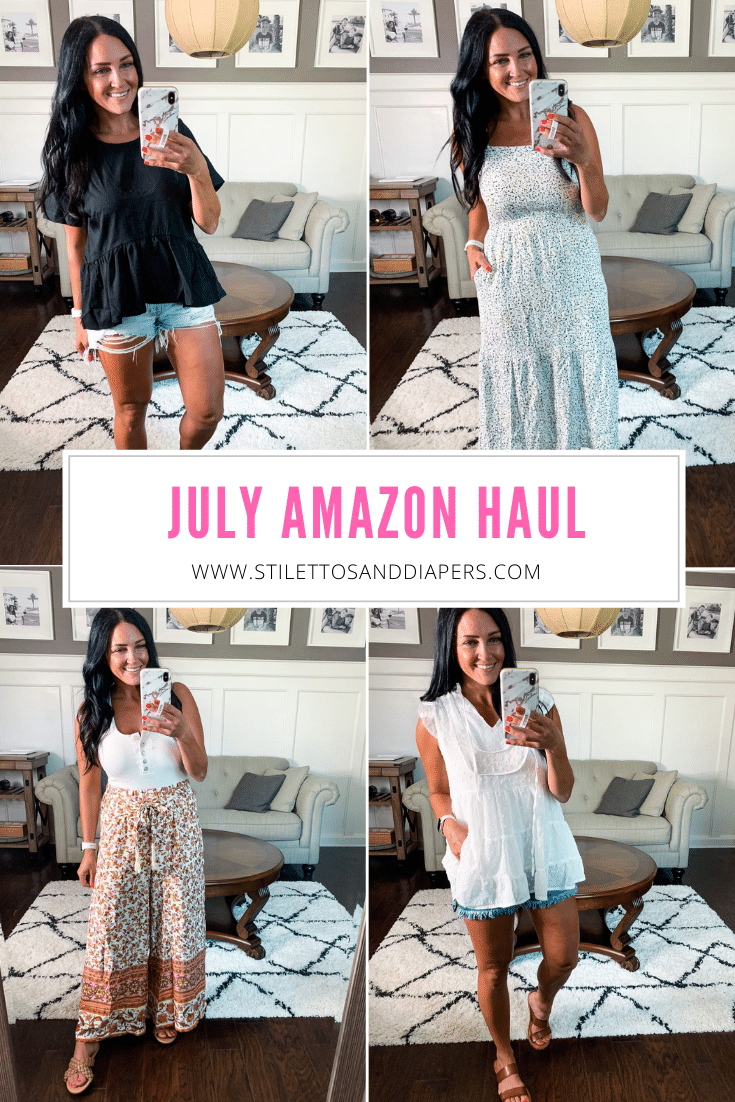 I'm not going to cry over the fact that this is my last big Amazon haul in this room! I can't believe we're moving so soon, but once we get in the new house,  I'll have an even better spot to show y'all my picks! There were lots of requests for things that were a bit dressier and Summer tops. You can watch the try-on over on Instagram if you want to see video of the pieces. I hope you find some things you love in this mix!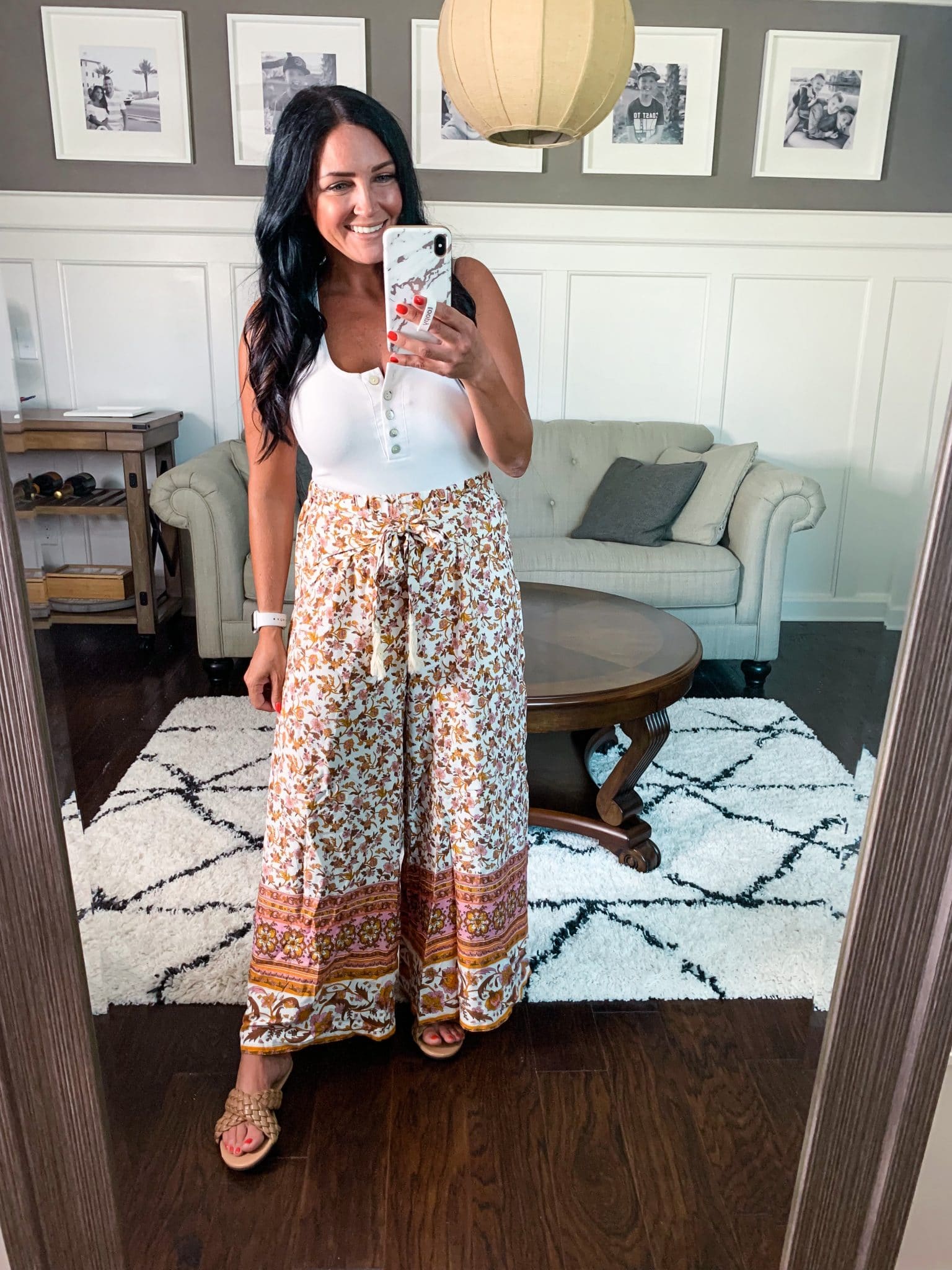 I've had these pants for a few weeks and really love them. They look skirt like when you're standing still and are very flowy. (Is flowy even a word?) They have an elastic waist with the wide tassel tie. They have lots of other color patterns as well.
This skirt is top rated for petite skirts. I do love that it's not hitting the floor for me! It's also a great skirt that can really be worn at whatever spot on the waist you'd like and the length would work for any height! It has an elastic back so it's a comfortable, easy fit. It also comes in several other floral patterns and colors.
This dress is a really cute summer option that also comes in other patterns as well as solids. It has wide straps, a zipper side, and pockets! It fits true to size, but if you're in between and larger in the bust, I would size up.
This dress is SO good, y'all! I wore it to our going away party last weekend and it's flattering and comfy. It's fitted, but not bodycon tight and comes in a bunch of color options. The front tie is functional, but wraps over a closed dress, so it won't fly open on you.
Peplum Top | Slightly Oversized | Small
Really love the versatility of this top! You could absolutely wear it with jeans and heels for a date night, or casually for every day wear. It has a keyhole on the back neck and comes in several colors. The listing has a couple different sleeve lengths and I got the shorter one.
This blouse is adorable! I wore it with jeans and heels for The Hubs birthday dinner. It comes in lots of colors, sleeve lengths and even different necklines. It is fully lined and has ruffle detail on the shoulders. A perfect summer piece!
Two strap slide sandals are a comfy basic that comes in 3 different color options. They are a steal at under $20!
I needed a better still photo of the shorts, but you can see them more in my Instagram try on. They are cute as well as super comfortable, but have more fraying on the bottom than it seemed like in the listing. I do love the side slit, the fact that they have a bit of stretch and the amount of distressing on the front.
Grabbed this cropped tee on a whim and I really love it! It's not super cropped and covers plenty well with my mid rise shorts. The sides have ruching with drawstrings and it comes in a couple other colors. I think it would look cute super casual with biker shorts too!
This is a cute basic that comes in lots of colors. It is a bit wider on the bottom, making it perfect to tie up, or wear long over leggings. It's very versatile and I ordered it in white for fall layering.
LOVE a good jumpsuit and this one checks all the boxes! Adjustable straps make it a perfect fit for any torso length. Button closure on the top, functional waist drawstring, pockets and jogger bottoms. It comes in lots of color options and would be so cute with a denim jacket for a cooler night.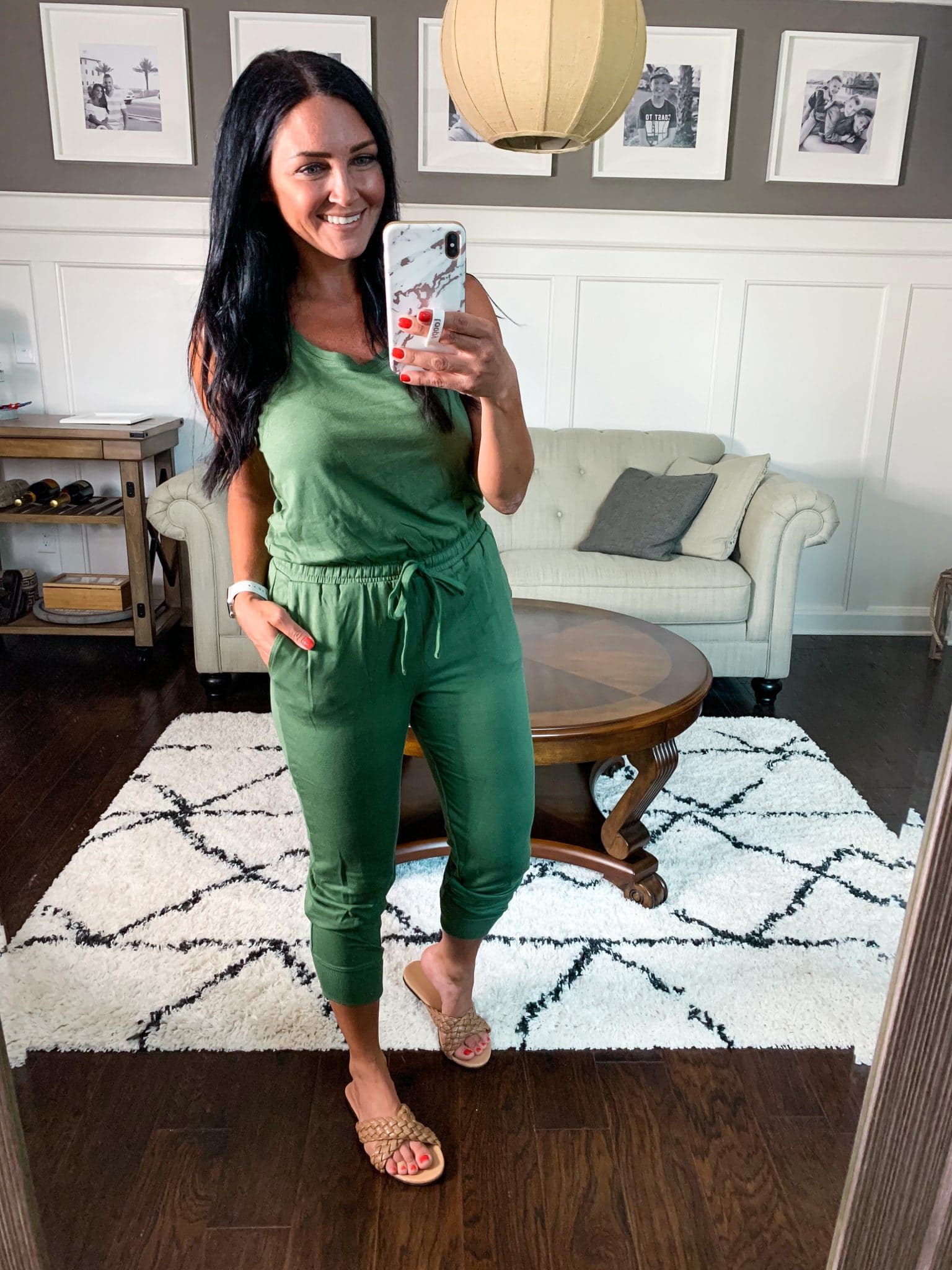 This jumpsuit is a bit thicker, with more of a sweatshirt feel. It is very comfortable, easy fitting tank style top, functional drawstring and pockets. It comes in lots of colors as well as a romper version that I also have!
I've been wanting white running shorts and these are a great pair! They give me a lot of Lulu vibes, while being under $20. They have a high rise waistband with a back zipper and 3.5″ inseam. They are a bit on the thin side, but that is my favorite for running. They also come in several other colors.
The top is a style that I love for working out with the tie in the back. It keeps the shirt from flying up everywhere and gives you some extra air flow in the back. I have a couple other colors in this one and it comes in tons of options.