It's finally time for fall clothes around here! Light fall clothes, but fall nonetheless! I went with all the great hues we are craving to wear as it cools off, but stuck to lighter fabrics and pieces that can be layered for those like me who are still feeling summer temps!
September Amazon Haul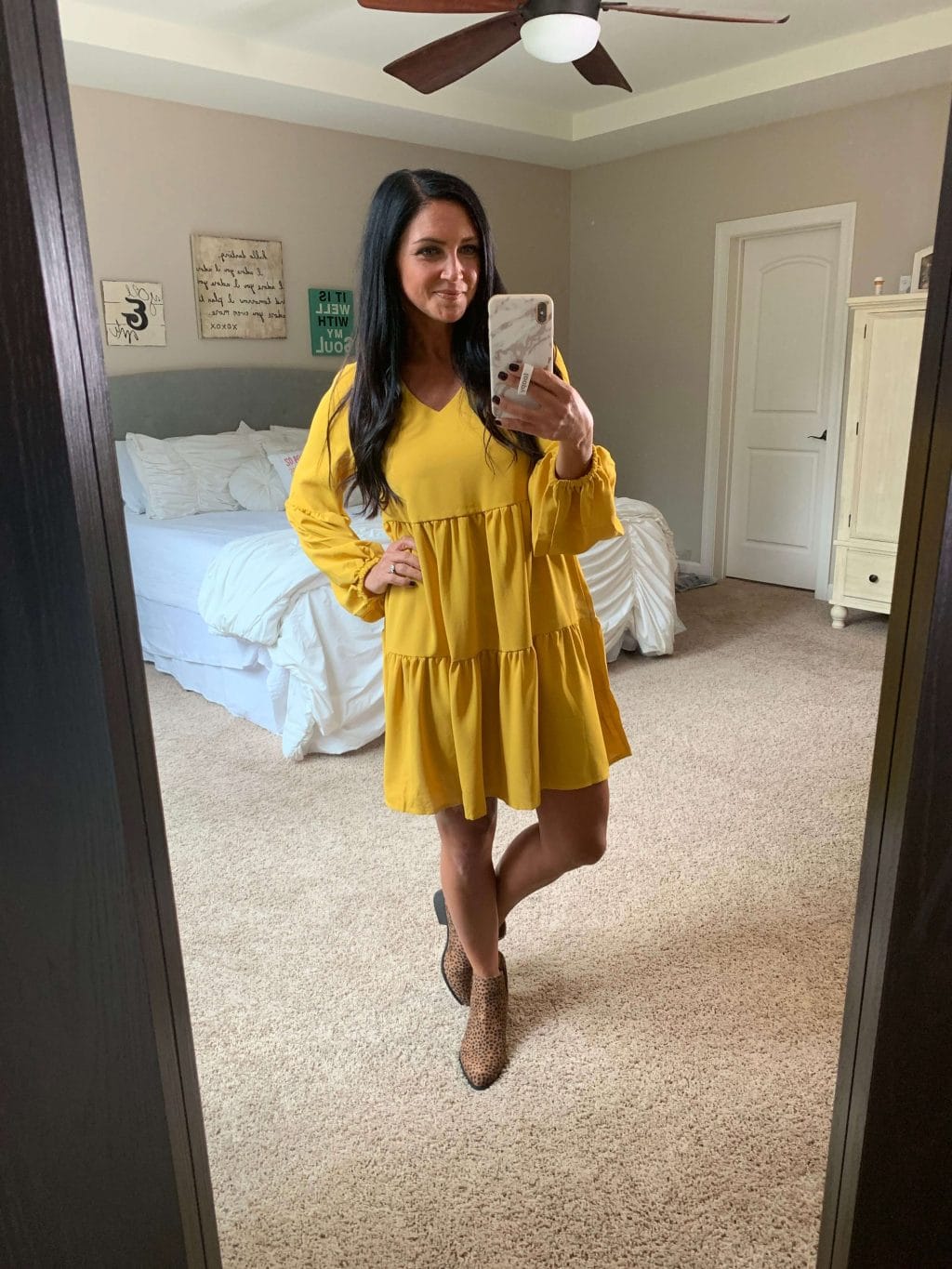 This is my second of these dresses! I got the navy blue last fall and I'm crushing on this mustard color. This is a great pick for Thanksgiving dinner, as you have plenty of room for a turkey baby. This would also be great for an actual baby bump.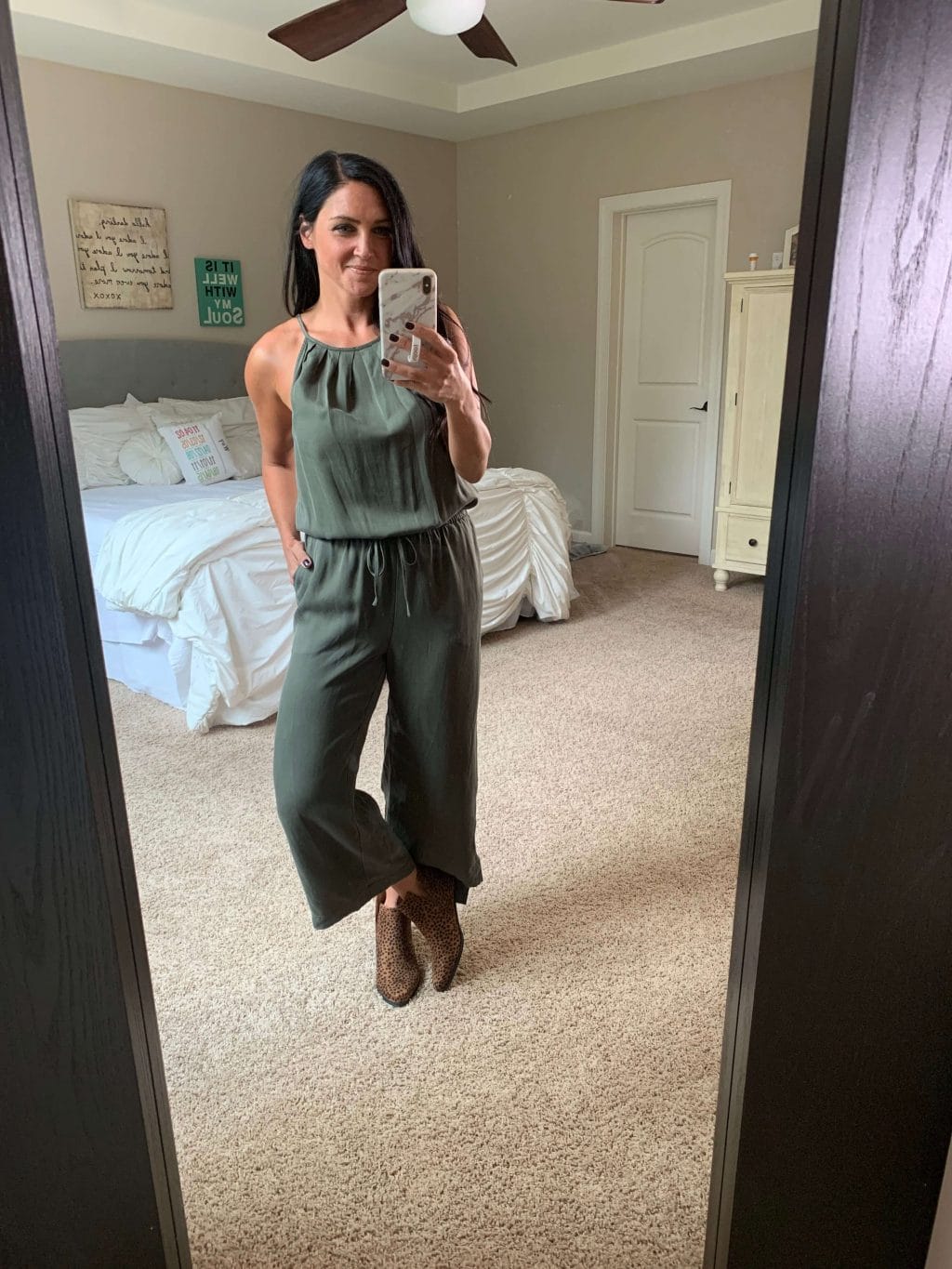 This piece looked big when I pulled it out of the bag, but the back zipper and adjustable waist really give it good shape! The drawstring allows you to tie the waistline where you like, making the length very adjustable to your height. It also works great with a denim jacket!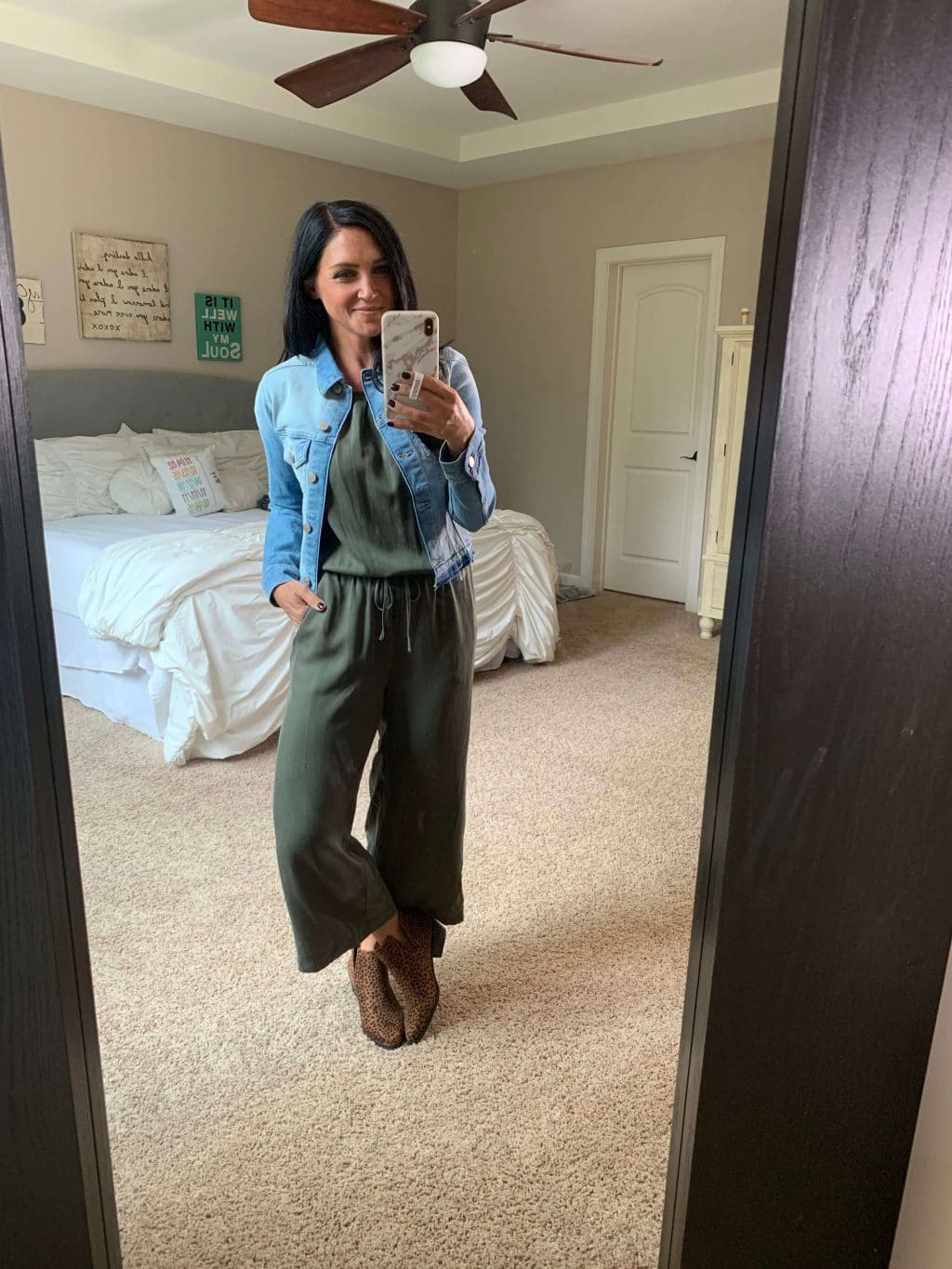 I wanted a cropped denim jacket to wear with jumpsuits and higher waisted pants and this one fit the bill. I love the frayed bottom and the little bit of stretch that makes it comfortable.
I am in love with this jumpsuit! This photo is actually after it's been worn, washed and dried and it didn't shrink or fade at all. I've worn it a couple times already. It's great for traveling and is so comfortable.
I got this for my sister's bachelorette party and wanted to love it so badly! I am sharing because I think it's a really pretty and fun piece, it just doesn't work for me. If you are taller than me (5'2″) with even average sized hips, I'd say give it a shot! I am really straight and my hips just didn't fill it out enough. I do love the satin top mixed with the dress pant bottom and it would be so cute for a night on the town!
What a fun twist on a basic pump! These are perfect to accent a little black dress, or a casual jeans and black tee outfit! They fit true to size and are an absolute steal.
I adore this fun twist on a basic sweatshirt! It is open all the way up, so you could pair it with a lace bralette, or a tank top underneath. It has a bit of stretch to hold it's shape and comes in several colors.
Camo Pullover | TTS | S | Color: Light Green
I've been eyeing this sweatshirt for awhile and it's just cozy cute. I can see myself wearing this on our fall beach trip with cutoff shorts, or with leggings for endless carpool days. It comes in several different prints and colors, including a cute leopard.
Who's ready for a break from skinnies?! These jeans are very impressive and fit so well. The length is a tad long on my short legs, so I cuffed them a bit. They fit true to size and come in a few washes, including some non distressed versions.
I got this camo jacket from the Nordstrom Anniversary sale and loved wearing it in Vail so much! I thought it would be good to have a solid one, so I grabbed this one in navy blue. It's very oversized, as the XS is a bit big on me. But the quality and cut are so similar to the Nordstrom one and it's a great price.
I adore this lightweight cardigan for fall! The colors are so similar to one currently at Madewell at a fraction of the price! I love the length and that it doesn't add bulk to my frame.
Waffle Knit Top | TTS | Small | Color: 04 Army Green
I'm actually wearing the sleeveless mustard version of this right now! It comes in lots of colors and is a fun twist on a basic top. It could be worn with jeans more casually, or dress it up a bit with black skinny pants and heels.
I'm a star fan, so this sweatshirt immediately went into my cart. I like that it's not too wild, with the stars only on the sleeves, and that it's more on the lightweight side. I can wear it now with shorts and later with jeans or sweatpants.
This basic tee with a twist is under $15 and so cute! It has a grommet so you can tie the side up as tight as you'd like it to be. It has the comfort of a t shirt, with the style of a more dressy top.
This is a dupe for the popular O rings, but I love this one even more with the cute pattern and tassel! There are actually tons of patterns and colors available. I love that I can have my keys on my arm and still hold a little hand and groceries in the parking lot.
Other pieces I'm wearing in this post:
Hope you like these September Amazon haul picks! If there's anything specific you're looking for, dress clothes, workout gear, etc, let me know for next month!