What a wild and crazy, packed boy mom weekend we had! Friday, I finished the longest run in my half training and hit 10 miles. It was crazy hard, but I felt surprisingly good afterwards and wasn't even sore! But the next day, I ran a 5k with Cooper and I felt like I had cinderblock legs! Coop was in the sprinter club at school this spring and this race was the final run of the season. I asked if he wanted me to run with him and he did! But as the gun went off, so did Cooper. He left me in the dust before the start line, that stinker! When I crossed the finish line, he had been there over 2 minutes! His cousin is the fastest runner in New York state, so I think he might have a big leg up on me, genetically!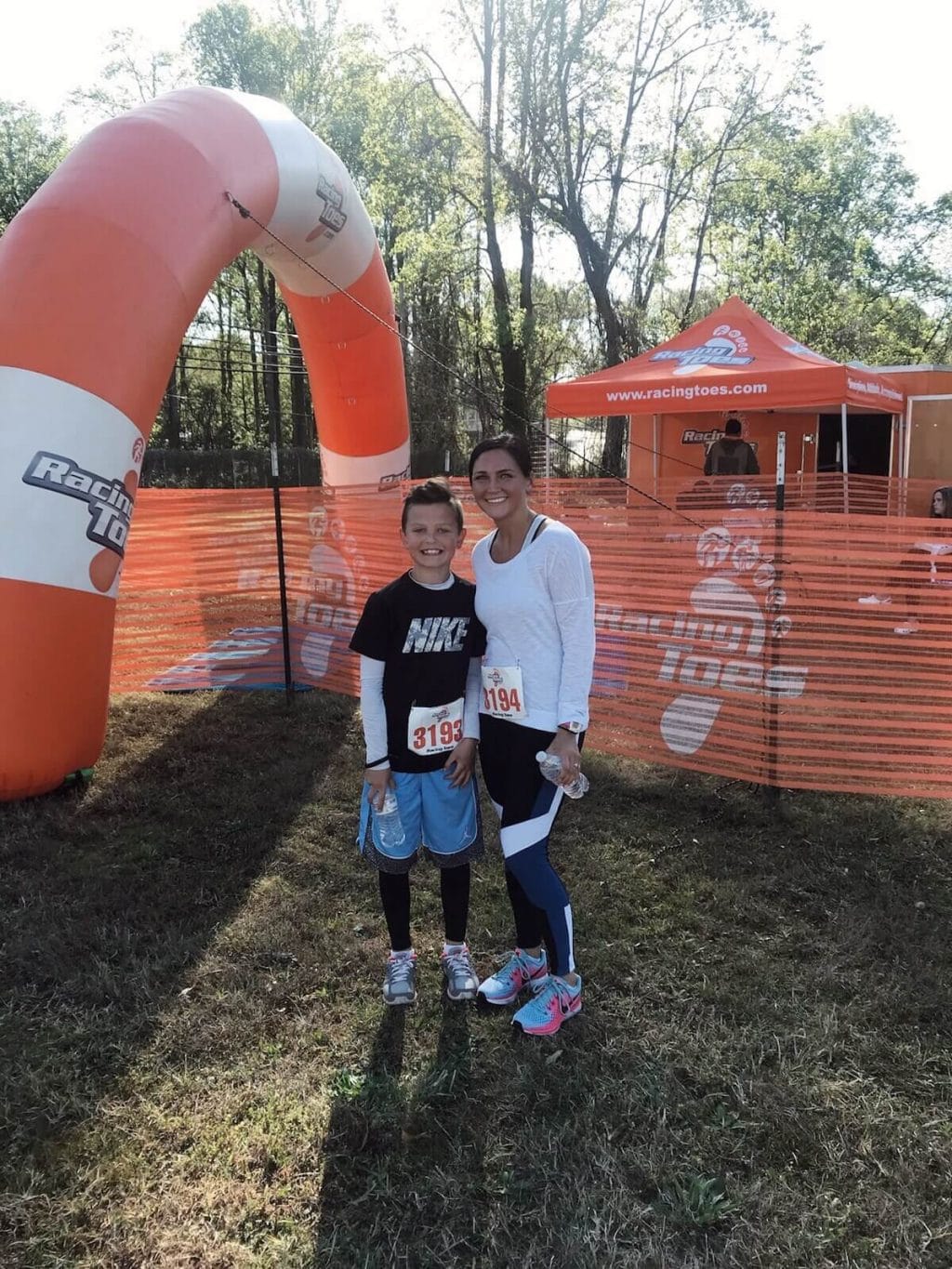 He finished first in his age group and I couldn't be more proud of my boy. He cheered hard for me when I got a metal for second place in mine, too!
As soon as the race was over, we met at the ball field to see the tail end of Callan's game, followed by Cooper's. He even pitched a bit in that game and they won by a landslide.


As soon as the game was over, we ran home, threw our suitcases in the car and headed to Atlanta! We went to see the Mets play the Braves at the new SunTrust Park as part of Cooper's 10th Birthday celebration. We got to the hotel and had Cheesecake Factory deliver pasta and way too much cheesecake to our room. Trust me, at 8:30pm, delivery dinner and the bottle of wine you packed in your suitcase is an amazing alternative to sitting in a restaurant with kids that just spent 4 hours in a car!
Sunday morning, we got up and walked over to The Battery Atlanta. It's a great area with plenty of restaurants and shops surrounding SunTrust Park. The boys played in a wiffle ball game while we waited to get into the stadium. Once we got in, they ziplined, played some arcade games and we got to our seats for some ball park eats.
It started raining about an hour after we got there and the forecast didn't look good. They put a tarp out and delayed the game for a couple hours…until they postponed it all together. We knew there was a chance of that before we left, but decided we were going to go and have a great time regardless. And a great time we had! As we left, Cooper seemed sad, until he realized that we'll be going back in 5 short weeks for the makeup game! Thank goodness it's such a great place to visit and an easy drive from Charlotte!
I realized this trip, more than ever, how much I'm starting to look more like the kids than the grown up in pictures. How are my kids getting so big?! Cooper will be 10 on Friday and this week is all about prepping for his big day and a little party we're having this weekend. Honestly, the big 10 is hitting me hard. 8 years until he's going to college. 8 years of summer vacation with him still living here. I'm trying to not be too sappy, but that's not entirely possible with me! Every memory seems to be making more of an impact lately. I feel like one day we'll say, "remember when we drove all the way to Atlanta and the ball game didn't even happen?" Haha.
I never thought I would live this boy mom life, where weekends are spent at the ball field and vacations are spent on traveling to ball fields. But, I literally can't imagine any other way. My whole world has become this life and I wouldn't have it any other way!