Welcome to Anchors Awey!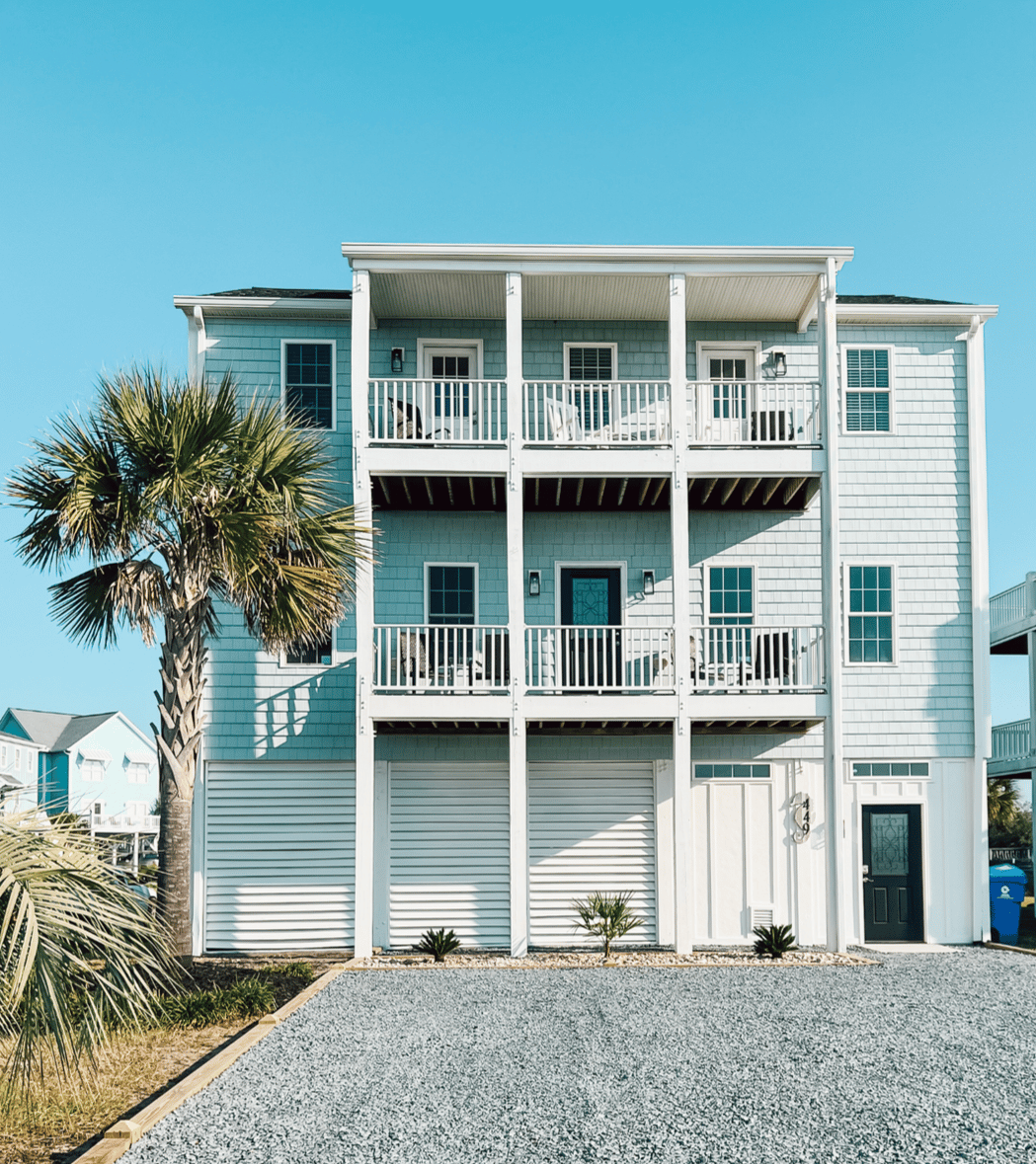 I'm so excited to share with you pictures of our new beach house in Ocean Isle Beach, NC! Anchors Awey is so special to us and we've literally poured our hearts (and manual labor!) into it for the last 9 months. I told y'all when we made the sight unseen purchase, but I wanted to give you a look inside what was and what is! The house is only 4 years old and was owned by the builder. The bones are so good and our inspector was very complementary of the build, but the house just had not been well maintained. We knew it needed a full paint job and the deepest clean known to man. We ended up doing quite a bit more than that to get it just how we wanted it to look and we are THRILLED with the final result!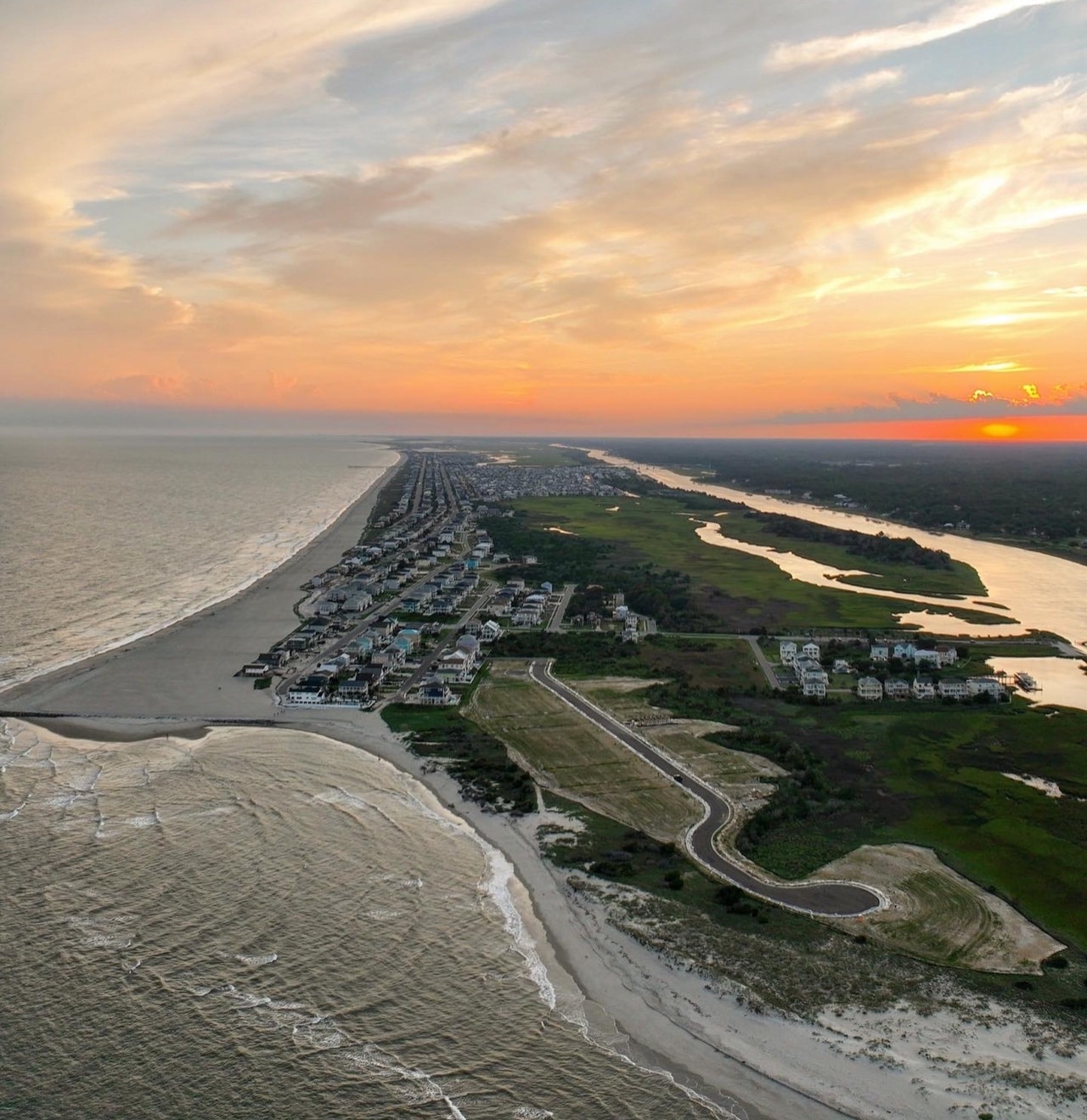 The house is on the east end of OIB, which is a quiet end that is surrounded by water. We instantly fell in love with the area and how perfect it is for our family. The boys are safe to walk to the beach on their own, the community pool (shared with 14 homes) is right in our backyard and the dock on the Intracoastal is just a stones throw further. There are water views from every room of the house and it's literally our little slice of paradise.
A big glow up happened outside! We put in a whole driveway, added board and batten and painted the bottom level, painted all the doors and added in new plants and furniture. The original plan was to put stairs up to the second floor, but we ended up remodeling the whole 1st floor level entrance instead and I know we made the right decision!
Second Floor/Main Level
The second floor is home to the massive living room that got neutral paint, lost a lot of unnecessary furniture and added in all white and light pillows and decor. There's still 2 large sectionals and a bar height table that is great for eating at, or the reason I insisted it stay…puzzles!
You pass by a bathroom headed from the living room to the kitchen, which was already really nice, with grey cabinets and granite counters that I love. We painted, added a backsplash and cleared more stuff out of the cabinets than I ever thought would be in there. We added in a stand mixer, lots of gadgets I deem necessary to call it well equipped and changed out the majority of the dishes and glasses. Later this month, it will be getting all new appliances since The Hubs wants them all to be the same brand. Haha.
The dining room is right off the kitchen and also has an entrance off the living room by the stairs to the 3rd floor. The previous owners were using it as an additional sleeping space, which we didn't feel like the house needed. We turned it back into a dining room so family dinners can be had here!
Third Floor
The 3rd floor is home to all 4 bedrooms and 2 of the 3 bathrooms. The master bedroom didn't need much, but it got a fresh coat of paint, new bed, linens and decor. The corner room allows for the most incredible ocean views and sunrise stares you right in the face from the bed. There is an attached deck that I have found myself sitting on every morning we've been there.
There is an attached bathroom with a walk in shower and soaking tub that just got some new paint and lights.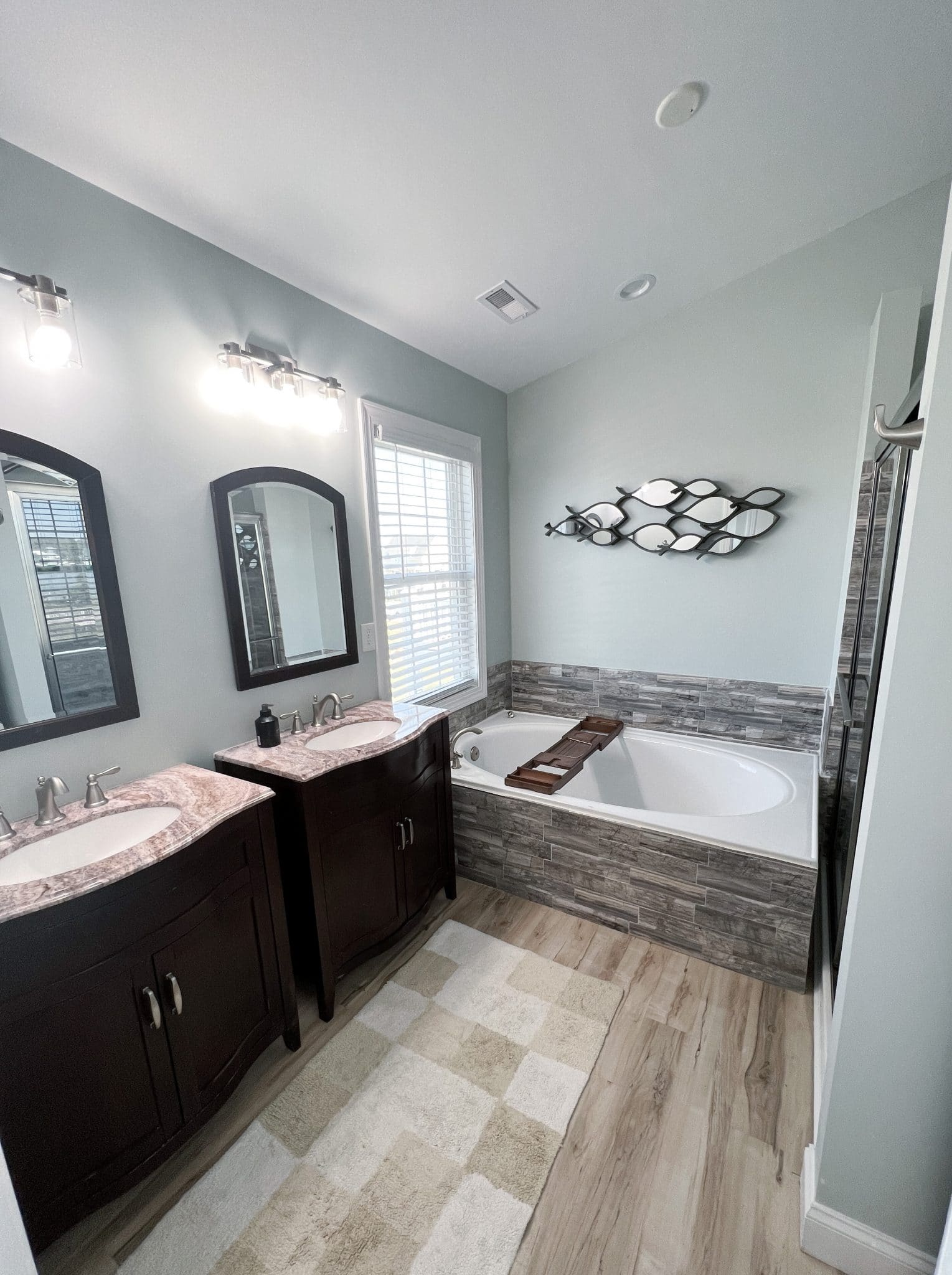 My bigger concern was this weird corner in the room that was being used as a vanity. We converted it into an office nook that is so great if you have to work on vacation! The window looks out at the intracoastal and you can also see the kids swimming in the pool!
I wasn't a fan of the bright coral, although it is beachy! Just some paint, new fan, new furniture and bedding and I love how this guest room turned out. This room also faces the ocean with a door right onto the deck. We also replaced the tiny tv with a wall mounted one, just like every other bedroom has.
With the 3 boys, we wanted to have as much space for friends as possible. We took the huge king bed out of this room and replaced it with 2 full beds. It feels much more appropriate in the space and we can't wait for some of the boys friends to be here with them for Spring Break this year.
It's hard to pick a favorite room, but I adore this bunk room! I found the salt, sand, surf print and knew we had to incorporate it. The boys have spent quite a bit of time hanging in this room, playing video games on our trips so far and there's plenty of friend space.
The upstairs hallway bathroom got a new mirror, paint, curtains and removal of quite a bit of weird decor I can't seem to find a photo of right now!
Ground Level
The biggest transformation of all happened on the ground level. Originally, you walked in the front door to this huge plywood room. Our realtor even skimmed by it on our video tour and we were like WHAT ARE WE LOOKING AT?! I don't even have a great before photo, because it was just too ugly. Haha. The wall with the stairs was closed off and it was really just a weird, dark, useless space. We have great contractors who tore some of the walls out, redid the stairs, walls, ceiling and added fans and lighting. The Hubs went to town hanging hooks for chairs, beach toys and cornhole, cleat hooks to hang towels after the beach or pool and is setting up a bench next week that just got delivered. The space looks completely different and it's a great area to come in and drop your beach stuff. We also have a big storage room down there.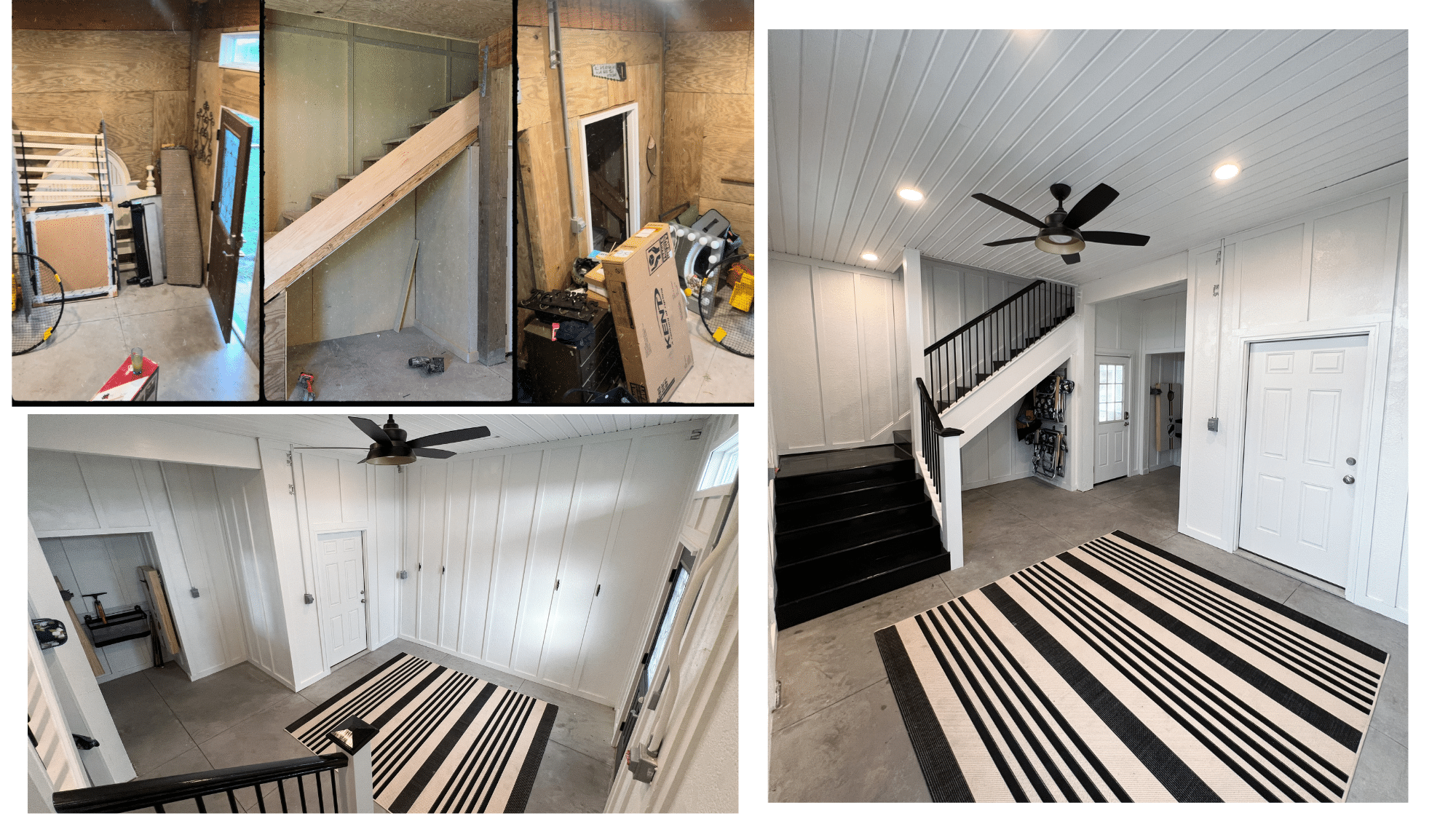 This is the final look from the stair well that leads up to the main house levels. What used to be a literal dungeon now looks like a whole new space – so fresh and clean!
The other half of the downstairs space, is this big hangout area. It was another space that was all tons of plywood. Our contractors did the same thing as the mudroom, covering the plywood, painting and adding lighting and fans. There is a seating area and a pool table and the sunset shines in so beautifully here. We've since added in a rug and some decor since that last picture was taken!
The tiki bar area is the last to be done! They already took out a bunch of unnecessary plywood under the stairs, the railing from all around the patio and extended the concrete patio out towards the back yard. We have a couple more weeks for our tiki bar cabinets to come in! Soon there will be a longer bar with a sink and drawer refrigerator, so hanging out downstairs will be so fun. We hung a massive TV last time we were down and my dad built some tall stools to hangout at the bar. I freaking love this space so much! I also love that the community pool is just beyond the area. We let the kids swim there while we sat on the swing and it's awesome to be so close, yet not have to take care of the pool! There is also a lot of open grass area behind the house that the boys spend plenty of time paying football and throwing a baseball in.
The amount of work that has gone into this place blows my mind. Our contractors have been amazing and we've had tons of family and friends take time to help us. It's been so fun to watch the transformation! We've always planned to rent it out when we aren't using it, but aren't just putting it out there. We want it to stay a special place that allows for memories to be made! We've decided on self hosting, which means direct booking through us without crazy fees. We would love to have you and your friends/family in our home to relax, unwind and enjoy a much needed vacation! We are renting weekly most of the year, with dates from Sunday-Sunday. If you like what we've done to our place and want it to be a part of your vacation plans, here is the link to Anchors Awey official site! We would be honored to be a part of your memory making!