Every year, I love doing a try-on of Amazon Holiday party dresses! Many of the former dresses I've tried on are still available. You can see 2019 holiday party dresses and 2018 holiday party dresses too!
This year, I kept the prices all under $100 and most of them are far less than that. I only had 1 miss (this jumpsuit looked so cute online and even on, but was far too tight.) So you're left with 9 great holiday dress options for a Christmas party, a family dinner, or just because it's darn fun to dress up for the holidays! You can see more of the try-on in Instagram stories today!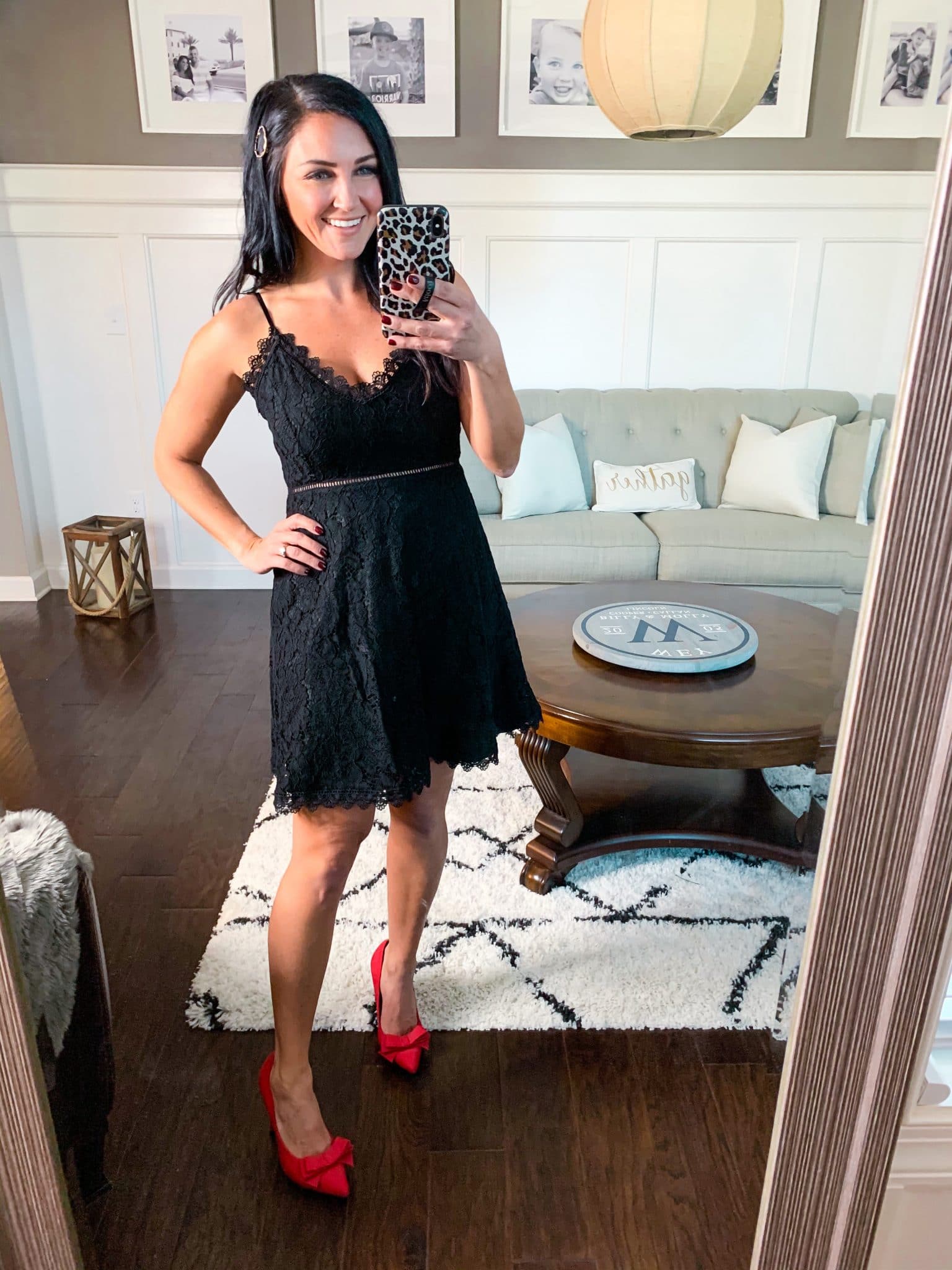 I love the fit of this dress, which has adjustable straps and a peek-a-boo waist strip. It comes in black and red and is very reasonably priced.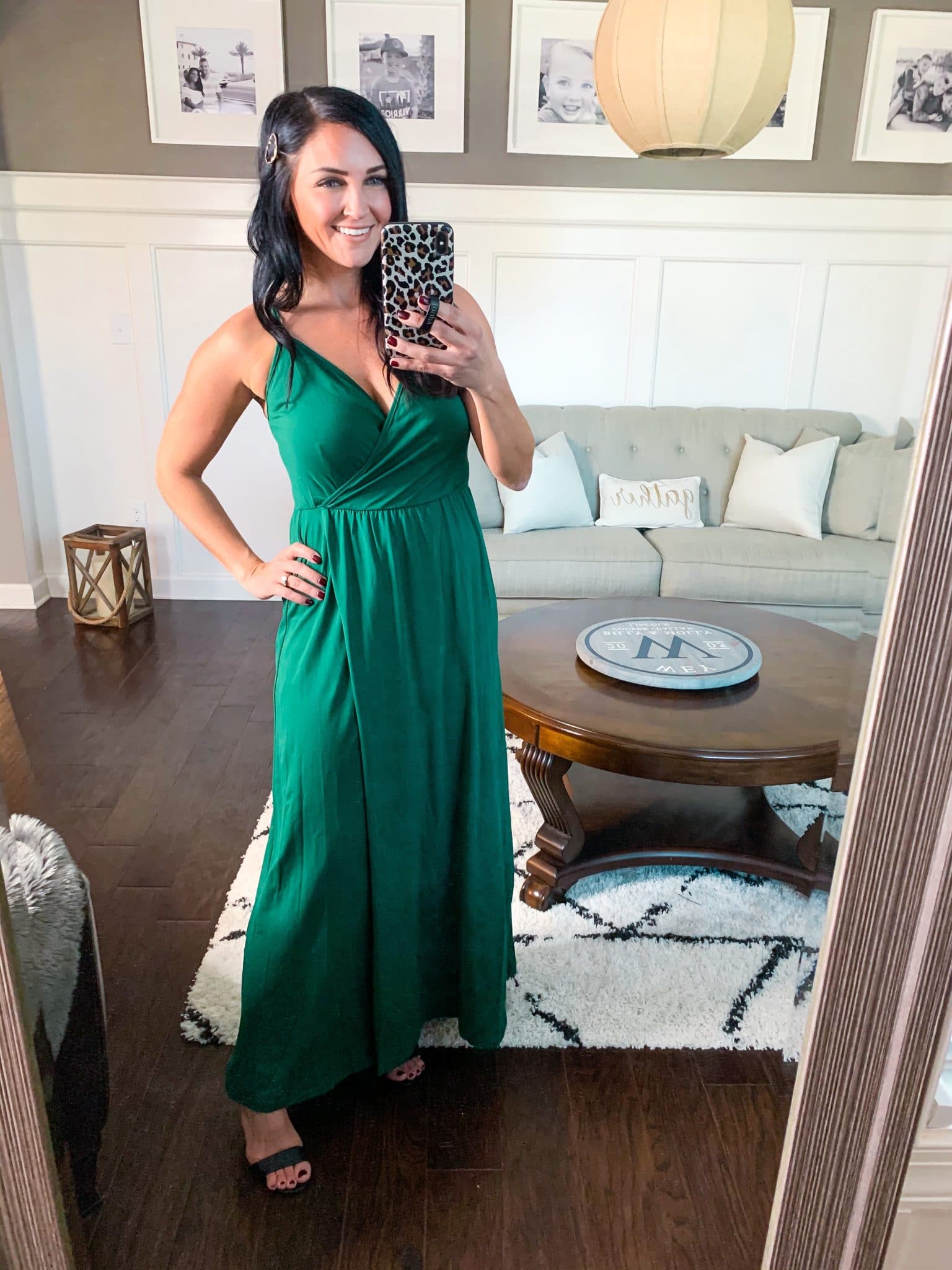 This dress is more of a casual one with a cotton feel, but could be dressed up with jewelry and heels! It is super comfy, comes in a long sleeve version and tons of colors and patterns. The straps are adjustable, making the front fit great. It has a slit up one side that makes it much more elegant! At the time of this post, there is also an extra 5% coupon you can add to it.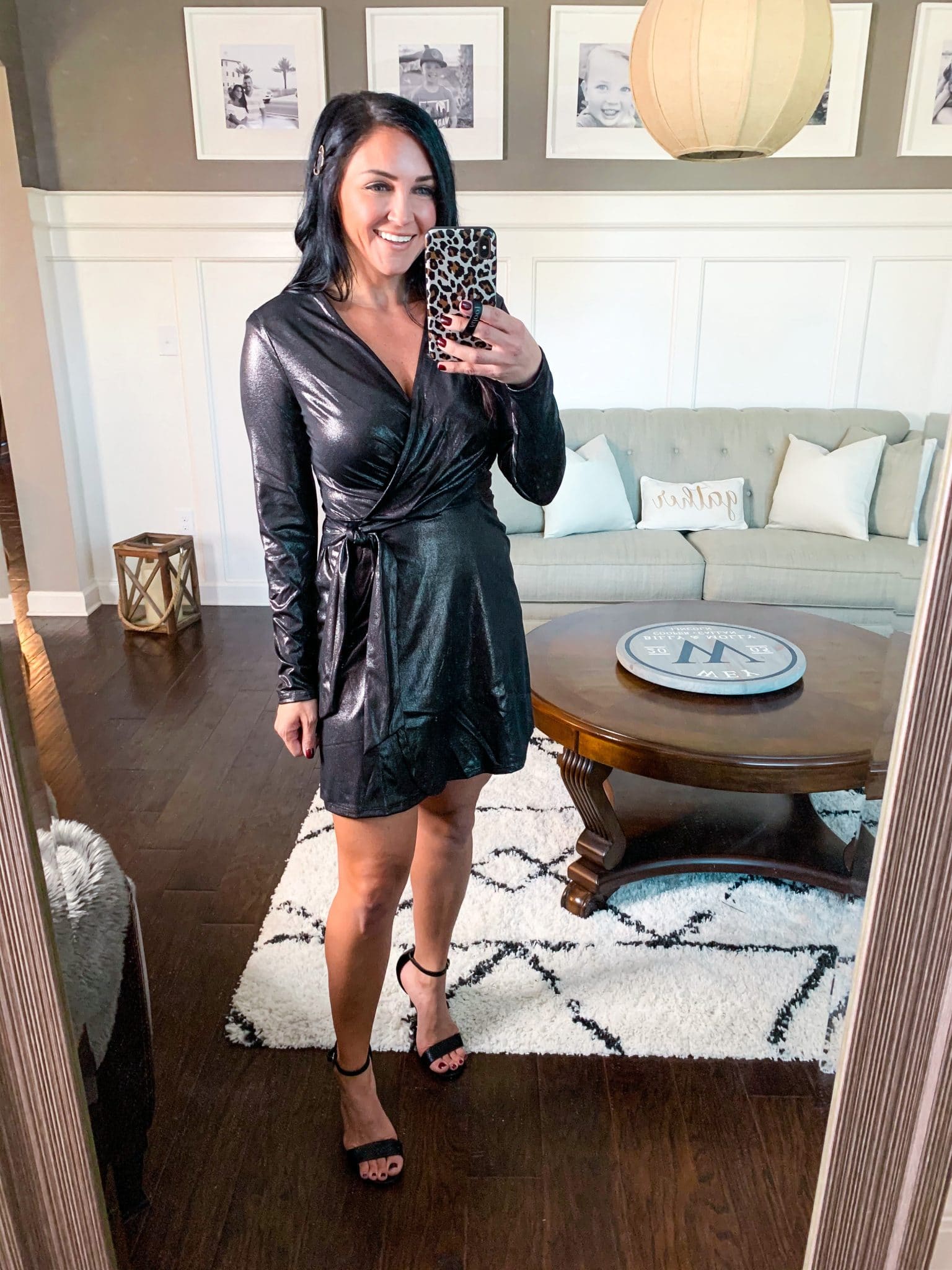 This dress is SO FUN! It has a boxier fit in the top with shoulder pads! It's actually a faux wrap, with the top being separate from the skirt. This is so much better for everything to stay where it's supposed to be. This one would be a great New Year's Eve option as well.
This dress is another more casual option that can be dressed up. It would be really great for a party, or just for your holiday dinner. The ruffles are positioned across the front in a really flattering way. It comes in several other prints including leopard and a red dotted one.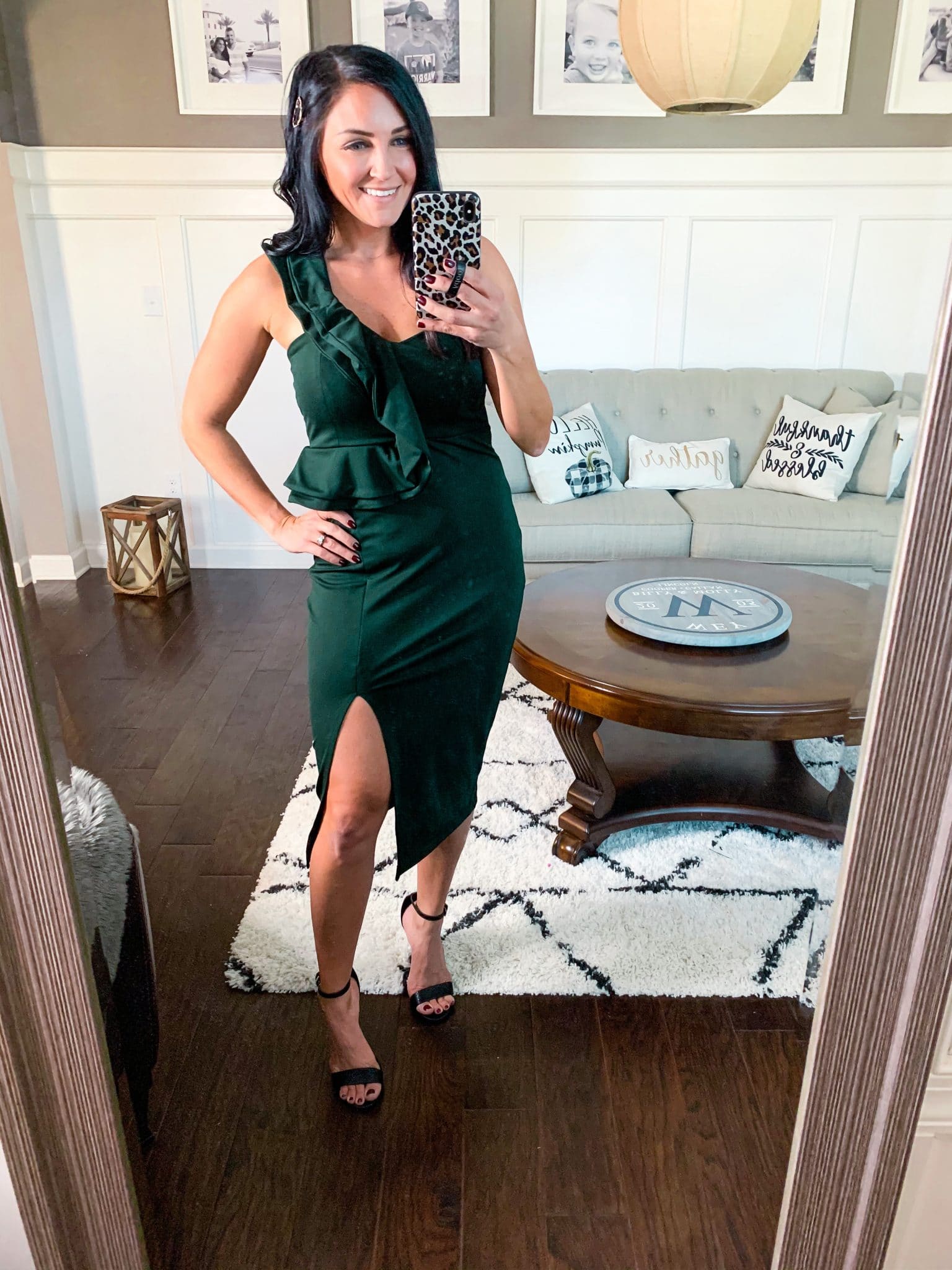 This dress was a pleasant surprise for the cost! It is a midi length, with the high front slit and one shoulder top. It can be worn with a regular strapless bra. It has some stretch, but is very fitted, so if you want to size up for more room, you can. It also comes in several other colors, including wine red that would be great for Christmas!
I felt very goddess like in this maxi with beaded shoulder straps. It really reminded me of my bridesmaid dress from my sister's wedding last year! I'm normally a 2 or 4 in dresses and I went with the 4-6 because of the reviews. The skirt has a couple layers and is loose enough to be very comfortable. This would be great for a more formal event and is insanely affordable.
This dress fits me like a glove and is so elegant and flattering. I love the detail of the lace cap sleeves. The upper chest and bottom part of the dress are unlined, making it a bit more sexy, while still very modest. This dress comes in other colors as well as a other sleeve length options.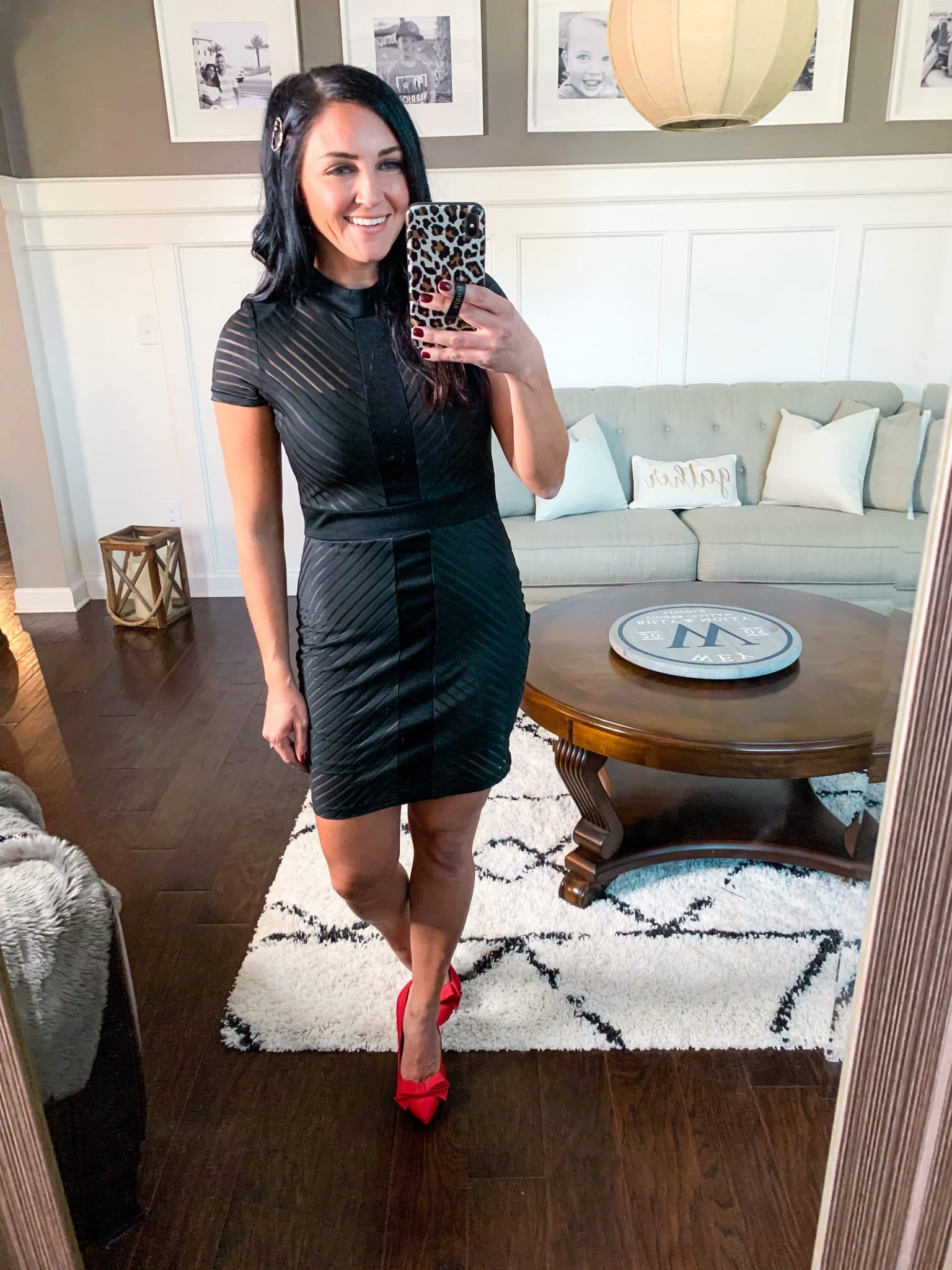 The details of this bodycon dress make it so flattering! It is fitted, but I went with my normal size. It comes in an unlined option and this one that is called "black add lining". The unlined one is, I assume, like the arms and upper chest are of this one. Which would not be Christmas party appropriate. Hehe.
This is a modest, well fitting dress that would be great to even wear to the office! It is fitted, but the ruching across the stomach makes it a more comfortable fit. If you want it to fit more like the model, I would suggest going up 1 size. It's a bit stretchy and comes in several other colors.