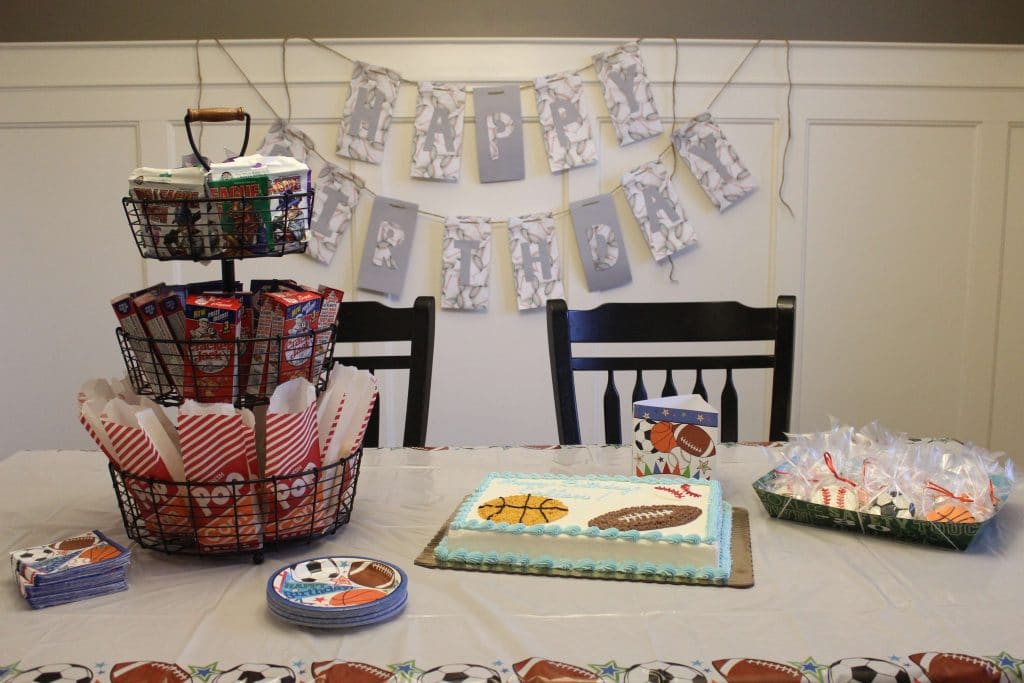 Last weekend, we threw Callan a big 6th birthday party! He had a pretty small party last year, but he's made a ton of friends from sports and kindergarten in the last year. He had a list of about 35 kids and we really had to whittle it down. We ended up with over 40 people here for his big day and it was nothing less than perfect!
He wanted "all the sports" which turned out trickier than I thought. I only found 2 different party packages that had several sports on it and ended up ordering items from this theme. I went with concession stand type foods and put them in my fruit stand to serve as some decor. I love multi-purpose decorations and at every party I throw, I utilize all sorts of things before I buy decorations.
Another adorable item that doubled as decor were these super cute cookies from LKN Pop Cookies. She lives close to me and made 4 different ball cookies for the party. They were a huge hit! She delivers, so don't hesitate to check her work out for your upcoming party!
The party was from 1-3 so we didn't need tons of food, but I'm not passing up on some fun themed snacks! I did a veggie tray, a cheese board, corndogs and super pretzels. I got a coffee mug stand to hang the pretzels on so they looked concession stand like. I made a "football field" with foam blocks, scrapbook paper and white tape to stick the corn dogs down into. Just made it a little more fun!
The goal was to keep most of the activity outside. It drizzled all morning, but by the start of the party it was dry. I hung some chips out on the deck, filled coolers with drinks for "rookies" and "old timers" and the party started.
Guest stopped coming through the front door when they heard the commotion from the backyard. We got a sports themed bounce house from Space Walk Mooresville. They were the sweetest people to work with and the kids absolutely adored bouncing! The slide was actually really high and super fun. It was good to get a house that had more than bouncing so that it didn't get too crowded inside!
We managed to get the kids out of the bounce house to eat cake and hit the piñata. During that time, it started to drizzle again and I might have slightly panicked as all the wet little kids ran into the house!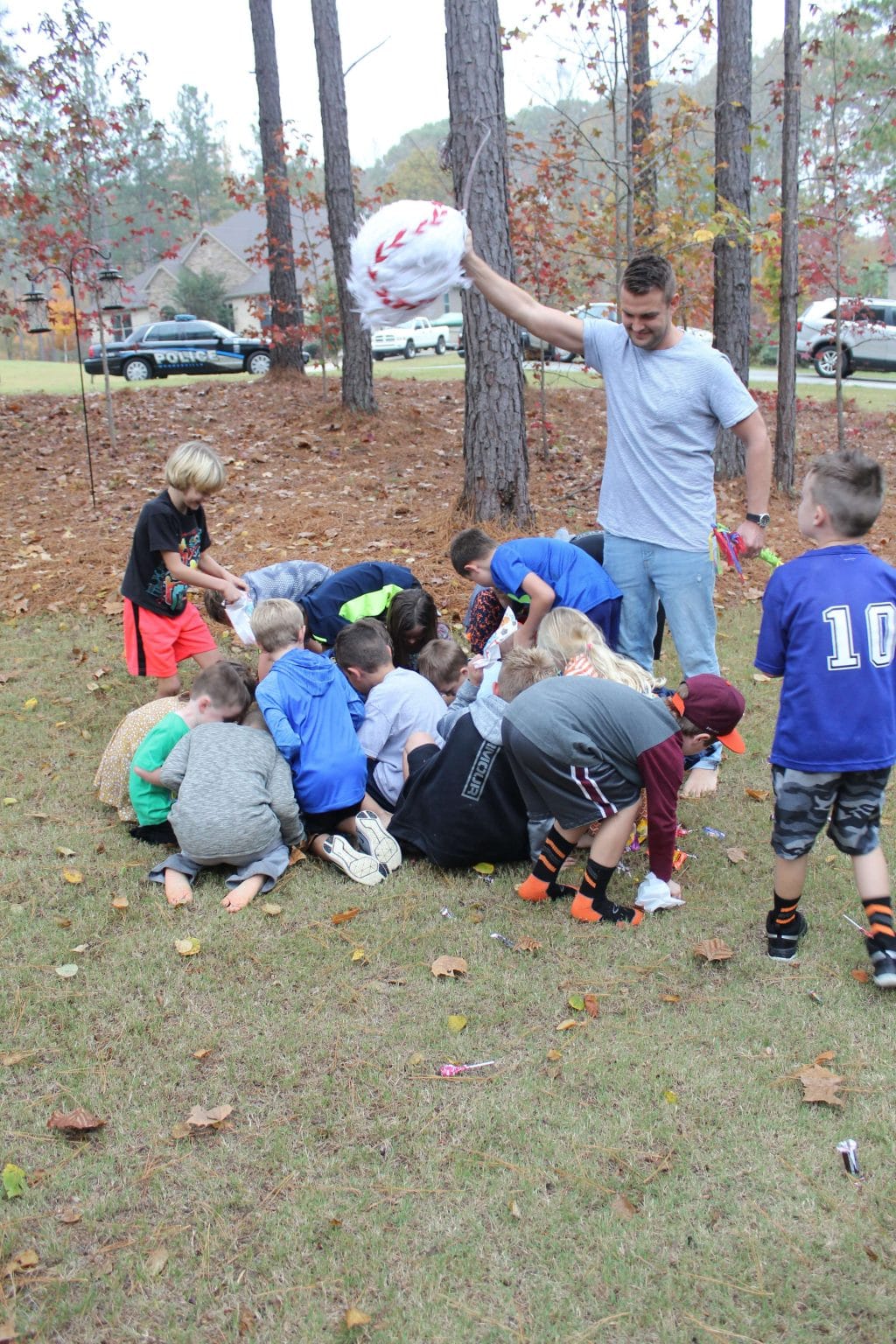 But, the rain didn't stop the party! Once everyone left, we had to let the bounce house dry out a little bit before putting it down. We decided to throw on our bathing suits and join the boys for some fun!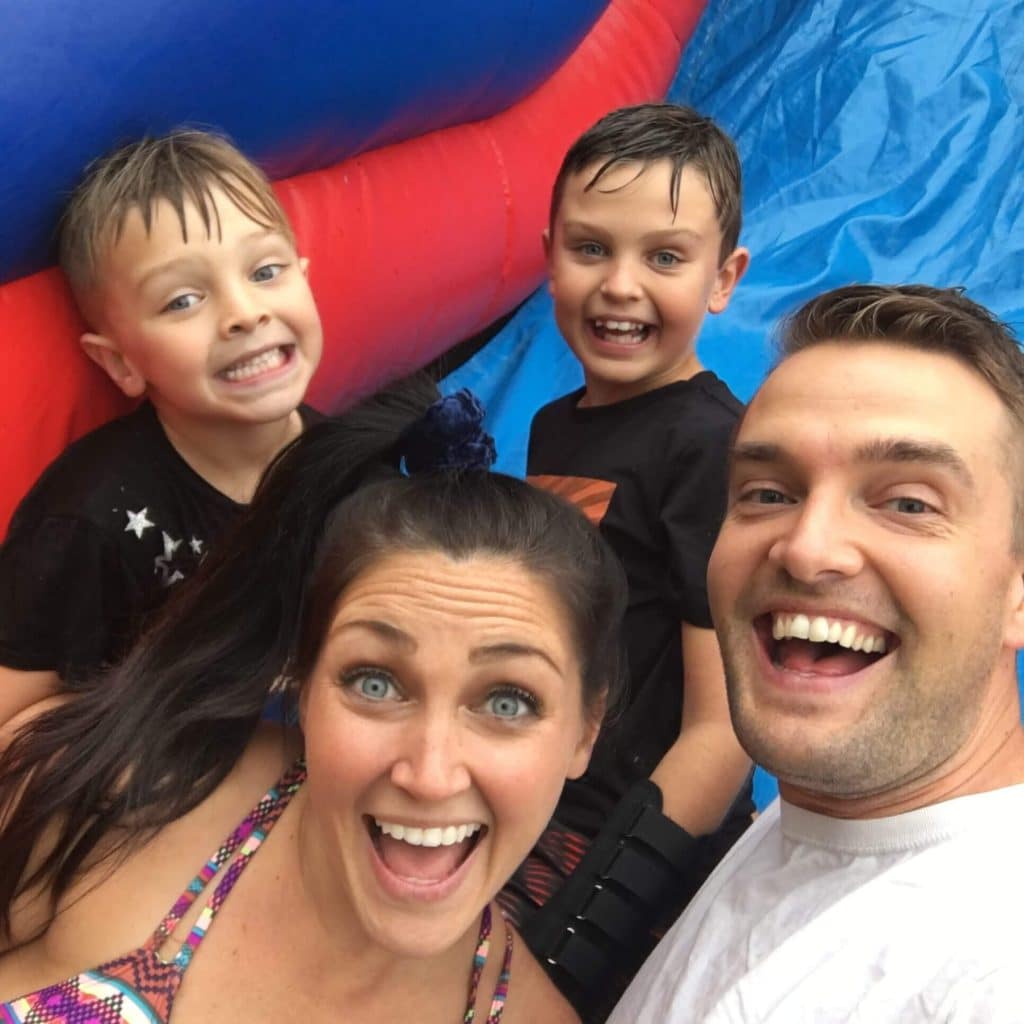 Callan said it was the " best day of his life" and I couldn't be happier to see him with all his little friends. We cleaned a lot of grass and water off the floors, but our house faired surprisingly well with all those people in it! I know house parties aren't for everyone, but I think they're a ton of fun!
Do you have birthday parties at home? What's your favorite kid party must have? 
Special thanks to LKN Pop Cookies and Space Walk Mooresville for adding a lot of fun to the party!