The past 2 days, we've been powerless and dealing with a gift that hurricane Sandy left us as she passed through…a wet basement.
We checked the sump pump because the rain was coming down so hard and it was close to full. We decided to try to barrel brigade it out, but we couldn't keep up and were left with about 5 inches of water in the entire basement. It was so devastating to be trying so hard and then have to give up because we were making no progress.
Luckily, since we were afraid of the problem before it became one, we got most of our stuff to higher ground. It required us being up until 3am, wading through water, but we did it. Tuesday, we got this bad boy in the culdesac to help pump the water out of ours and 3 of our neighbor's basements.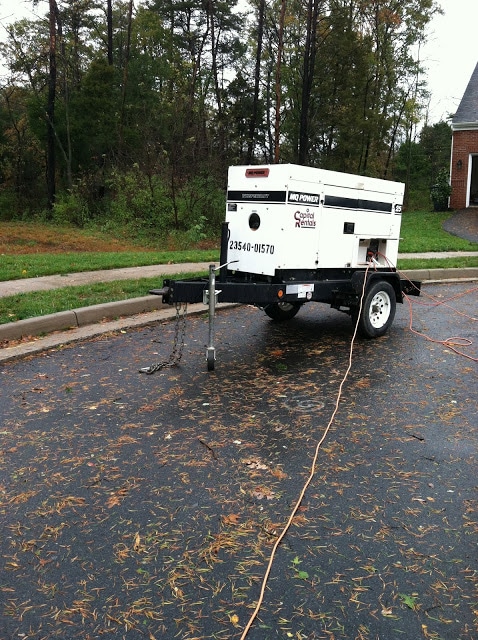 The water was mostly gone after that, but that carpet is soup and there is water soaked up in about 12 inches of the sheetrock. There is a crew down there today stripping carpet, sheetrock and baseboards and drying everything out.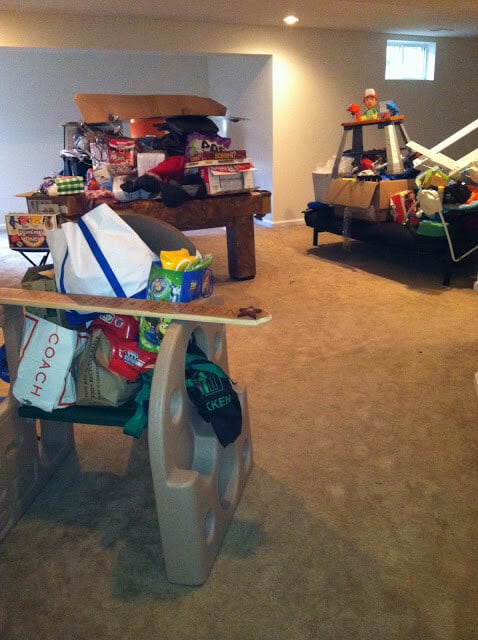 There were some casualties, of course, including a couple boxes of stuff I had saved from our wedding and all our luggage. You better believe there have been waterworks several million times out of me. It's been emotional. Our insurance company told us nothing was covered. Then another agent said it was. Then another wasn't sure.
But I've seen a lot in a different light. Once our power was on and we could see some of the devastating pictures on the news, it made my swimming pool of a basement seem like not that big of a deal. We're safe. We have 2 other floors of our house and no one lost their cozy bed.


I've realized I have held too much value in things and mementos that I'm never going to look at. That are sitting in boxes. That I was cursing at 2 am while we were trying to save them. I am purging the stuff like you wouldn't believe.


Yes, we're cold. We can't run the heat for 2-3 days to make sure the mold doesn't spread through the vents. But we have electricity for our space heater and a snugly fireplace.


Yes, it's sad to see our first house that's only 2 years old have so much destruction. But it's a house, not a life.


Yes, I'm irritated that our house is a disaster with basement stuff everywhere for Callan's 1st Birthday. But that 1 day from 1 year old is happy and healthy.


Yes, it's an enormous hassle. And time. And money. But it could have been so much worse.


And I'm so very thankful.