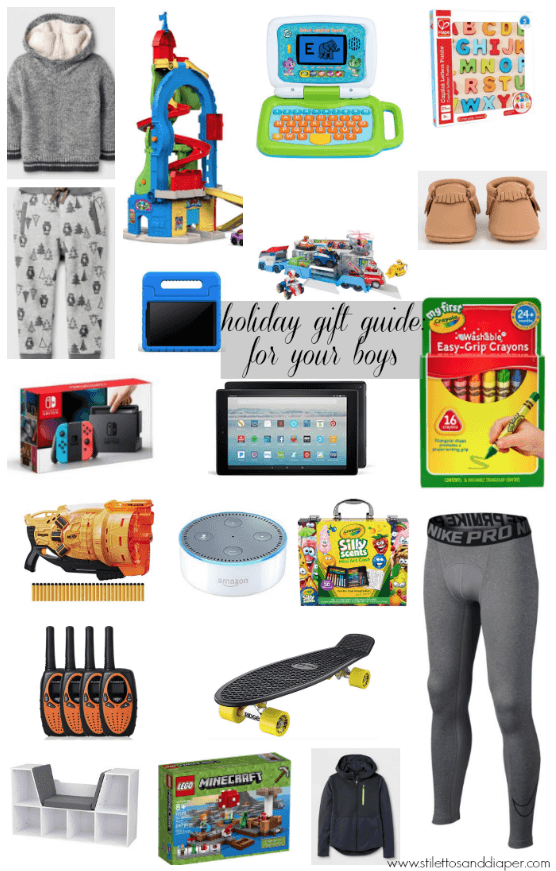 When it's time to shop for little boys, I feel pretty darn comfortable. This year, I definitely had more on the list of potential gifts than I needed. This list is for boys 2-10, which covers my boys ages!
Boys 1-4
Clothing – Cute tops and comfy pants, 2 year olds are excited to get any gifts, so I like to make it practical.
Fisher Price Skyway – Lincoln loves cars, so this gift was a total no brainer. I love Fisher Price and all the Little People!
Leap Frog Tablet – Lincoln got this for his birthday and loves his pa-cute-er. It's a really great gift for a nephew or grandchild because it's not super expensive, but it's really nice.
Letters Puzzle – Little ones learn so much through hand eye coordination and puzzles are so fun for them. Why not learn letters at the same time?!
Tablet Case – This thing has been thrown on the ground, off a balcony and anywhere in between. It also works great to prop up your tablet on a table, or hang it off the stroller with diaper bag hooks.
Paw Patroller – Back to the cars again, but this time mixing in some love for Paw Patrol.
Freshly Picked Moccasins – I love these little leather moccs. They're good for learning to walk, if you have a younger child, too.
Easy -Grip Crayons – All my boys love art, so I got these this year so Lincoln can join his big brothers for their  coloring time.
Boys 5-10
I know this is a bit of a big range, but I really notice that Callan is loving most of the same things that Cooper loves right now. Might just be my boys, but it's making gift giving even easier this year!
Nintendo Switch – This is the hot gaming system of the season. If you have boys, you may as well get used to it, because that's top of the wishlist!
Fire Tablet – These are super practical and so much cheaper than an iPad. My boys love to play music, games and watch learn to draw YouTube videos on them.
Nerf Gun – My house looks like nerf darts snowed everywhere. My boys love them and it's not uncommon for all of them (and The Hubs) to start a full on war through the whole house!
Amazon Dot – These little speakers are so cool. They also can be used as an alarm clock and have Alexa built in.
Silly Scent Markers – Drawing is a new favorite around here and these scented markers, that I think I had when I was little, are the favorite.
Walkie Talkies – We got these a couple months ago when the boys started wanting to go to the neighborhood playground on their own. It's only a couple doors down, but it's so great to be able to know exactly where they are.
Skateboard – Cooper got one of these last year, but Callan has requested one this year! This specific brand seems sturdy and is holding up really well.
Reading Nook – I just love this little reading nook/bookshelf and think it would be a great thing in your house to encourage reading.
Minecraft Legos – Legos are a boys best friend. And a mom's worst enemy! But they love building them and they entertain for hours. The Minecraft ones are popular here and the Clayface Legos has been requested.
Athletic Wear – My boys and every other ones their age seem to all wear athletic clothing. Comfy pants, tees and sweatshirts are favorites and I love the C9 line.
Compression Tights – Did you know! If you wear these under shorts, it's a really cool thing to do, if you're a pre-teen boy! I love that I can add a whole new winter wardrobe with them and their leftover summer shorts!