Getting and staying healthy is tough. It's so easy to get in on a diet or workout fad and have it fizzle out after a few months. I've been making efforts to be healthier in general over the past couple of years. At times I've been really good and other times, I've been a real slacker. But lately, I think I've hit my stride, somewhat, in a healthy, balanced life. I'm no expert, but I decided to share the things I really try to focus on.
1. Water
I drink a ton of water. I also go to the bathroom all day long. I can tell a huge difference in my stomach when I don't drink enough. When I wake up in the next morning after drinking my quota, I'm flatter and feel less out of breath in my morning workout. My goal is a gallon a day, which is a little over 1 oz for every pound. I've heard people say you should drink at least 1/2 of your body weight in ounces, but more often I've heard you should drink your actual body weight in ounces. The actual weight is where I feel the best, which leaves me just shy of a gallon.
2. Clean Eating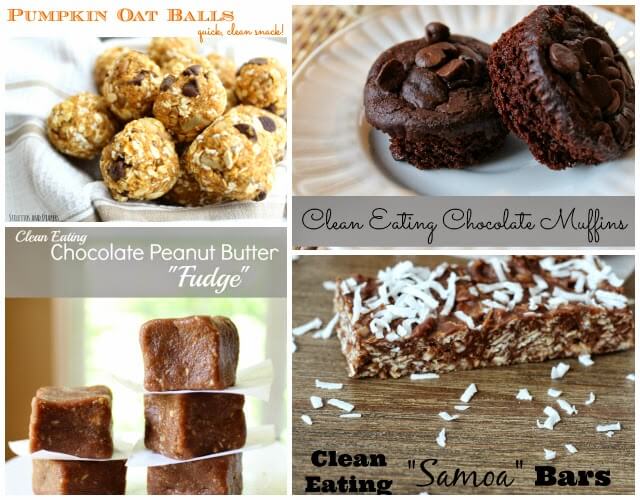 Clean eating is so much easier with a plan. I meal plan 1 month in advance and have a little collection of snacks that I like to make. Snacking is my biggest problem, so I usually have one of these things ready for when the sweet tooth or late night munchies hit. Pumpkin Oat Balls, Chocolate Muffins, Chocolate Peanut Butter "Fudge" and "Samoa" Bars only sound bad for you. They really are all things I concocted from all clean, healthy ingredients that are perfect for snacking.
3. Vitamins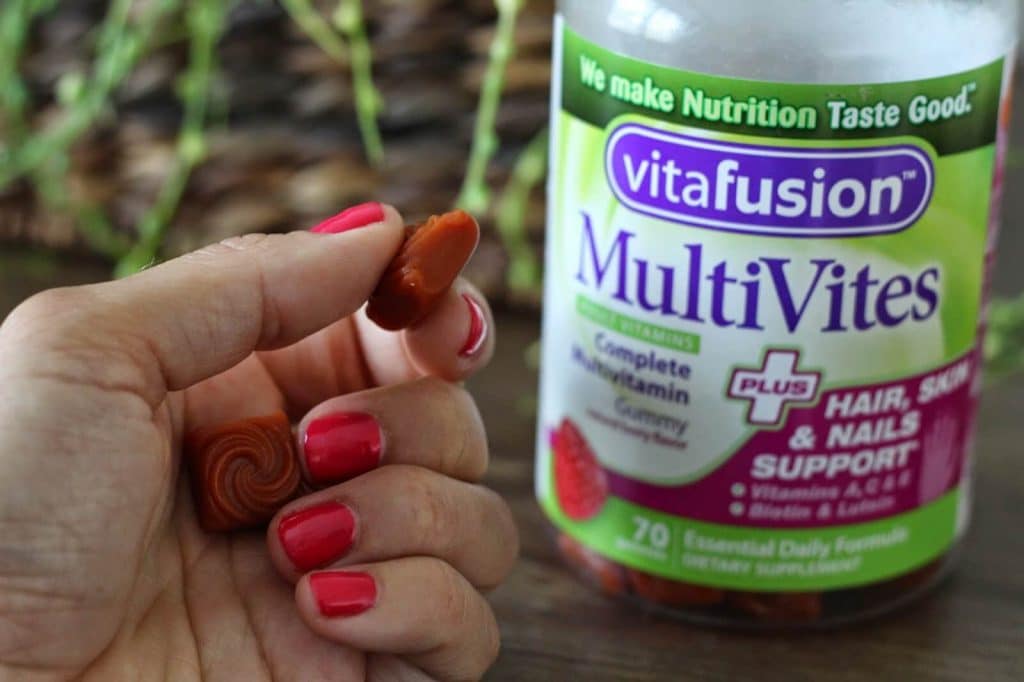 Nearly 7 years ago, when I was pregnant for the first time, vitamins were a huge struggle for me. I developed an insane gag reflex that I still have, which doesn't allow me to swallow pills easily. So, after months of prenatal vitamins, I started taking the kids chewable ones. Now, I still take chewable ones, just ones that are tailored more to my specific needs. Vitafusion™ makes MultiVites PLUS Hair, Skin & Nail Support* in a gummy, which makes it SO much easier for me to take my vitamins. It's actually something I enjoy since they're delicious and I can grab them on the run. The hubs sneaks the easy-to-take gummies, too, so I got him the MultiVites PLUS Heart Support*.
I put the vitamins where I remember to take them. Somewhere like your coffee cabinet is good, so you see them every morning.
I love running. I know it's a certain group of people that that's true for, but I really do love it. It clears my head and that in and of itself is a big part of healthiness for me. My body is most trim when I am running consistently. For me, this means 3-4 times a week about 2-3 miles. When I'm training for a race, it's obviously more, but I've found this to be a manageable amount for me.

5. Weights

I'm a big advocate of weight lifting. Not insane amounts, but light to moderate weights create so much more definition in your body! I love P9oX because it's manageable for me to do at home with my kids and also incorporates weight lifting. We have a few sets of dumbbells and I use those along with lots of push-ups and pull-ups in my workouts.

6. Splurge!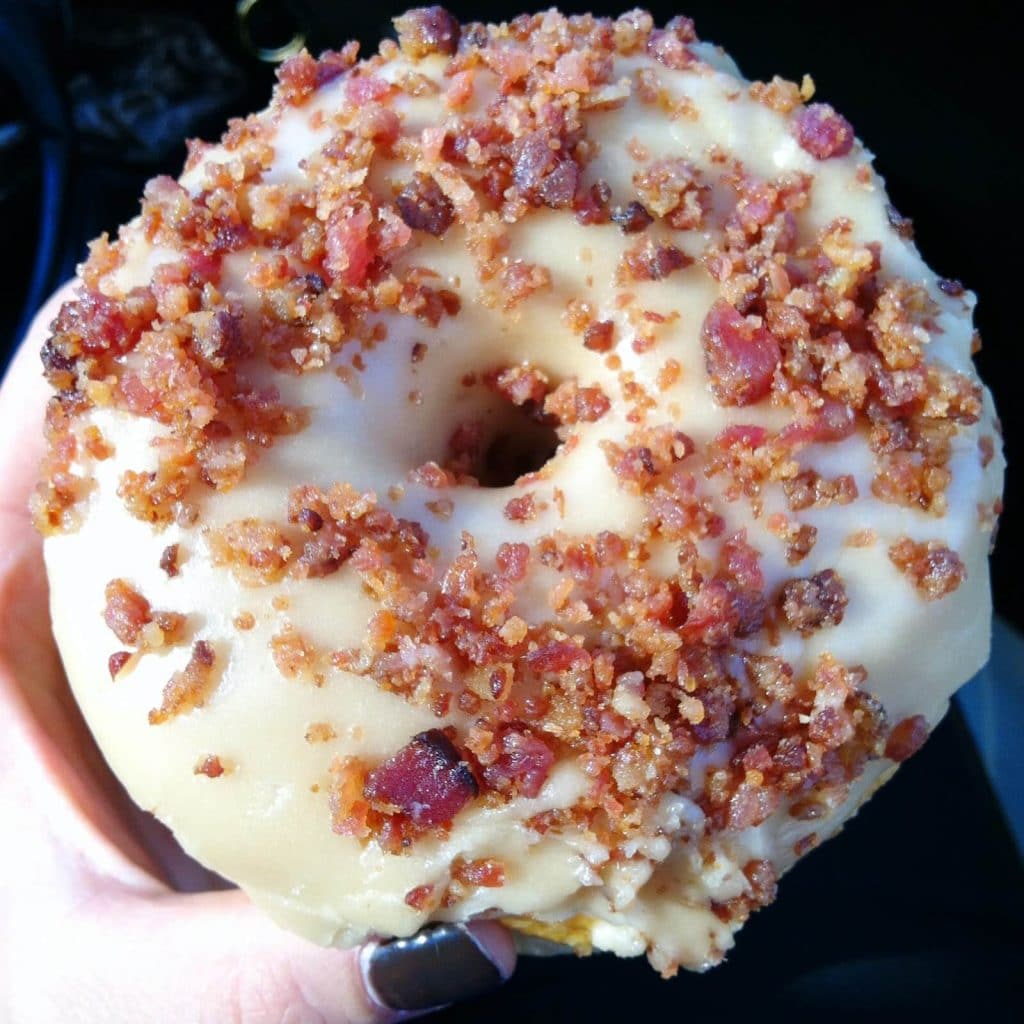 I try my hardest to be super healthy during the week. Then on the weekends, I splurge a bit. I do keep to the water and vitamin routine all the time, but come the weekend, we might go out to eat, I'll eat an ice cream cone with my boys, or I'll have that cheeseburger I'd been thinking about all week. I never want to feel like I'm "dieting" or that I'm not living life. I think allowing myself things I want here and there is a key to sticking to my routine. I mean, who doesn't need a maple bacon donut every now and then?!

If your healthy habits are enjoyable, you're much more likely to keep doing them. From workouts I like, to vitamins that hit the sweet spot, to my own healthy version of treats, I'm making my habits as fun as they can be.

What are the ways you maintain a healthy lifestyle? Tell me for a chance to win a $100 Visa gift card!

* These statements have not been evaluated by the Food and Drug Administration. This product is not intended to diagnose, treat, cure, or prevent any disease.
I received free product and payment for this sponsored post. All opinions are 100% mine.
Sweepstakes Rules:
No duplicate comments.
You may receive (2) total entries by selecting from the following entry methods:
Leave a comment in response to the sweepstakes prompt on this post

Tweet (public message) about this promotion; including exactly the following unique term in your tweet message: "#SweepstakesEntry"; and leave the URL to that tweet in a comment on this post

Blog about this promotion, including a disclosure that you are receiving a sweepstakes entry in exchange for writing the blog post, and leave the URL to that post in a comment on this post

For those with no Twitter or blog, read the official rules to learn about an alternate form of entry.
This giveaway is open to US Residents age 18 or older. Winners will be selected via random draw, and will be notified by e-mail. The notification email will come directly from BlogHer via the sweeps@blogher email address. You will have 72 hours to respond; otherwise a new winner will be selected.
The Official Rules are available here.
This sweepstakes runs from 6/10-7/31.
Be sure to visit the vitafusion and L'il Critters brand page on BlogHer.com where you can read other bloggers' posts!