This Faster Way To Fat Loss inspired May Meal Plan is full of family friendly, quick, simple and delicious meals for the month!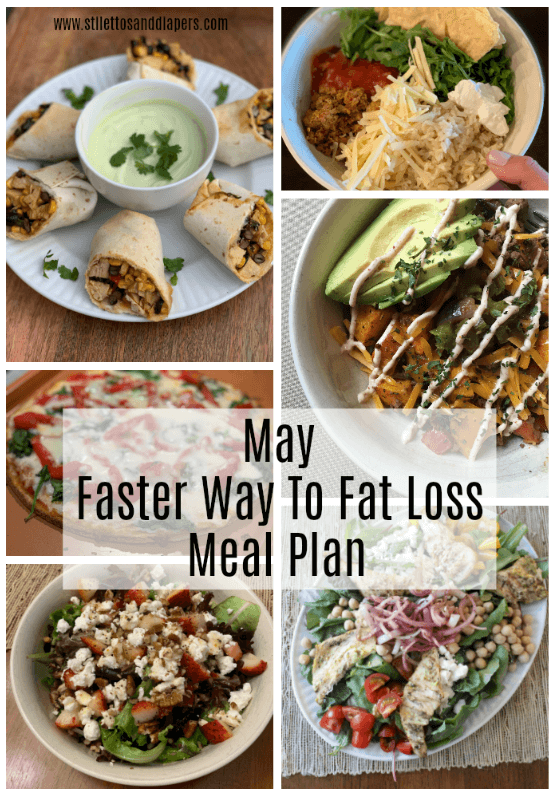 Happy May! I'm late getting this post up, but better late than never! This meal plan is based around the
Faster Way To Fat Loss
program that I'm in the middle of. It gives you 2 low carb days a week, so you'll see that Mondays and Tuesdays have those meals. The carb cycling and intermittent fasting have been great for how I feel! We have quite a bit of company in town this month, plus some cookouts with friends and Memorial Day! You'll find a lot of crowd pleasers and easy grill meals on this May Meal Plan!
A few notes about the menu:
Meals marked with * are new ones for us to try.
Any time I use pasta, I either use chickpea pasta or black bean pasta. The chickpea one is a good way to fool kids, especially if it has a sauce!
*3. Buffalo Chicken Stuffed Sweet Potatoes
4. Grilled Chicken Salad, Quinoa
5. Tacos (Cinco de Mayo!)
*6. Pesto, Spinach, Artichoke Chicken
7. Burrito Bowls with Cauliflower Rice (I make sheetpan fajitas, then serve with the "rice" and all the toppings)
10. BBQ at our neighbors
12. Mother's Day. Aka. Not cooking at all!
13. Chicken Cordon Blue Casserole (I skip the breadcrumbs, use raw cubed chicken breast and only make about half the sauce)
*16. Cowboy Butter Chicken with pasta or zoodles
17. Shepherds Pie
*18. Tuscan Mac n Cheese
19. Burgers and Homemade Fries
*21. Bang Bang Salmon with Cauliflower Rice
22. Hawaiian Grilled Chicken Packets, roasted potatoes
23. Leftovers
24. Homemade Pizza (try my homemade crust or Trader Joe's cauliflower crust!
26. Beef Tacos
28. Salsa Chicken (I didn't have green chilis when I made the recipe, so I subbed regular chunky salsa and served with cauli rice. It was delish!)
29. Breakfast for dinner: eggs, bacon, homemade sausage, roasted potatoes.
30. Fish Tacos
31. Ziti (I might try it in the crock pot this month)
Some breakfast options that I'll be making this month are:
Chunky Monkey Breakfast Cookies
If you'd like to have a printable version of this meal plan, just save this photo and print!