I think I'm just about to the point in this pregnancy that I would like to feel like a bum, but still look cute. There will come a time, soon I'm sure, where I will want to feel like a bum, but not even care how I look. The round ligament pain has been pretty intense this pregnancy; I guess after being stretched for the third time. I just got the Upsie Belly from Belly Bandit and it's a huge relief!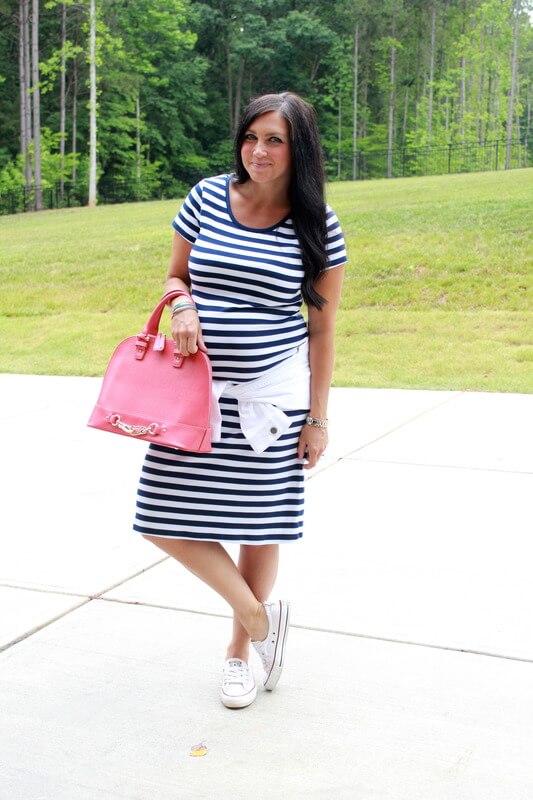 I'm aware of the fact that this dress would probably look better if it was about 3″ shorter, or I was about 3″ taller. But I don't even care because it's that comfy. You really can't beat Target's maternity clothes, y'all!
Size of baby: 14″, the size of a hothouse cucumber, and about 1.75 lbs.
Total Weight Gain: 15lbs
Maternity Clothes: A mix of maternity and regular
Gender: Little man who just may have a name!
Movement: Tons. It wakes me up at night and I love feeling it.
Sleep: Good, except my hubby's snoring and Callan's waking up to go to the bathroom every night!
What I miss: Nothing this week, either!
Cravings: Popsicles and Star Crunch, those Little Debbie treats. I can throw those things back…
Symptoms:
Contractions still. I'm trying, but no one seems to understand that a mom of 2 just can't sit around that easily, ya know?
What I'm looking forward to: School ending next week!
I feel it's my duty to let you know, just in case you haven't been on social media today, that it's National Donut Day! I'm generally not a big donut eater, but it's been something I've been wanting since being pregnant. And they're so pretty. And they make your kids do good things while patiently waiting for their sweet ring of sprinkles. So, off Callan and I go to grab some before we get Coop from school!


Happiest Friday, y'all!