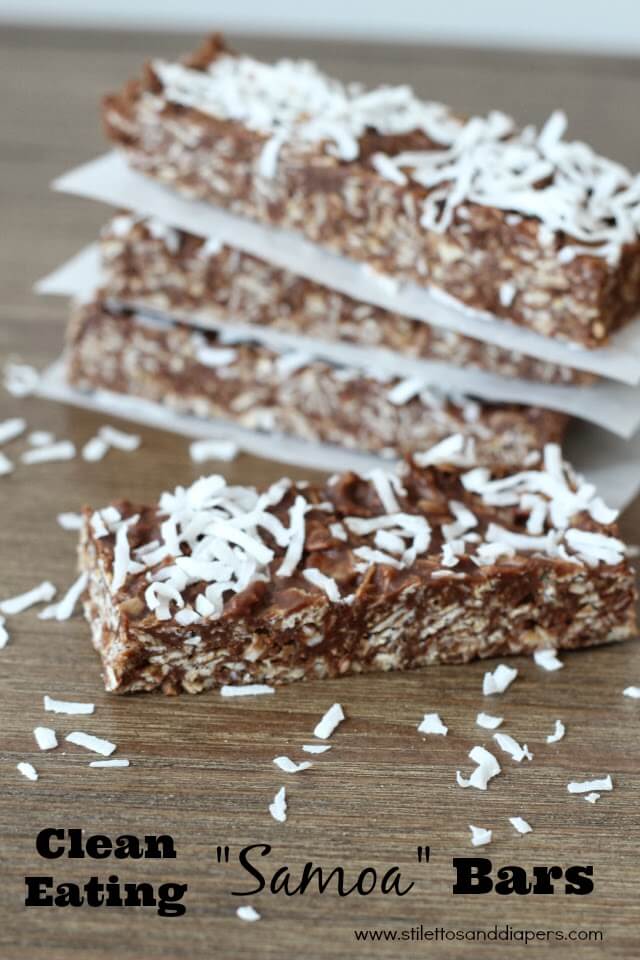 These bars are everything and nothing all at the same time. Everything because they are so amazingly delicious. Nothing because they are really, really easy and have no artificial anything in them.
So if you're snowed in like we are today, hopefully you have the ingredients to make these. You're going to want to.
Ingredients:
1/2 c Peanut Butter, creamy
1/2 c Honey
1/4 c Coconut Oil
1/2 tsp. Vanilla
2 Tbsp. Ground Flaxseed
1/4 c Cocoa
1 1/2 c Rolled Oats
1/2 c Shredded Coconut, unsweetened


(Some of these ingredients are just easiest ordered online. And with Amazon Prime, I get them so fast and usually at much better prices!)



In a medium sized pot, melt peanut butter, honey and coconut oil, stirring until melted. Remove from heat. Stir in vanilla, flaxseed and cocoa until smooth. Stir in oats and coconut until well mixed.


Line a glass dish with foil. (I used a 7×11 (2 quart) pyrex dish.) Pour mixture in and press gently. Place in the refrigerator until hardened, about 2 hours. Cut into bars or squares and store in an airtight container in the fridge. (If you double the recipe, it fits perfectly into a 9×13 pan.)


Options:
Below I sprinkled some large flaked coconut and a few chocolate chips in the foil lined pan and poured the mixture on top of it. When it was hardened, I flipped it over before cutting into bars.


Or there's this option, where I just sprinkled the coconut right on top of the mixture and pressed it in gently before chilling.
They taste the same either way and you could even skip sprinkling anything on them. Just makes them prettier, if you'd like!


Tell me if you make these! Since making my first batch 2 weeks ago, I've made 4 batches and my family has devoured them!