Somewhere between day 1 and 30 of my first Whole30, I stumbled across this sweet potato hash. I'm a big savory breakfast person and this was just what I wanted. One of the best things about it, is that this recipe makes a big batch and you don't have to worry about breakfast for a few days. The other, is that you're over eggs, you can eat it without one. But I would never recommend skipping a runny egg, if given the choice. 
You'll need about half hour to make this dish, but this is a great one to make ahead. Meal prep Sunday, anyone? After showing this several times on Instagram, I'm finally getting the recipe together for y'all. Without further adieu, sweet potato hash!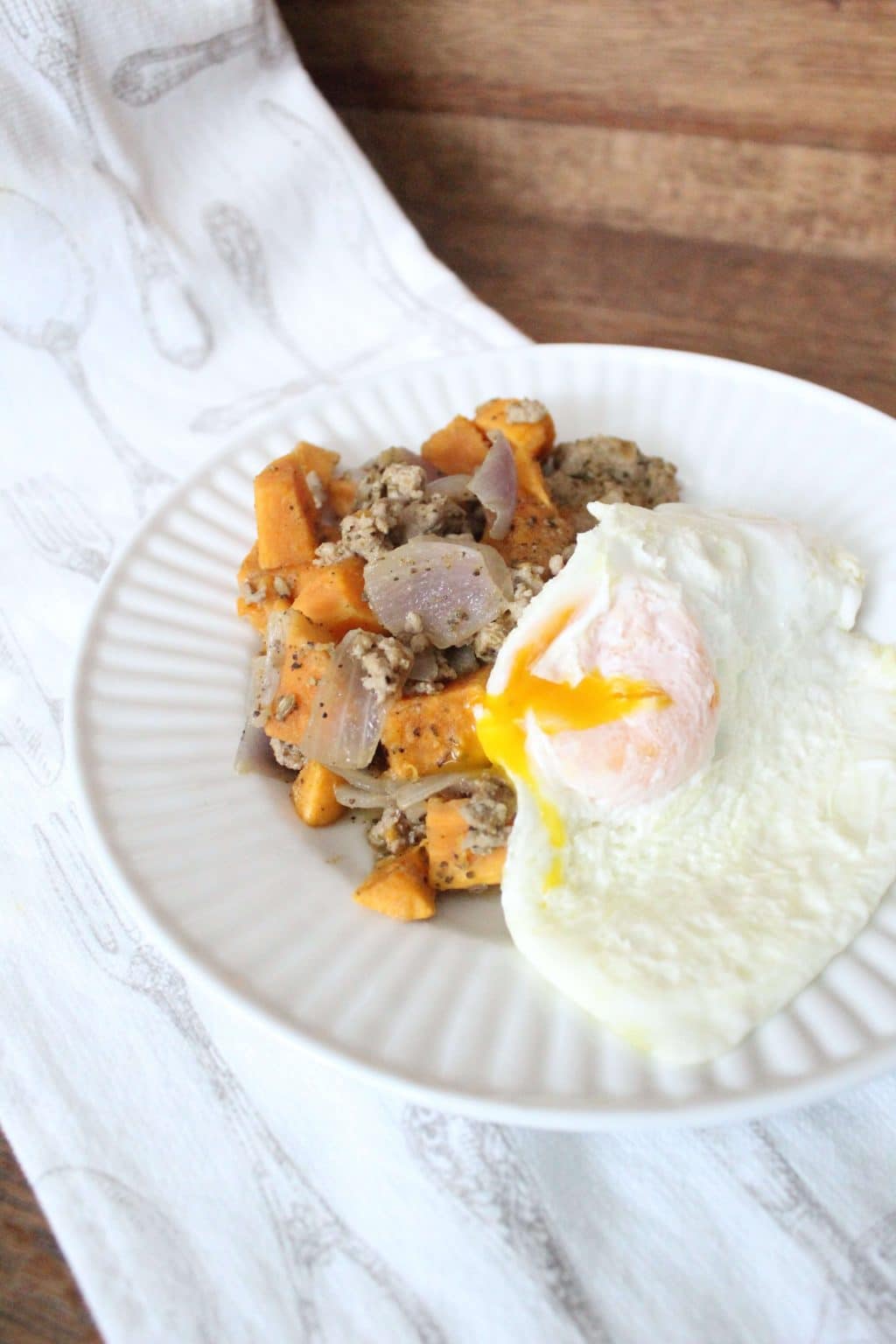 This recipe starts with a basic sausage. I usually make my own, so that I can be in control of the ingredients. There are some great, clean sausages out there, though, so don't feel bad about buying a prepared one! I will add both recipes below.
This Imagine brand of chicken broth is my favorite. They also make beef broth, bone broth and some great soups! They're available on Amazon, if you don't have them in your store.
Sweet Potato Hash Recipe
1lb Sausage (use packaged sausage or recipe below)
  1lb pork
  1 tsp fennel 
  1 tsp garlic
  1 tsp paprika 
  1 tsp sage
  1/2 tsp salt
  1/2 tsp pepper
  1/4 tsp cayenne pepper
1 Purple Onion, diced
4 Medium Sweet Potatoes, diced
1 Tbsp Sage
1/2 tsp Cumin
1/2 tsp Salt
1/2 tsp Pepper
2 cups Chicken Broth
Instructions
Brown sausage and onion over medium heat until meat is cooked through and onion is translucent. Add sweet potato, chicken broth and spices. Stir and cover. Cook over low-medium heat for 20 minutes or until potatoes are soft. Serve as is or top with an egg. After cool, this dish stores well in a covered container in the refrigerator for 4-5 days.