This February Amazon haul is full of fab pieces for Spring transition, as well as some things that are great for Spring Break!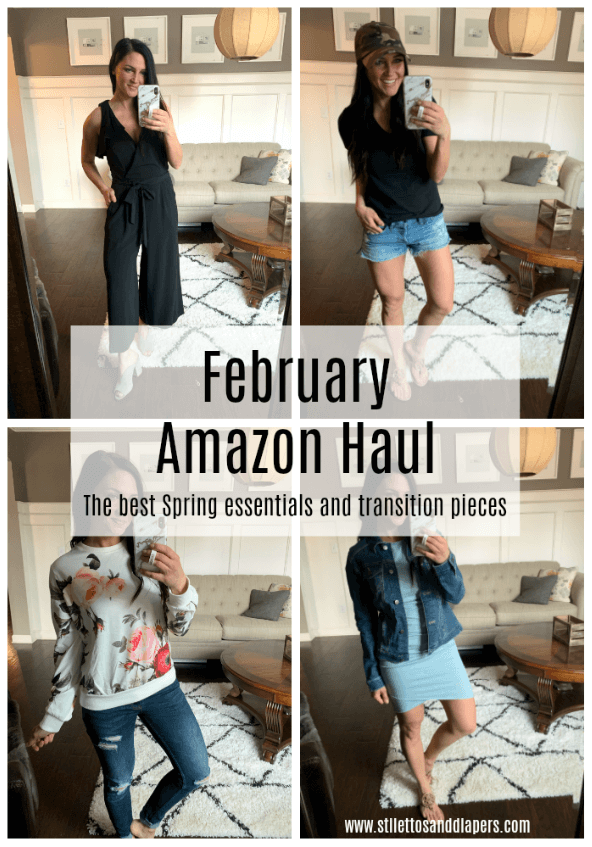 As with every month, this is my favorite
Amazon
haul to date! Hehe. I did do something different this month and uploaded the whole haul to YouTube! There are a lot of people not on
Instagram
to see the try on in the stories, so this way, everyone can see.
For sizing reference, I'm 5″2″, petite build and normally wear a size small in tops and dresses and a 2 in bottoms.
February Amazon Haul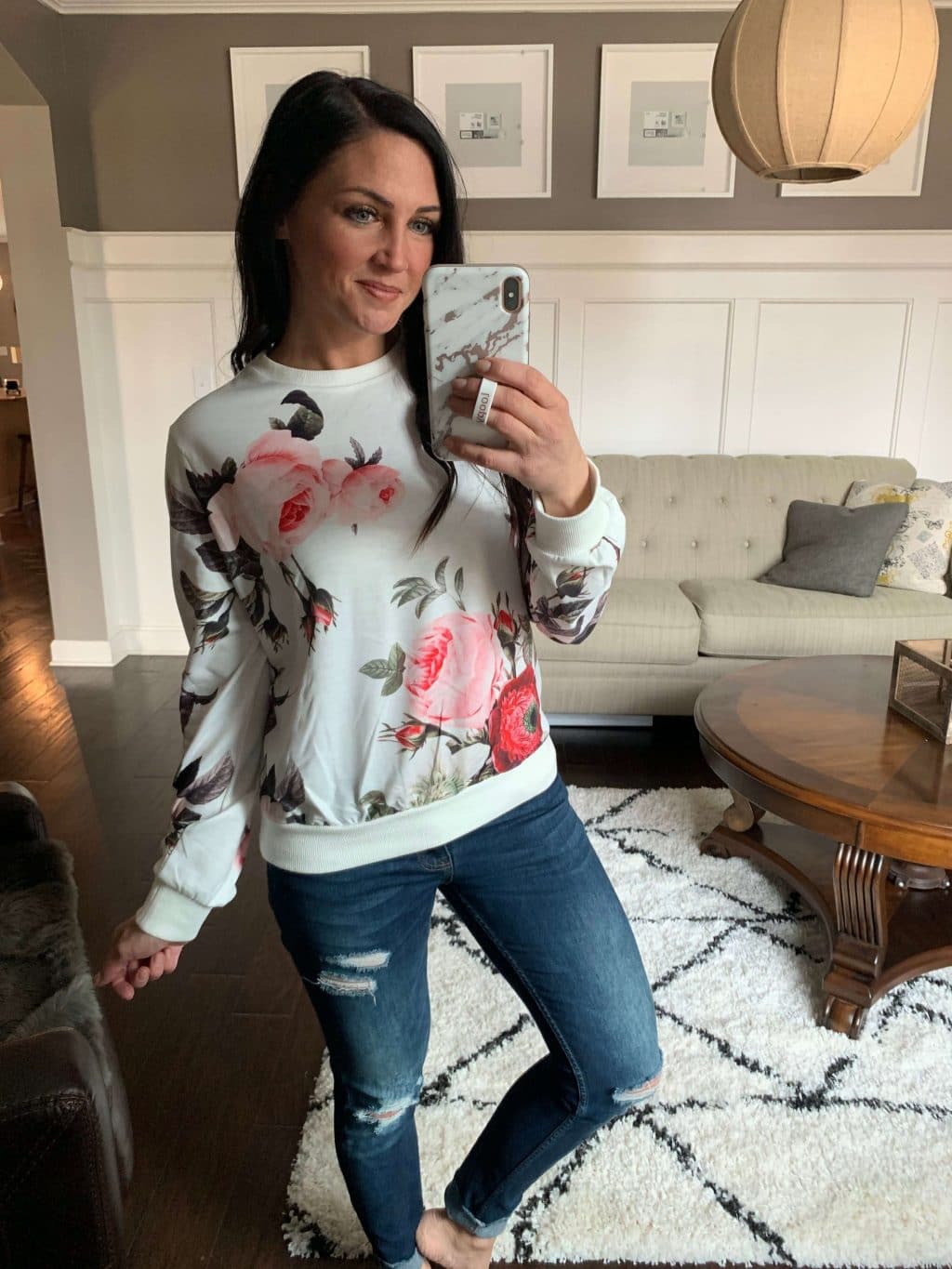 Floral Sweatshirt – This was the most asked about in my sneak peek and it's a favorite of mine! I've already worn it and love the print. It also comes in 4 colors.
Camo Sleeve Tee – This is such a cute tee with a scoop hem front and back. I also have the black option with floral sleeves and it's just a great tee that goes great with jeans or shorts!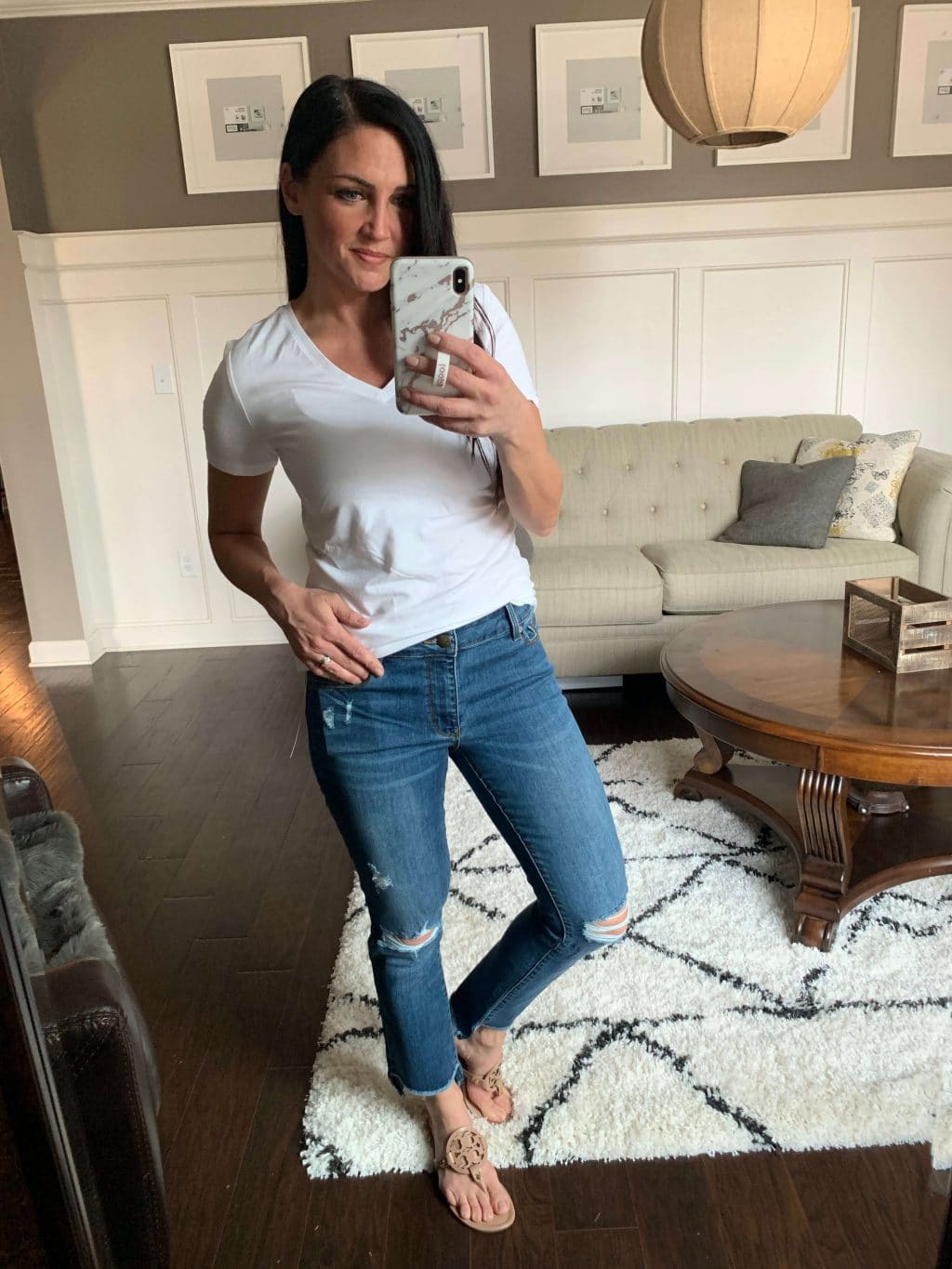 Step Hem Jeans – These are CUTE! I sized up 2 after reading some reviews, just do 1 size! This pair is a little big up top for me, but they're mid rise, stretchy, and a fab pair of Spring denim.
V-Neck Tee – These come in a 2 pack and I ordered white and black. They're not see through at all, have good stretch and are a perfect layer. They come in tons of color combo options as well as printed options. Hey camo! I ordered the small.
Black Swing Dress – ALL THE YES to this dress! It comes in every kind of color and has a pocket option and a non-pocket. I went with the one without pockets, to avoid extra hip bulk. It's a perfect, 1 item and done, Spring piece.
Denim Jacket – Every Spring wardrobe needs a denim jacket! Mine is old, so I grabbed 2 this month to try on. This is a very classic jacket with a boxy fit. If you want classic, this is a great jacket at a good value. (There is another one further down that I prefer for my small frame.)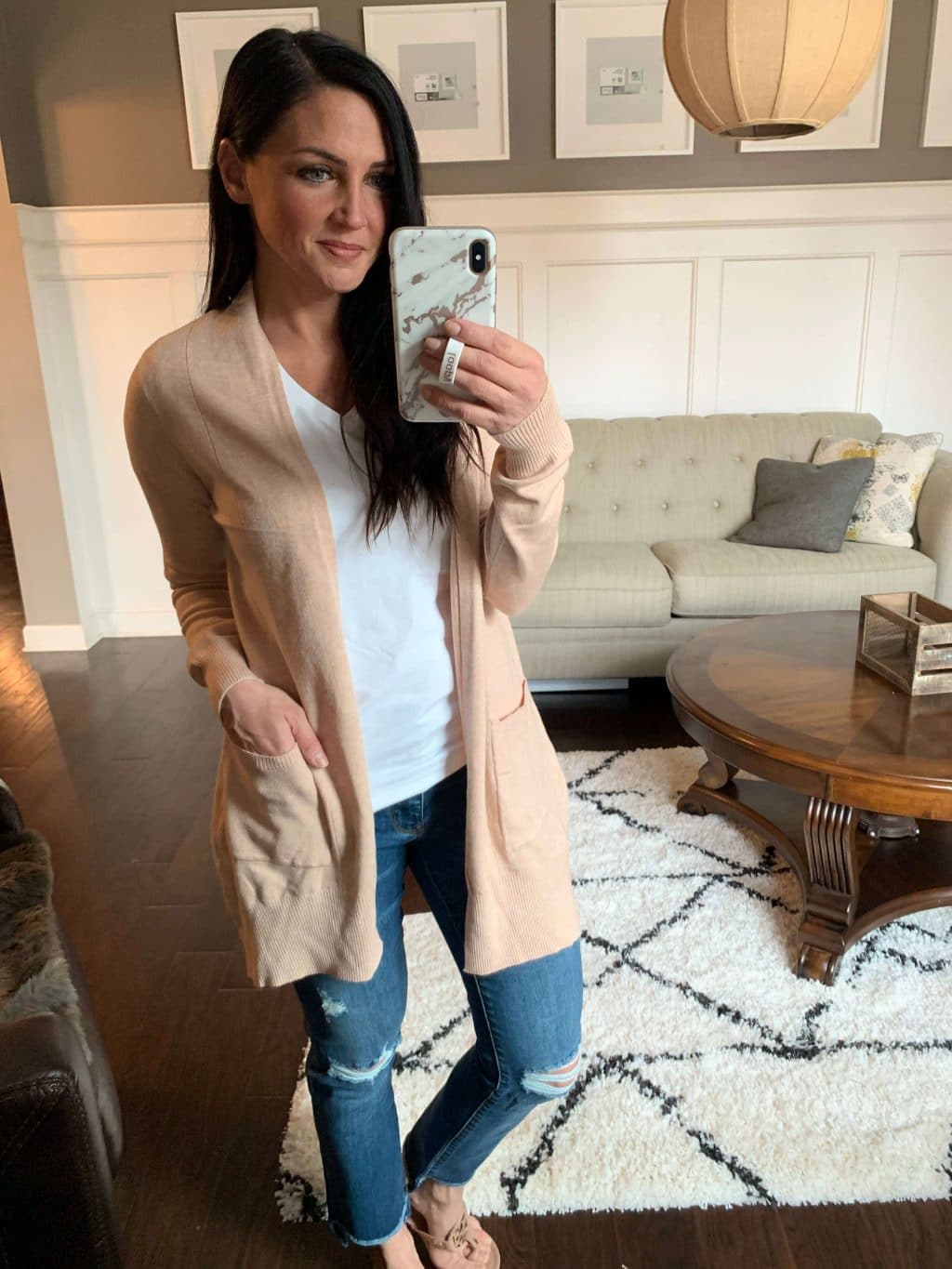 Blush Cardigan – This one absolutely lives up to it's good reviews. It's buttery soft and a perfect Spring layer. I'm wearing the blush color.
Black Jumpsuit – Maybe my favorite piece this month, I am obsessed with this jumpsuit! The cropped leg is in right now, which is perfect for my short self! The ruffle at the sleeve and tie front give it good interest, while still being a fab basic.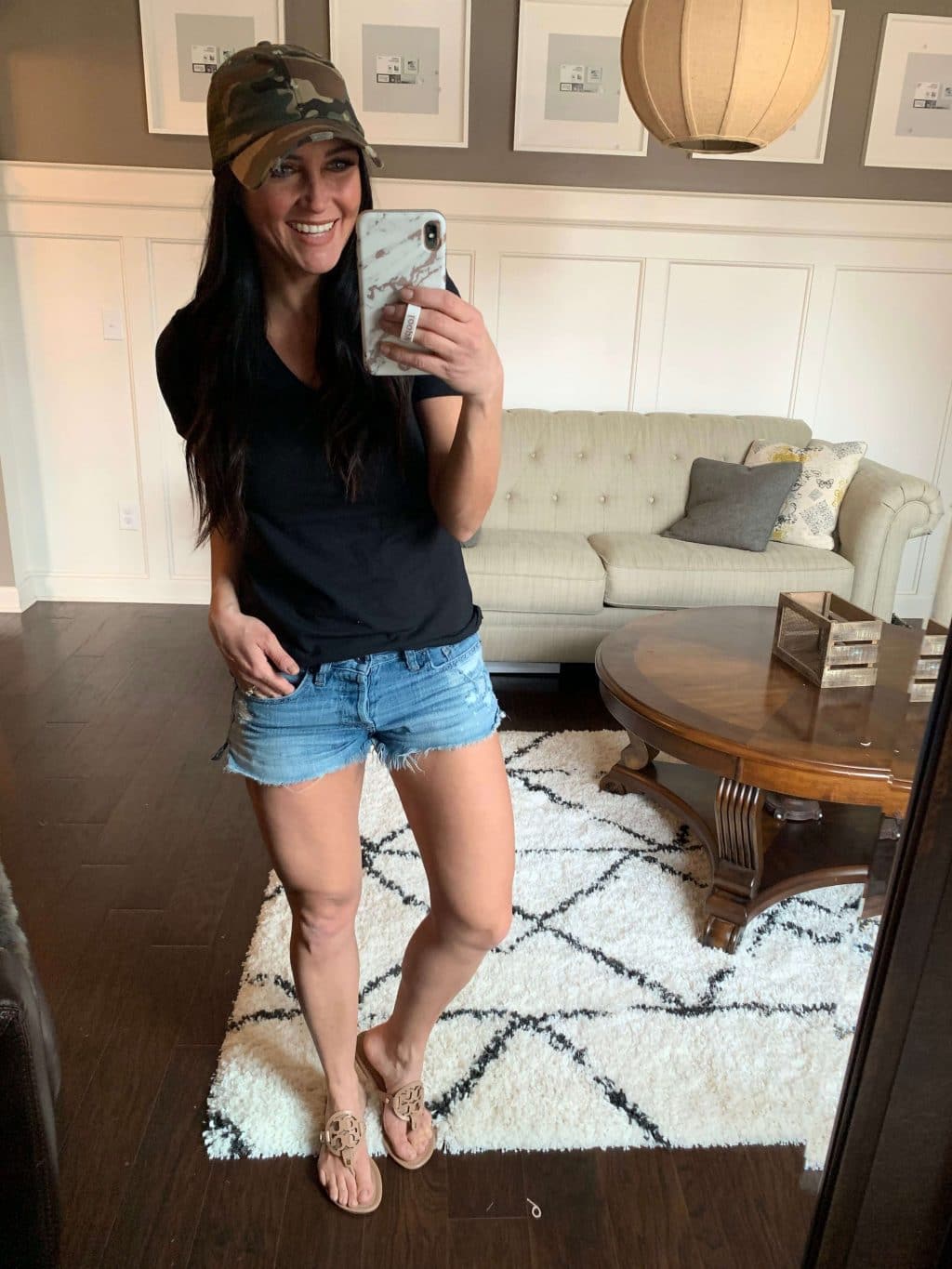 Camo Hat – This is such a cute hat! I imagine I will throw this over dirty hair many days this Spring and lots of summer days on the boat! The little distressing on it gives it such a trendy look and it's adjustable.
Linen Joggers – These are the comfort of a jogger, made a little dressier with their linen material. They come in 6 colors and are great for Spring. The do run big; I'm wearing an XS with good room still.
Tulip Hem T-Shirt Dress – I thought at first I wouldn't be able to get this on, because it has a lot of stretch! But once I did, I was floored. It's an amazing dress that really sucks and tucks without being too tight. It has a lining in it, too! Amazing quality for the price and comes in several colors.
Denim Jacket – This is a great jacket with a feminine cut. It has good stretch, so it's very comfortable and not bulky. This is my pick of the 2!
Open Front Long Cardigan – I love a long cardigan and this is an Amazon Basics piece is a good one. I ordered the oatmeal and can see myself wearing it over shorts, jeans or even a dress. It's not too thick and a good for Spring.
Sideways Initial Necklace – This is a dupe for the Anthropologie one, coming in at about 75% less! It would be a great gift!
Spaghetti Strap Midi Dress – I love the color of this one! The fit is great and the elastic/drawstring in the middle give it good shape. The straps are adjustable, making it a great fit! It comes in several colors and is true to size.
Scoop Hem Tee – I got this tee because I was drawn to the hemline, but I didn't realize it's workout wear! It's an oversized fit (wearing an XS) and would be perfect for running or working out, followed by the store or pickup line! Paired with these great shorts from last month's haul.
Other pieces in this post are my favorite denim shorts, my favorite sandal (worth the splurge!), my Loopy phone case, distressed jeans, grey fur sneakers and tan slip on shoes.

Hope you enjoyed this month's haul! If there is ever anything you're specifically looking for, let me know!