I hosted our neighborhood monthly bunco night on the 1st and I was so happy to be able to do a 4th of July theme!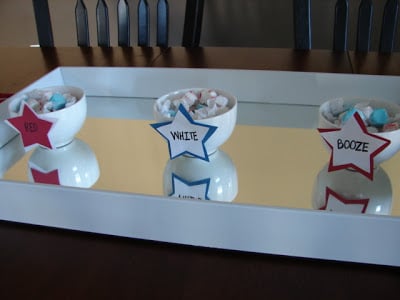 Red, White and Booze. The "B" couldn't stand for Bunco because no one ever ends up playing, just drinking. So this was my unused bunco table. Haha.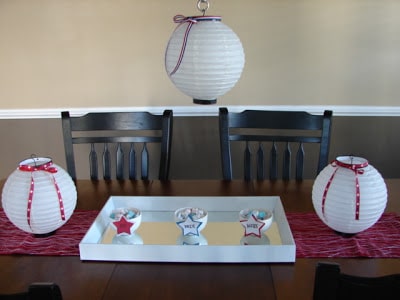 I went a little red, white and blue crazy!
14 women, lots of wine
(for everyone but me!)
and chatting until 1AM = Good times.
I had to get the hubs to taste the sangria to make sure I made it taste good!
All the food was rocking the color scheme.
Caprese salad has been a little preggo craving, so I was happy to make these.
This is my sis-in-law's trifle recipe and my go to summer dessert. Its easy peasy.
Isn't salt water taffy the cutest?!
I made Buffalo Chicken dip and
Rachel's
Mexi-corn dip which was delish, but I forgot to get a pic!
This was our "before we run out the door" 4th of July picture. Shadowy, unflattering and including Coop's famous lion face, but its a rare family pic nonetheless.
Then I forgot the camera when we went to our friends party and to see fireworks. Then I ruined those white pants when I fell off the side of a driveway and landed on my baby belly! I totally freaked out, but aside from a bruise on my stomach, scraped up hands and lots of soreness, everything is fine. Good thing I haven't said no to any dessert. I have some extra padding!
Hubs had off the 4th and 5th off so we've done lots of hanging out and shopping over the past couple days. Hubs painted the kitchen and hallway and we got lots of goodies for the baby nursery! Can't wait to get it all together to show you!
Hope y'all had a happy holiday weekend!