Most of you have probably already noticed the new look around here. I'm loving it! Thanks to Jenn of Munchkin Land Designs for her awesome work!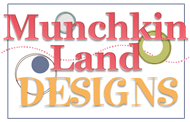 Jenn was so very patient with me and changed things until they were just like I wanted them. If you are in the market for a new look, even if you just need a few aspects changed, Jenn is your girl.
Y'all just happen to be lucky because she is offering all you readers 10% off anything in her store! Just use the code StilettosDiapers10% until August 27th!
Next up, Stilettos and Diapers is now taking sponsors! If you have a blog, business or shop, advertise right on the sidebar under the sponsor tab. I am using Passionfruit ads to rotate through Stiletto, Wedge and Flip Flop sized ads. You can get more info here and under the Contact/PR tab above. Oh, and guess what? Since I'm squeezing the last bit of summer out and headed to the beach soon, you can get 50% off any ad until we get home! Use the code SUMMER at checkout!
Coming up soon: A fabulous giveaway from BabyLegs, a $50 Visa Gift Card giveaway and a recap of the SIL's wedding. Oh and somewhere in there, I will get all theses suitcases unpacked…