My May Amazon Haul is full of summer goodness to keep you on trend for less, with plenty of dresses and sandal options to help beat the heat!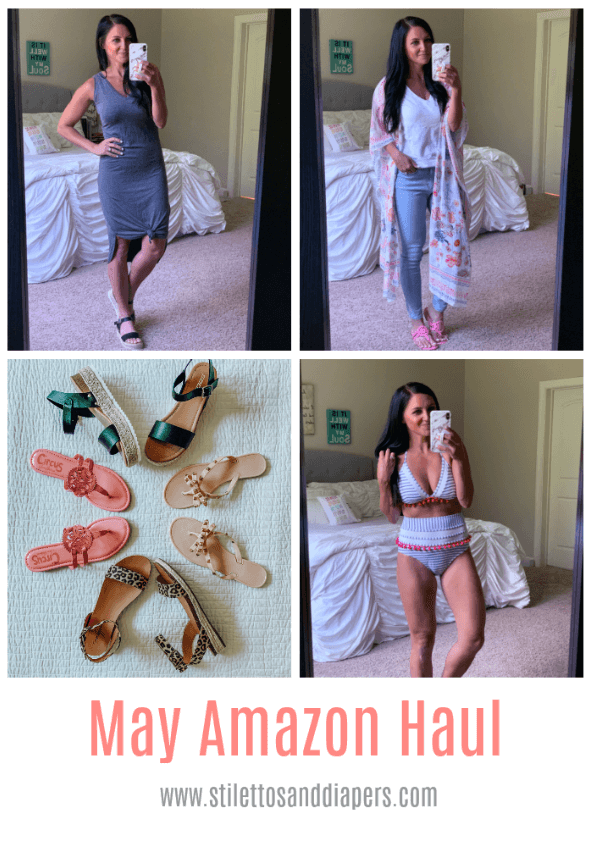 Ready for summer with this May Amazon Haul! I listened to what you requested and filled this one up with sandals, casual dresses and rompers! There will be a video try-on on
Instastories
, so you can see in real life, too. Check out my
April Amazon Haul
if you haven't already, since there is plenty of summer goodness there, too!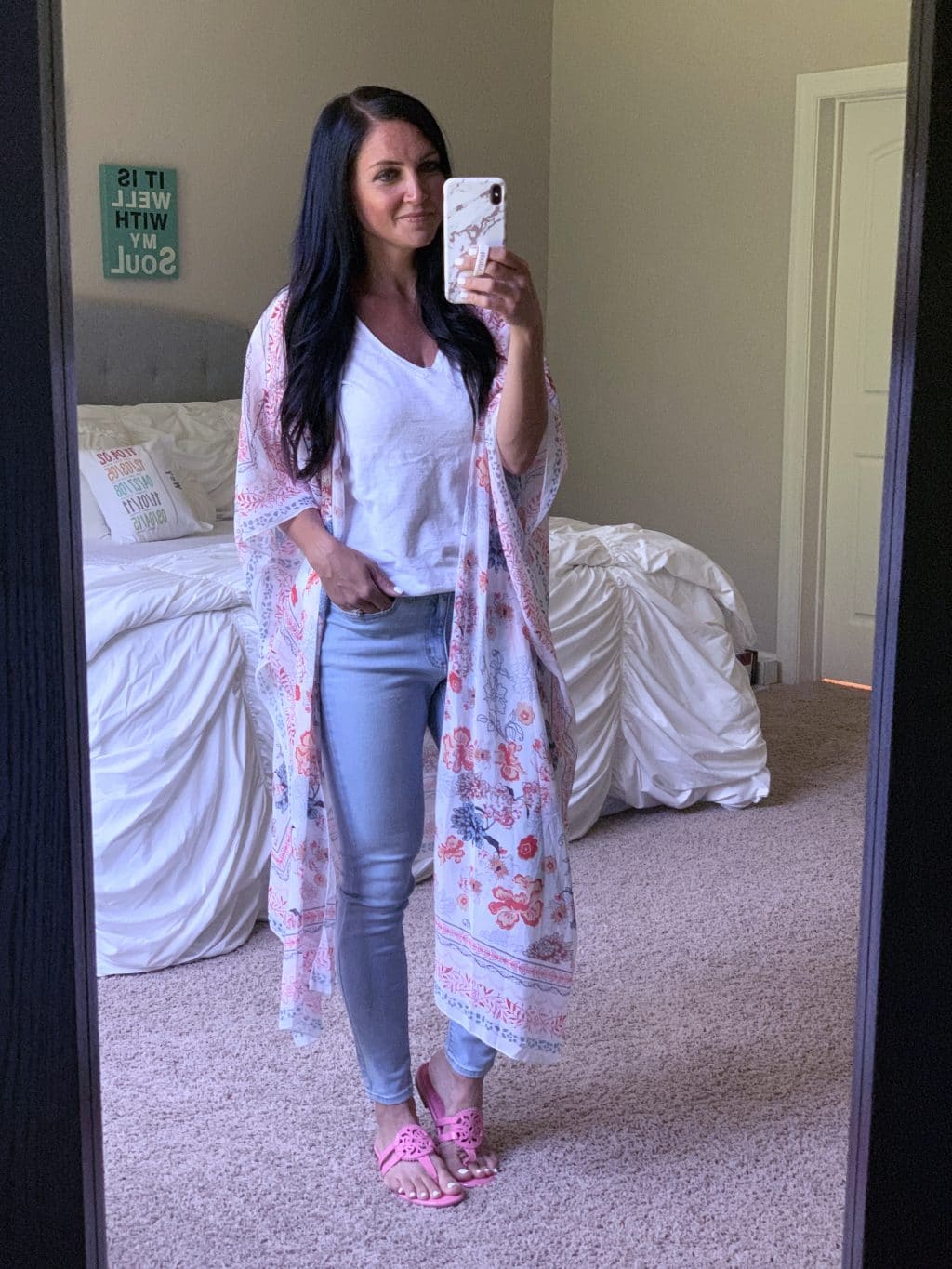 Kimonos are all the rage right now! This one comes in a few patterns and I'm wearing "multicolored-1" It has sewn arm holes, so it won't fall off your shoulders and would also be a great beach coverup!
I ordered these skinny jeans in light stone wash and the mid-blue, which I forgot to show! They are a great, mid rise jean, fits true to size and has a perfect amount of stretch.
I love T-shirt dresses for the summer and this one is a great basic. It's under $20, comes in 10 colors/patterns and is a great, throw on and go summer staple! I got the XS and it still has a bit of room in it.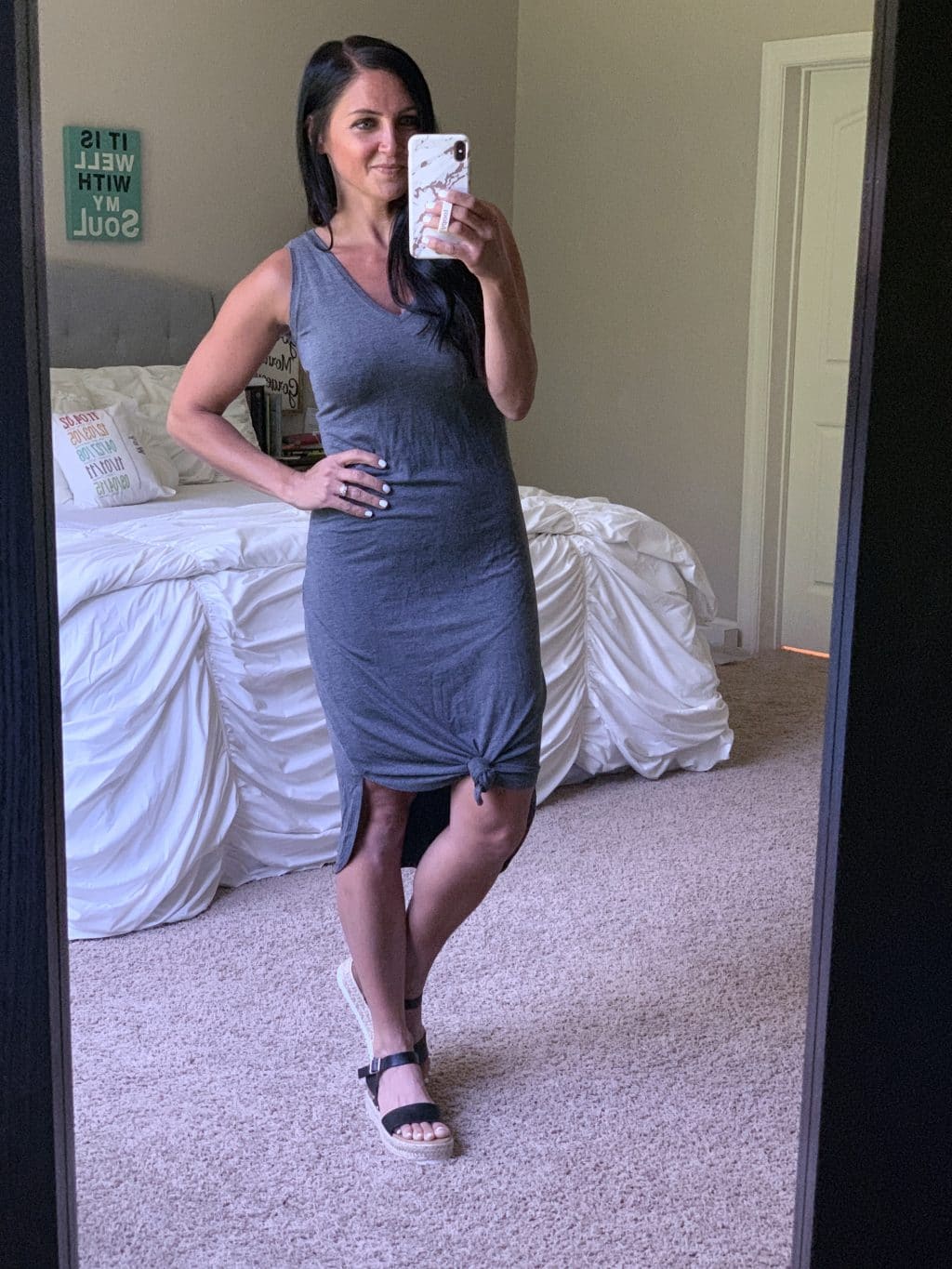 I don't usually love midi dresses on me, but I love how this one looks tied up in the front! It has a split hem on both sides so it ties easily. It has a lot of stretch and is really soft fabric. I'm wearing the XS and it's pretty fitted. If you want more room, I'd suggest sizing up.
This dress is perfect for summer travel! It's insanely comfortable and very versatile. (and has pockets!) It comes in 30 different colors/patterns and is right around $20! This is actually my second one and I can say that it's a great dress. I'm wearing the XS and there is still a little room.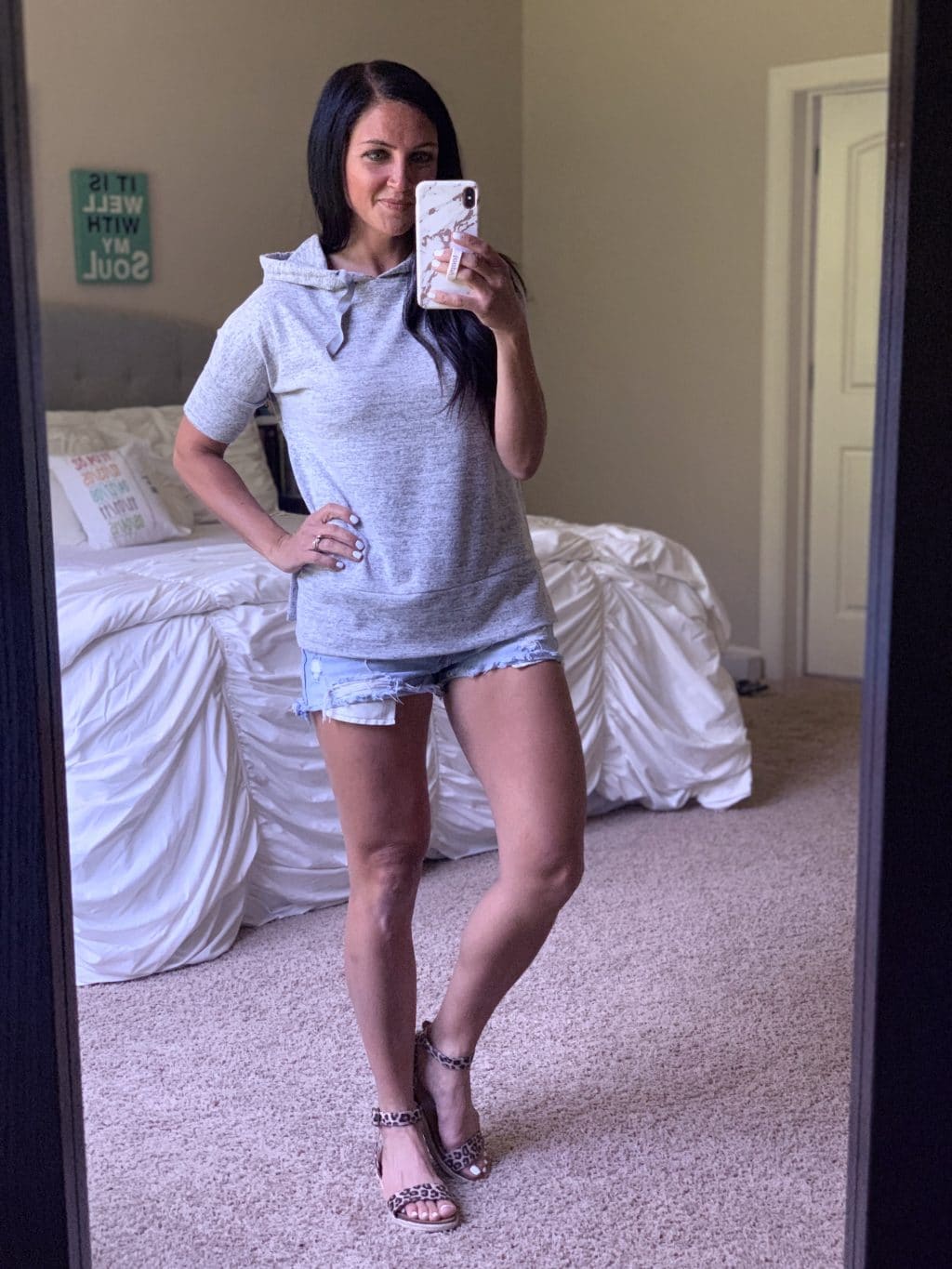 I wish you could feel how soft this top is! When I pulled it on, I immediately thought about cool nights at the beach. The side slits keep it fitting comfortably and the fitted arms give it some shape. It comes in a few colors and I'm wearing an XS.
Y'all loved the Good Vibes tank that I got last summer, so I wanted to get another! I think this is the perfect country concert or summer outfit. This tank is not super long and you would need to size up if you want it oversized, or able to knot in the front. I'm wearing the Small.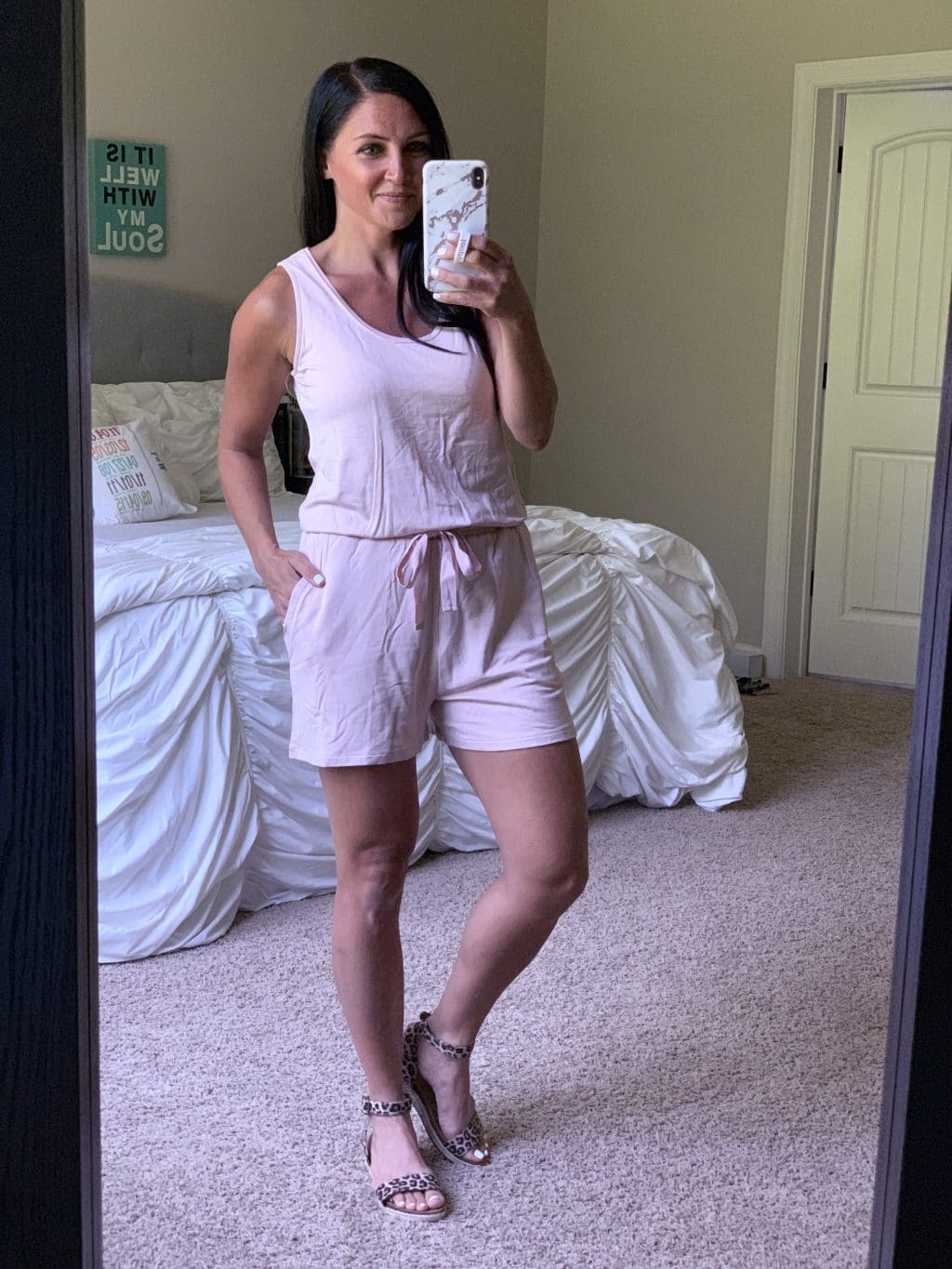 Y'all asked for rompers, so I grabbed a couple! This one is a basic solid that is super comfortable. It comes in 4 colors and has enough stretch in it that it doesn't get a saggy butt like some pure cotton rompers. It is a longer length, which is hard to find in a romper and the way it's cut makes it great for a long or short torso. I have an XS and it still has some room in it.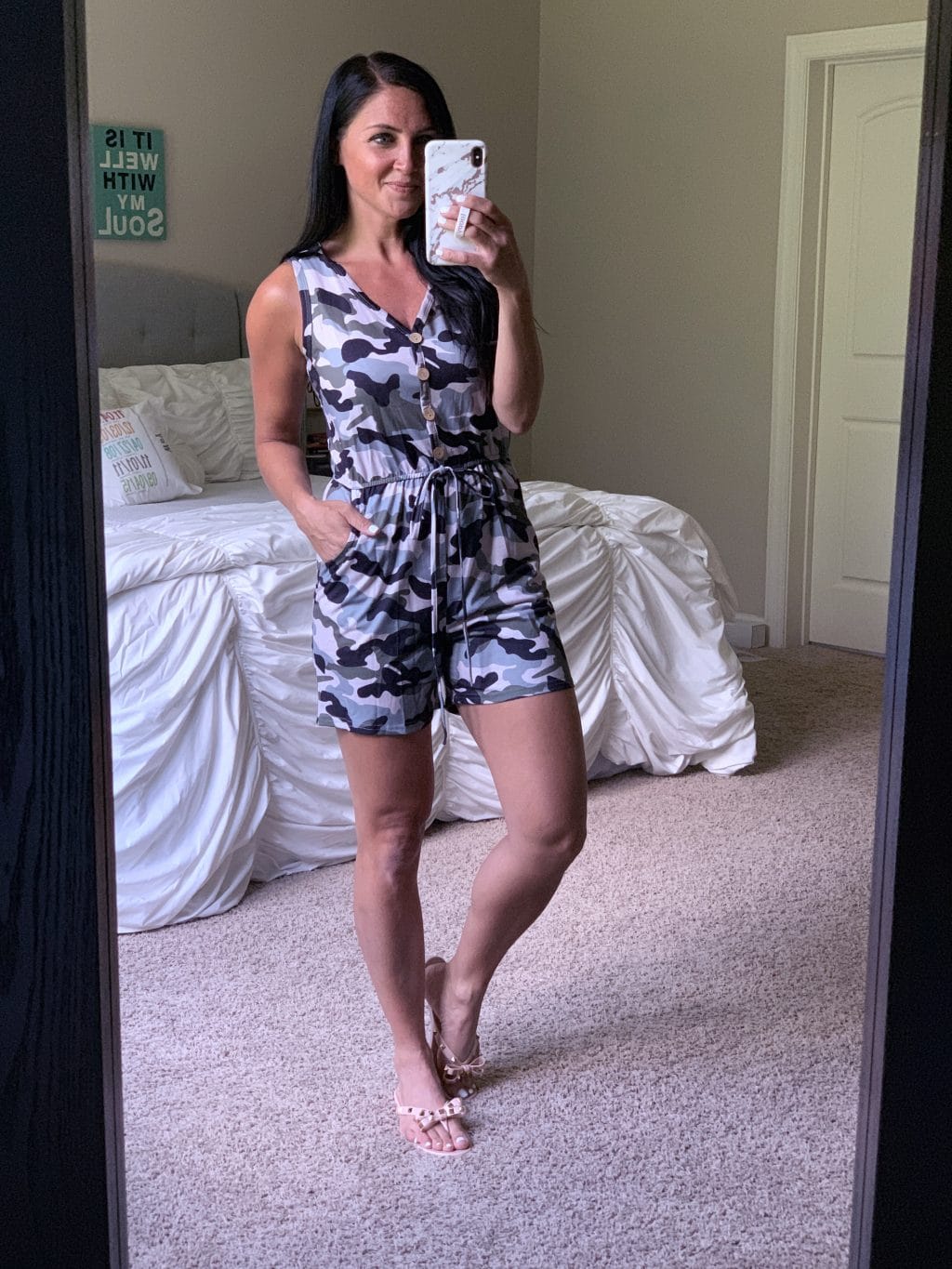 I can't say no to camo! This romper has an elastic waist with a non functioning tie and buttons. The buttons not opening make it much more comfortable! I ordered the olive, but I feel like the one I got is more of the black? I'm wearing the small, but if you don't like it too fitted on your booty, I suggest sizing up. I originally wanted this camo romper, but it was sold out. Now it's back in stock, so I might try it next month!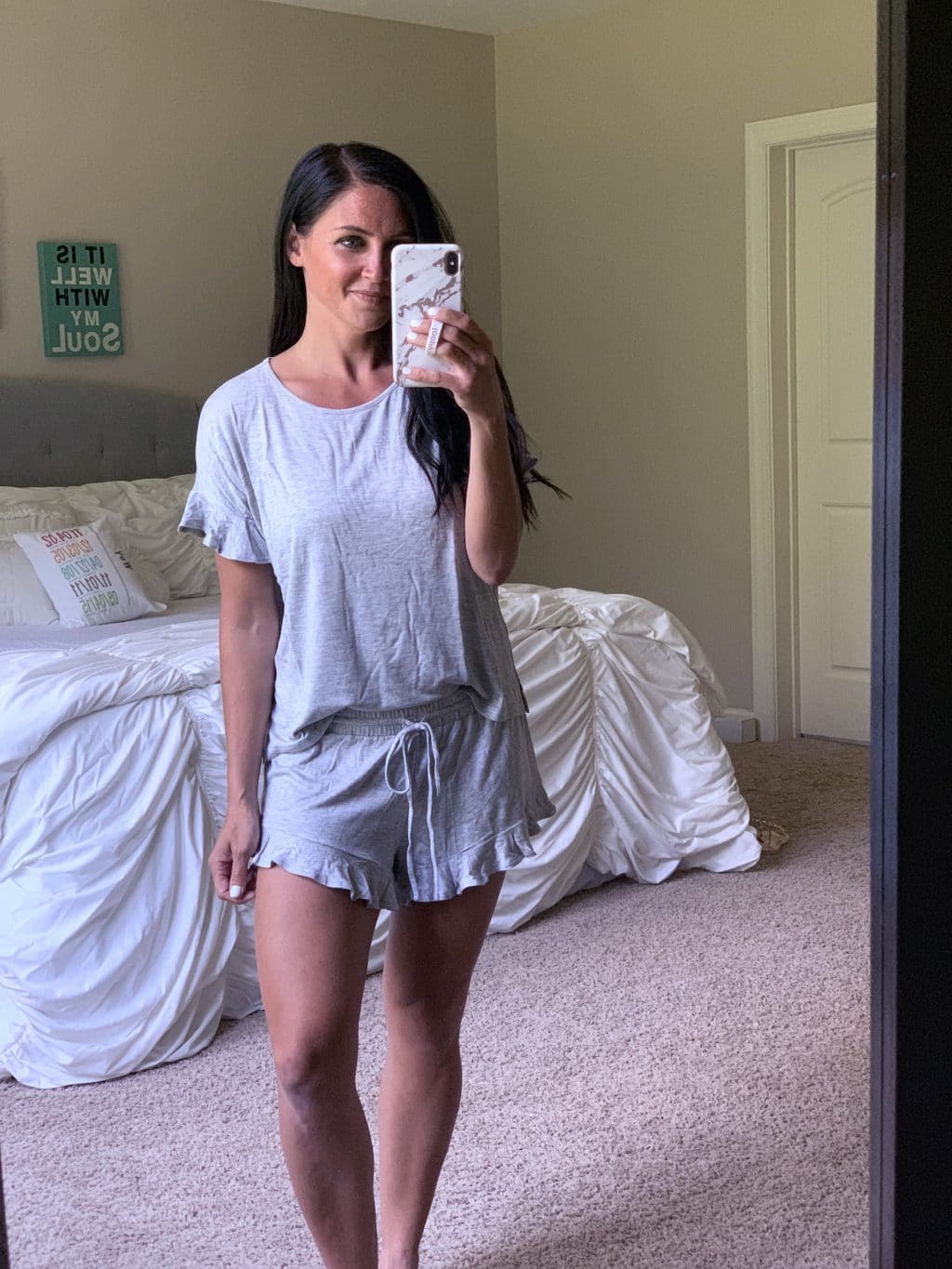 I adore these pjs! I try to wear decent ones when we travel or have company and this set is just too cute. It comes in several colors and is under $25. I got the small because I like my pjs to be a bit oversized, but I could have done the XS, too.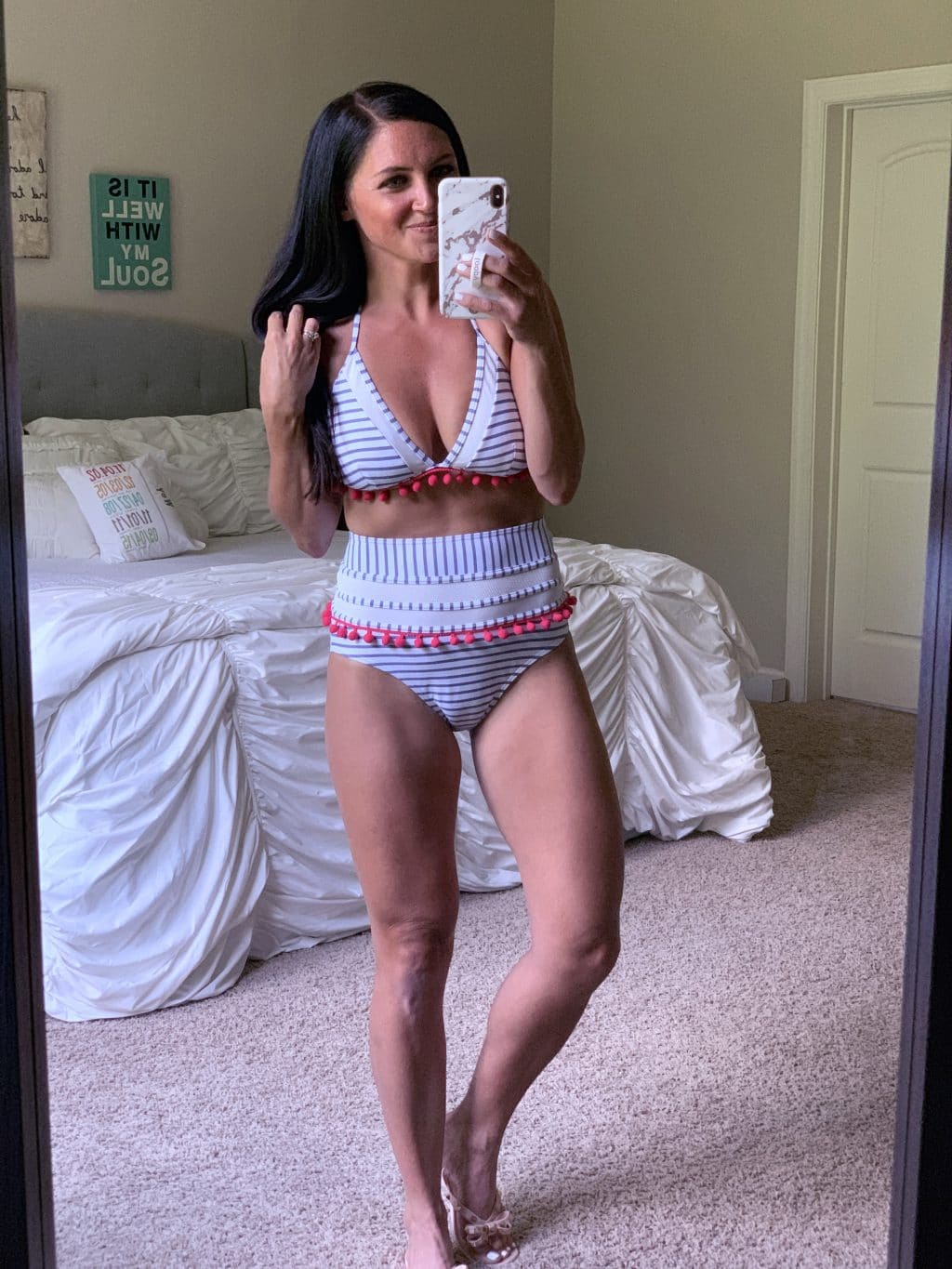 I feel so weird showing y'all bathing suits! But you asked for more and I've seen so many people wearing this cute one! I feel like it's super flattering and is a great "mom suit". I ordered the 6 for the top, but could wear a size smaller in the bottom. It literally comes in TONS of colors and you won't believe how affordable it is.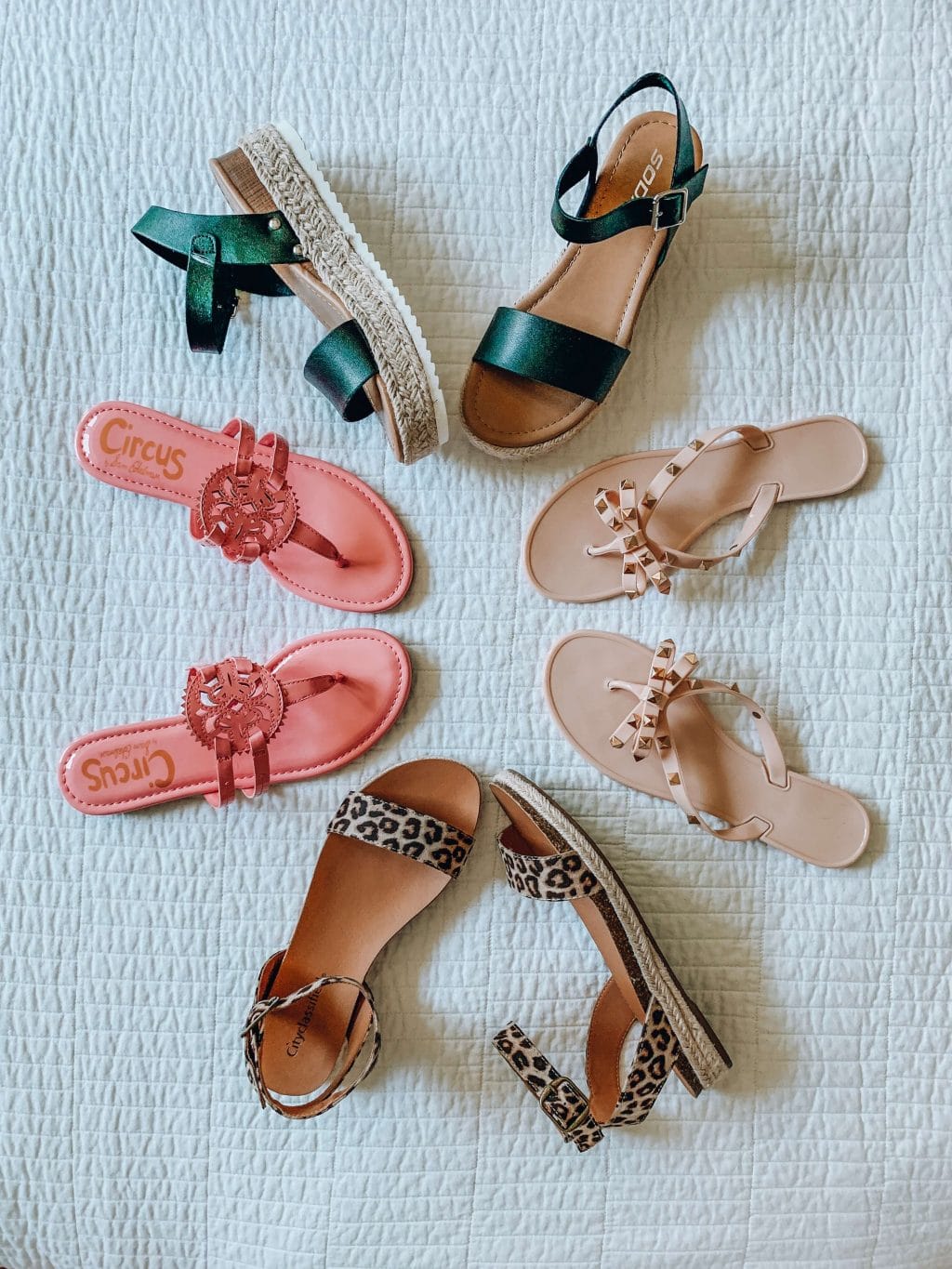 I'm a huge fan of my Tory Burch sandals, but wanted to try some dupe options. These fit nearly identically, come in a ton of colors and are a fraction of the price!
I wear my leopard flats all fall and winter, so I wanted some leopard for summer! These fit true to size, are very comfortable and are about a 1″ platform.
Reviews say these run big, so I got 0.5 size down and they fit great. I love the white rubber on the sole, plus the wooden look on the heel adds a lot of interest. They're about 1.5-2″ platform come in lots of colors and strap options, all around $30!
These are so stinking adorable. They're all rubber, so very flexible and perfect for the pool or beach. They fit true to size, are under $20 and come in several colors!
Hope you enjoyed this haul! If there is anything specific you want to see, tell me in the comments!