I sure loved our long Memorial Weekend! The hubs was off Friday-Monday, so we spent a ton of time together. I love relaxing times with my little brood of boys!
Friday morning, we got out early and headed to the lake. I didn't make time for breakfast, so I grabbed a yogurt I bought for the hubs on the way out the door. My sweet mercies. Oikos Lemon Meringue is like eating dessert for breakfast. So delish.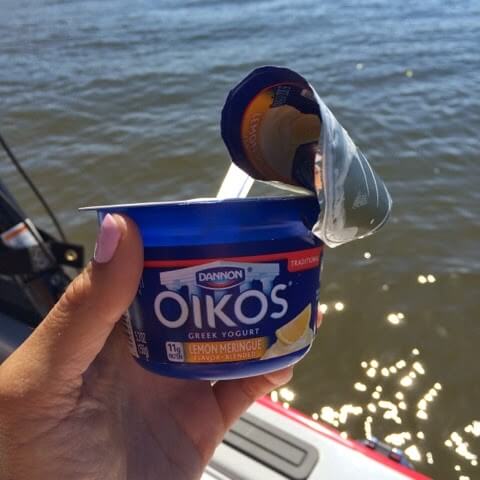 I spent a good chunk of the day, belly down, thanks to this awesome float from BellyFlopz. It's totally one of those "why didn't I think of that" ideas! I floated in the water and also layed on the back of the boat on it. There's a comfy, velvet lined hole for your baby bump and a "boob groove" for the other growing bumps of pregnancy. Basically the most comfortable part of the weekend!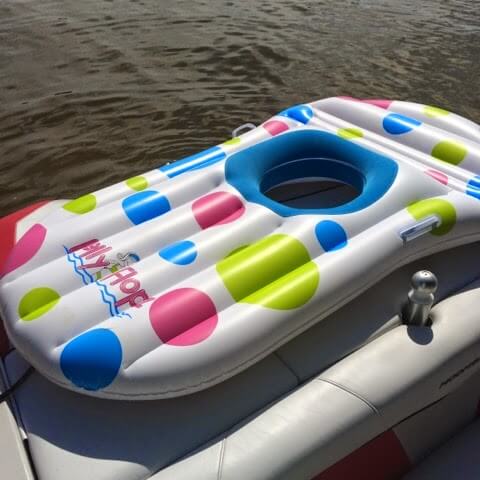 We took Cooper out of school early and met up with some friends, where we anchored up to the beach and made our own little redneck yacht club for the rest of the day.
On Saturday, I woke up realizing I only have 14 (or less!) weekends of being pregnant. Therefore, I needed to jump on feeding the baby some donuts and went to get them in my pajamas.
Cooper participated in a local baseball skills day later that morning. He tied for first in the home run derby and had to have a hit off.
He ended up getting second place as well as third place in the base running competition. So proud of him!
Later that night, we went to a friend's house for a BBQ and Cooper locked my keys in the car. Totally scary how fast AAA can break into your car, ya know….
This is one of the many patriotic outfits I wore over the weekend for a post church BBQ at our house.
Monday was INSANE on the lake. We spent about 8 straight hours on an island instead of driving around. The boys did go out of on some friend's jet skis and they had a blast!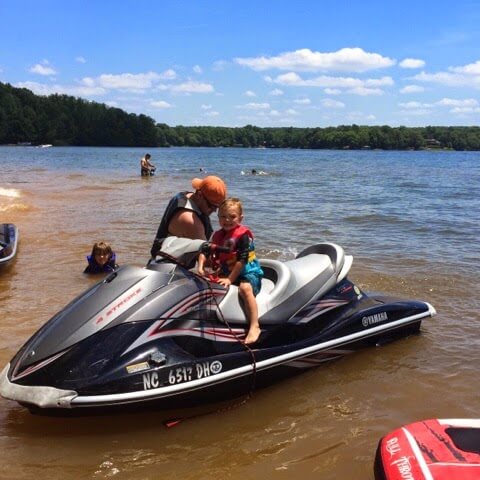 While they were gone, I ate cookies.
And took a nap in this shady spot. I drank my seltzer while watching the crowds of people who also pulled up to the island. They were having themselves a good ole time!
Much like these little monkeys of mine. Callan literally left the water to eat half a sandwich and that was it.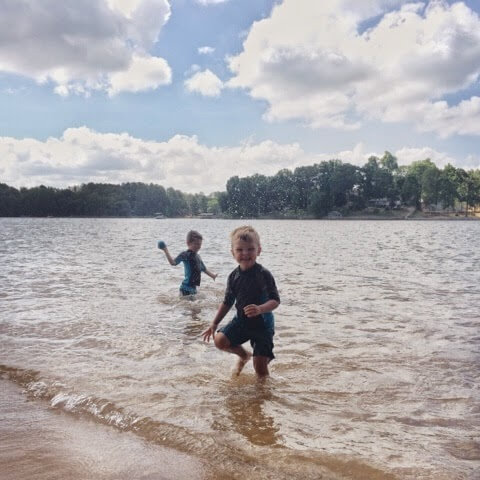 I made my "patriotic holiday dessert", which is so easy and delish. I layer cubed angel food cake, berries and a mix of 1 large box vanilla pudding, prepared and 1 tub of cool whip in a trifle dish. You really can't beat how easy and pretty it is!
I think spending so much time on the water made me a little off and I had bad sea legs last night. The whole world spinning feeling isn't fun at all!
We had such fun and I kept reminding myself of why we were able to have such a great time together. I'm so proud to be an American and more than thankful to all the people who have, and continue to serve our country.
Hope you all had a fantastic weekend as well!