Don't tell my preggo self that I can't make a recipe with 2 sticks of butter in it. Because this is proof that I can. And you will want to make it too.
The Pioneer Woman's Monkey Bread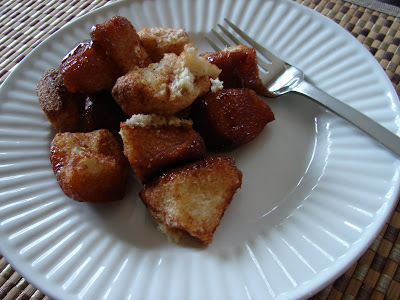 Quarter 3 cans of biscuits and shake in a bag of cinnamon sugar.
I realized when the time came to shake it up that I was out of gallon size ziplocks. It would have been a lot easier if I had those since I had to shake in little batches.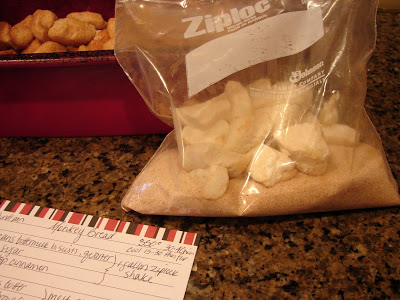 Once you put all the biscuits in the pan, melt butter. 2 whole sticks of butter. Just do it. It's delish.
Then add 1/2 cup of brown sugar. Wisk, wisk, wisk until its all mixed and brown.
Pour it all over the biscuits and you're ready to bake.
I don't have a bundt pan, but this would be way prettier in one. Don't worry, its on my Mother's Day wish list.
Once its baked, try to let it cool for 15 minutes until you turn it onto a plate.
I totally picked off the top while I was waiting knowing it would end up on the bottom. Hehe.
The three of us ate almost the whole thing…well, I guess I ate the majority of it.
Monkey Bread
3 cans biscuits
1 cup sugar
2-3 tsp cinnamon
2 sticks butter
1/2 cup brown sugar
Bake at 350 for 30-40 minutes
I am beginning to love The Pioneer Woman way too much. I didn't know she uses almost as much butter as Paula Deen and that makes her downright magical.