I can't believe that my sweet boy is old enough for the big boy room transition, but here we are! As I started picking out pieces for the room and planning, I was thinking back to my other boy's big boy room days. Neither of them had the smooth transition that Lincoln had, though! When Cooper was 22 months old, we moved from California to DC. We lived in a hotel while we were waiting on our house to be built there. He turned 2 and rode his bike up and down the hotel halls, then by the time we finally moved into our house, we were over the crib and went straight to the bed. Callan was also 22 months when we moved from DC to North Carolina. He turned 2 in an apartment, without any of our stuff, and slept in a pack-n-play. He went right into a full sized bed when we finally moved into this house!
So, this has been a fun planning event for me. And it's also fun that we're breaking the tradition and are actually NOT moving right now! We were pushed to make the change because Lincoln started climbing out of his crib, which was really unsafe. After a few weeks of his mattress on the floor, we got everything set and he's been happily sleeping in his bed from night 1. We didn't want to give up our guest bedroom when Lincoln was born, so we transitioned our playroom into his bedroom. There are still quite a lot of toys in there, but he's really the only one playing with most of them, so it works!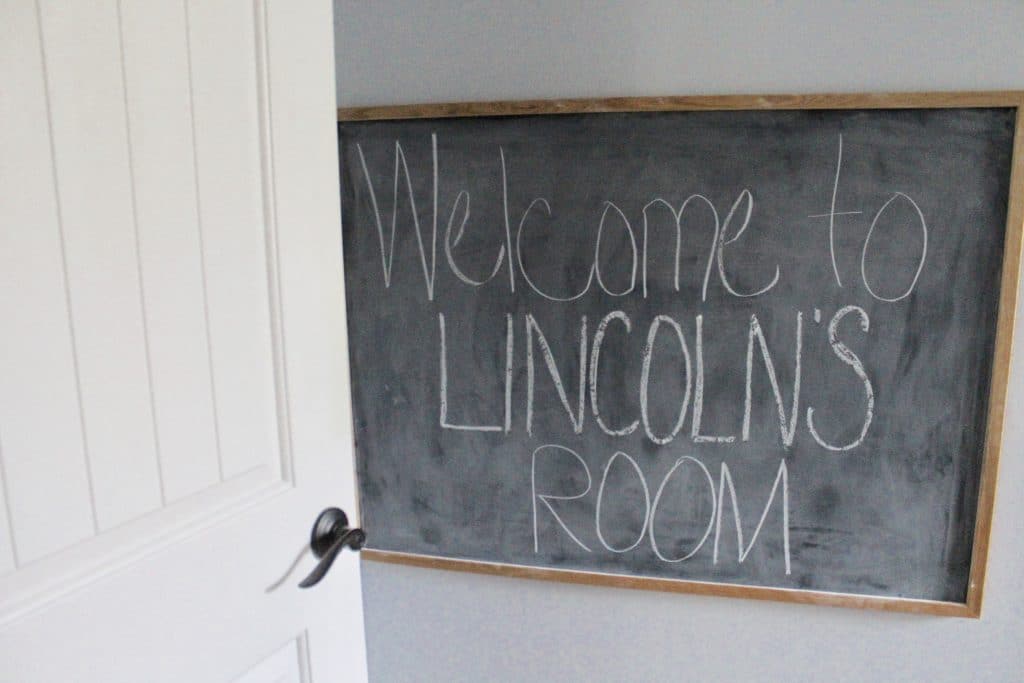 We went with a convertible crib and dresser from DaVinci Baby. I chose a set from their new Carter's By DaVinci line and I'm incredibly impressed with the quality and appearance. I had a hard time choosing because I really love the look of all the pieces! They're all grey and white and several pieces are both colors. 
I thought about taking the glider out, but my boy loves rocking. Since he's our last, that's something I'm just not willing to stop doing now! I'll rock him forever!
My style for our whole house is comfortable style. I choose pieces initially based on appearance, but they must absolutely be comfortable. I don't want people to feel like they can't sit in my house, or kids to feel like they can't play. Lincoln's room is a reflection of that, with many decorations being toys and practical pieces. It's become a room he loves to hang out and play in, while still fitting into the style that I really want in our home, so I call it a success!
Here are details of some of the pieces shown:
Paint: Sherwin Williams Lazy Grey
Dresser: DaVinci Baby (Carter Dresser available at Wayfair)
Bed: DaVinci Baby (Kenzi Crib available at Wayfair plus toddler bed conversion kit)
Bedding: Amazon
Book Cabinet: Ikea
1-2-3 Baskets: Ikea
Glider: Target
Sign over bed: Hobby Lobby
USA Map: Hobby Lobby
Artwork Display: DIY tutorial here

I'm teaming up with DaVinci Baby to give away a Kenzie Crib! It will be the full crib, so you parents to be, or those with infants will want to enter, too! The giveaway will take place tonight and be on my Instagram page as well as DaVinci Baby's page. You don't want to miss it!
How old was your child when you made the transition? Did you have a climber? 
I received product from DaVinci Baby, but all opinions are my own.
Thank you for supporting the brands I love!