Here we are! Week 2 of Whole30 and I'm just in shock that I haven't eaten sugar in 2 weeks. It's a huge deal for me! Here is my diary of thoughts and meal plan for week 2! (If you missed week 1, you can see it here)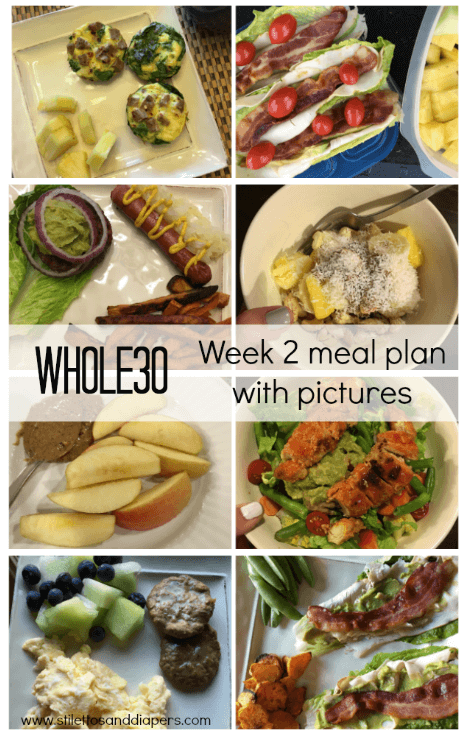 Day 8: I felt bloated today for some reason, but feel good otherwise. I found compliant almond milk, so I think coffee is about to be enjoyable again. I can't handle the coconut milk oiliness!


Breakfast: Scrambled eggs, homemade sausage, fruit
Lunch: Lettuce boats with Applegate oven roasted turkey (get it from the deli counter!), guacamole and bacon. Sugar snap peas and a few roasted sweet potato rounds.
Dinner: Rotisserie chicken, spaghetti squash, steamed broccoli.
Snack: Key Lime Pie Larabar


Day 9: I had the Califia Almond Milk today and it's made my coffee delicious again. Not sugary sweet, just a touch of cream. And let's face it. I haven't slept in 6 months. I need my coffee.


Breakfast: Sausage and spinach omelet, berries
Lunch: Zucchini noodles with leftover rotisserie chicken, shredded carrots, garlic and coconut aminos, all sautéed for a few minutes in sesame oil. So good!
Dinner: Buffalo chicken fingers were a hit! (Tenders breaded in almond meal and baked. Sauce is Franks original red hot, warmed with a little ghee.) Roasted potato "fries" and salad with Tessemae's Ranch dressing.
Snack: Apple with almond butter


Day 10: I'm really trying to up my water intake, which means I'm going to the bathroom every 3.4 minutes. But, I know that will help to flush those toxins out! I can't believe this is the biggest day people quit. I feel like I've accomplished far too much to stop now!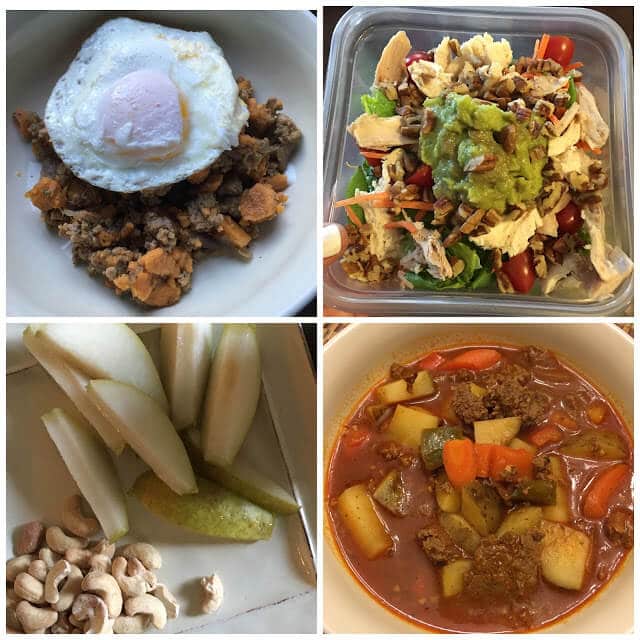 Breakfast: Sweet Potato Hash with an egg
Lunch: Salad with leftover rotisserie chicken and Tessemae's ranch dressing and guacamole. I've learned if you add a little guac to your salad, you need far less dressing. And it's delicious!
Dinner: The Pioneer Woman Hamburger Soup (This was good, easy and made for perfect leftovers.)
Snack: Pear and cashews


Day 11: This weeks meals are a bit repetitive since The Hubs is out of town. It's way easier to have all this stuff ready to go in the fridge. I think I'll plan to make a couple things in bigger portions to simplify the next couple weeks, too.


Breakfast: Scrambled eggs, homemade sausage, blueberries.
Lunch: Leftover hamburger soup
Dinner: Salad with leftover buffalo chicken tenders and guac!
Snack: Apple with almond butter
Day 12: Friday! I really wanted a glass of wine today. Like seriously thought about cheating and having a bottle glass. I think part of it was because The Hubs came home from Chicago and I just wanted our normal little "date night" to chat about our week. That time of the month also came around, so that may have contributed.
Breakfast: Sweet potato hash.
Lunch: Leftovers: 1/2 a burger on avocado, hotdog and sauerkraut, spaghetti squash, broccoli
Dinner: My favorite dinner yet! Damn Delicious Chicken with Sun-Dried Tomato Cream Sauce. I omitted the parmesan and replaced the heavy cream with coconut milk. It turned out great. Served with mashed potatoes (made with coconut milk) and sautéed spinach.
Snack:
Fruit and Veggie Snack Bar
Day 13: We were non stop busy this day and I packed lunch to eat in between basketball games. It felt so good to do that instead of eating out! I had a really bad stomach ache in the afternoon, though. My only reasoning was maybe from scarfing down food out of the tailgate and rushing? No clue. I went to the movies with Cooper and had water! Afterwards, we went for ice cream with his friends. I ordered decaf iced coffee and brought some almond milk for it. Didn't feel like I was missing out at all!
Breakfast: Frittata muffins with sausage and spinach.
Lunch: Lettuce boats with turkey, bacon, avocado and tomatoes with a side of pineapple. Becoming a go-to!
Dinner: Roast that I cooked in the crock pot all day with red potatoes, carrots and onion.
Snack: Lemon Bar Larabar. I think I've decided this is my favorite.
Day 14: I woke up with a raging headache. Maybe it's hormonal. I'm going to guzzle water today. Had my favorite meal tonight, which really feels like a cheat and it's not!


Breakfast: Sweet Potato Hash with eggs. Which I need a break from. It's so good, but I want it to keep being so good, so I must take next week off!
Lunch: 1/2 avocado, Applegate Oven Roasted Turkey and an apple.
Dinner: Burgers on lettuce buns, Applegate natural beef hotdog with sauerkraut, roasted sweet potato fries.
Snack: Monkey salad: frozen pineapple, sliced banana, cashews and a scoop of almond butter topped with shredded coconut.


I felt far more confident in my meals this week, knowing exactly what was okay to use and not. I planned every meal out, but this week, I will probably be a bit more fluid with breakfast and lunch. It's still essential I have healthy things stocked, though. I'm eating a couple snacks a day, to make sure my milk supply is sustained. I haven't seen any decrease at all, which is a big relief!


My friends are continuing to be a huge support. One talked me off the ledge when I wanted wine and being in a FB group with Lisa has helped a ton for sharing recipes and accountability!


My clothes are fitting better and I can see a noticeable difference when I look at my stomach. I'm really feeling good and excited!