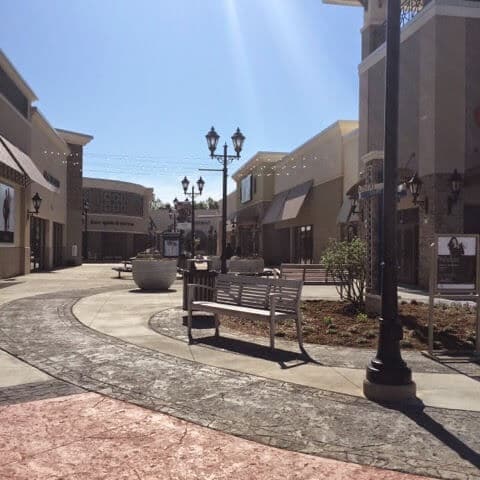 I spent so long browsing at Carters, followed by The Children's Place, that I got hungry. The little pretzel bites from Auntie Anne's hit the spot. (Notice the comfy seating and outdoor fireplace? Perfect spot for waiting husbands!)
Next stop was Ann Taylor Loft. They have a huge selection of bright, summery scarves, all an additional 40% off.
I also found this pretty necklace that would be perfect for a summer wedding! At an additional 50% off, you can snag this for $17.50!
Okay, okay. I'm pregnant and need lots of snack breaks. Thank goodness for a Starbucks right in the middle of everything!
On to Banana Republic, where they had these fab boyfriend jeans. If I wasn't pregnant, they would have come home with me, but alas, the bump voted no on them.
J. Crew was pretty much the jackpot. I love their selection of men's wear, especially for a vacation!
I fell in love with these pants there, too. How great are all the elastic waist pants and shorts out right now?
And one more J. Crew find was this adorable anchor top with rope straps. It's going to the beach this summer!
Vera Bradley is one of the more recently opened stores at Charlotte Premium Outlets. If you're a Vera fan, GO! The prices are incredible. Everything was 50% off retail price!
Hey, bows and mint! That can only mean Kate Spade Outlet! This cutie was actually on the sale rack and I think it will be perfect for date nights and weddings this summer.
Another thing I wanted to get, but couldn't due to the baby bump, were these adorable dresses at Gap, 40% – 50% off!
My last stop of the day was Francesca's. They have a big selection of cute accessories and home goods.
They also had a ton of stuff for Mother's Day! You still have a couple days to get there and grab something for your mom!
All my local friends, don't forget about the INDULGE event, tonight, from 6-8pm! Lots of fun for Moms, with special sales, giveaways and more!