This was an outfit that required justification. Ya know, when the hubs gives you that look that makes you pull out People Style Watch just to be allowed out of the house? Ya, that one. But, I totally love it. And I'll wear those shorts with tights and peep toe booties this fall. Uh, huh.
Don't worry, I have pictures already to show the hubs.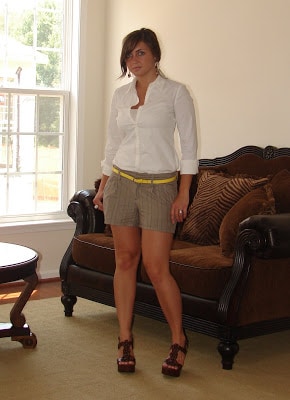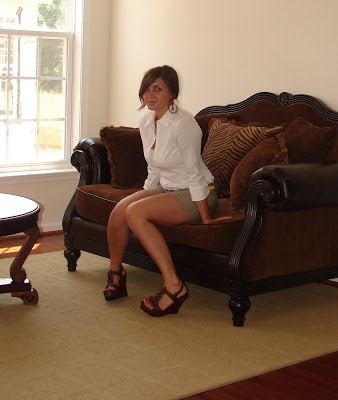 Loose side bun made out of un-blow dried hair…hey heyyyyy summer!
I got my ZEBRA!
Room looks a little fuller this week, huh? Helloooooo zebra! I am so excited to finally have some furniture in this room, especially since I totally won the war. Hehe. We have a chair coming that is on back order until mid August. I'll show you pics when its all done, though.

Outfit Deets:
Shorts – Banana Republic, Shirt – Old Navy, Shoes – Target, Earrings – Gift the in-laws brought me from South Africa, Belt and Ring – F21
We were supposed to be leaving today for vacation with my fam in Destin, but due to some serious miscommunication and attempt to maximize days in the sun, we are postponing the trip until next week. Not too upset though, because this will be our first weekend alone in a long time!
Happy Friday Y'all!
Fashion Friday is brought to you by the fab, Summer!