I fell in love last week with these riding boots.
I was doing my
daily
weekly Target run
(which always takes me through the shoe department)
when I saw them tucked in the corner all alone.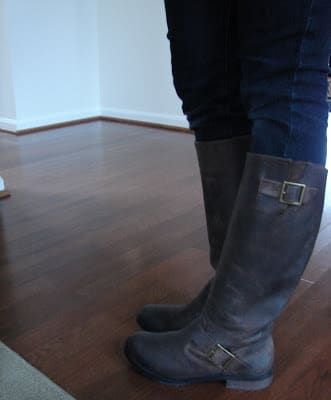 Then the magic happened. They were an online item that I guess got returned on clearance for $10.24. I knew they had to be mine.
So I tried them on. And the right shoe fit. But I couldn't get the left one on. There is no zipper or button and those suckers were stiff! (Hello, no wonder they were returned.) But, obviously, I bought them determined to make it work.
When I got home, I told the hubs about my find. Then I told him I couldn't get the left one on.
And he laughed hysterically.
I had to break the heel in a bit, but finally got them on and wore them around the house for like 3 hours. Like a complete idiot. Seriously, who buys shoes that don't go on?
Now every time I wear them, they get easier to get on and I am so freakin happy I bought them. Hehe. My sis even offered me $30 for them when she was here. Which I refused!
These pics are a bit funked of me, but my little sneak in the picture potty training man looks so cute. Who would've thought I would spend my days saying "don't pee on Buzz and Woody"?
And this one kills me. I'm going to show it at his wedding so he remembers the day I was the only woman in his life. Ahhh, that Mommy and son bond is pure amazing!
Outfit Deets
Skinnies – F21
(Can't take these off. Wearing them completely out and I don't care)

Sweater – F21
T-shirt – Charlotte Russe
Boots – Target
Necklace – Target
Now thats how to do it cheap, folks!