I'm so excited to finally be getting into some good fall weather, so I've been itching to show you my October Amazon haul! I already have my cart full of things that I want to grab next month, when it really gets cold here in North Carolina! Now that I've given myself up to the fact that I don't think there is anymore sun or tan for the next few months, I'm ready to bring on the chilly air.
(Disclosure: I use affiliate links, which helps me track what you like and buy to let me know what you want to see more of. I also make a small commission off purchases when you buy through my links, but not through the app or if you switch browsers. If you love what I'm sharing and want me to keep posting my Amazon finds, I'd love if you purchase through the links here. I so appreciate the support you give to my blog!) 
Okay, onto the clothes! If you want to see a live try-on, head over to my Instagram stories! For size reference: I'm short (5'2″), a smaller frame and normally wear a 0-2 bottom and a small top.
October Amazon Haul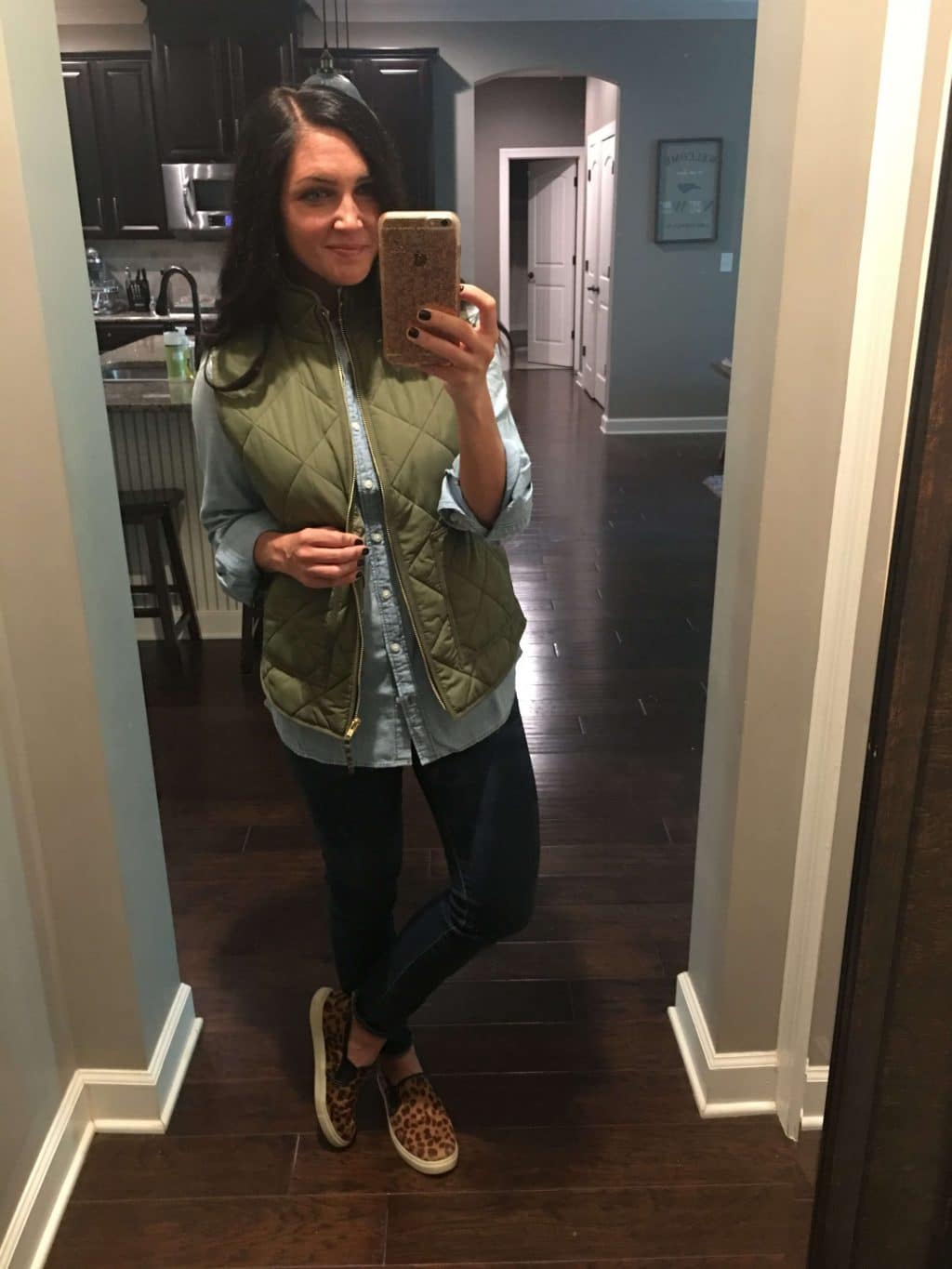 Vest | Chambray | Jeans | Shoes: old, nearly identical here and here
This whole look is so exciting to me! It's from a new line to Amazon, J.Crew Mercantile. If you're a J.Crew fan, you're going to want to shop this line! I have 1 pair of J Crew toothpick jeans that I love, so I was excited to try these skinny jeans. Let me tell you, they're amazingly comfortable. They have a bit of a stretch to them, are higher than low waist, but I didn't feel they were quite mid rise. They're just an all around great fit and I think they'll be my go-to this fall. They look a bit darker in person than they are online and they fit true to size. (I have them on in the first 3 pictures below so you can see more detail.) 
Everyone needs a great chambray and I love this one! I got a small, but wish I had ordered an XS for a more fitted look. The color is great and I often wear a chambray around my waist for another layer.
This puffer vest is down filled, but very lightweight. It's a great layer, without adding a ton of bulk!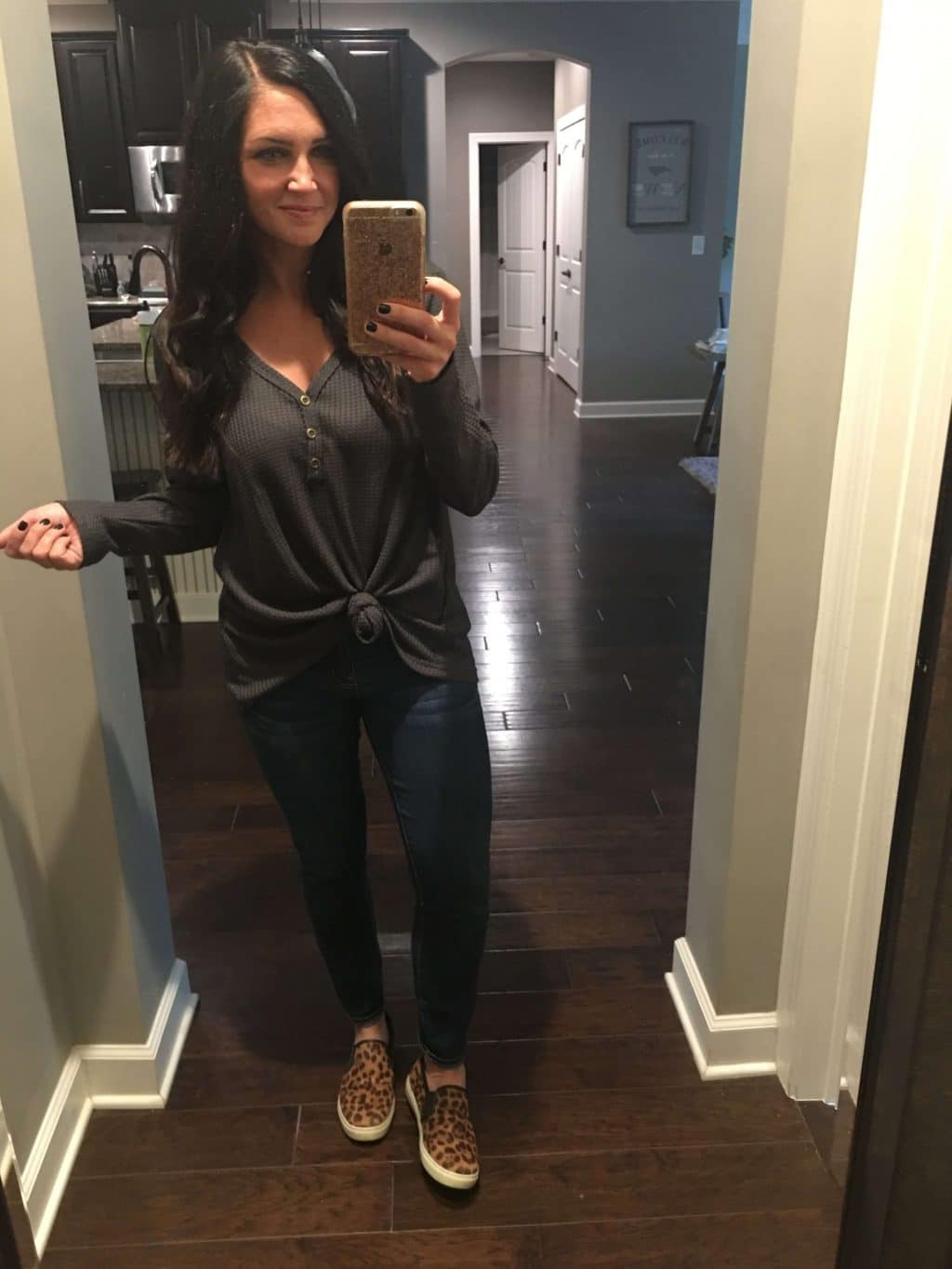 Thermal | Jeans | Shoes: old, nearly identical here and here
I'll be honest about this thermal. When I first put it on, I thought, no way. This is way big! But I tied it up in a knot and it's now going to be worn to death! I ordered a small and there is plenty of room for a front knot or a baby bump! If you're in between sizes, you can for sure size down. It comes in 4 colors and I think it's a great fall basic, with a little twist.
Cross Front Sweater | Jeans | Booties: sold out, very similar
This picture doesn't do this sweater justice, but it's very soft and versatile. It is open in the front, so I wore a tank underneath it. I think it would be so pretty for the holidays with a lacy tank and a long necklace! I ordered a small, which is the smallest they had, but I could use for it to be a bit smaller. It comes in 4 pretty colors. (You can also see the whisking of the jeans better in this picture. That's how they really show in real life.)
I've raved about this Amazon exclusive brand before, but this dress just made my love for it even stronger. It's SO soft and I love how the sleeves have the gathering at the wrist. Knee high boots, a cute wedge or a bootie would work great with this dress! It's almost touching my knee, so if you're blessed with shortness, you might find it's a bit long. I think it's still a keeper for me, because it's just such a soft and comfy piece!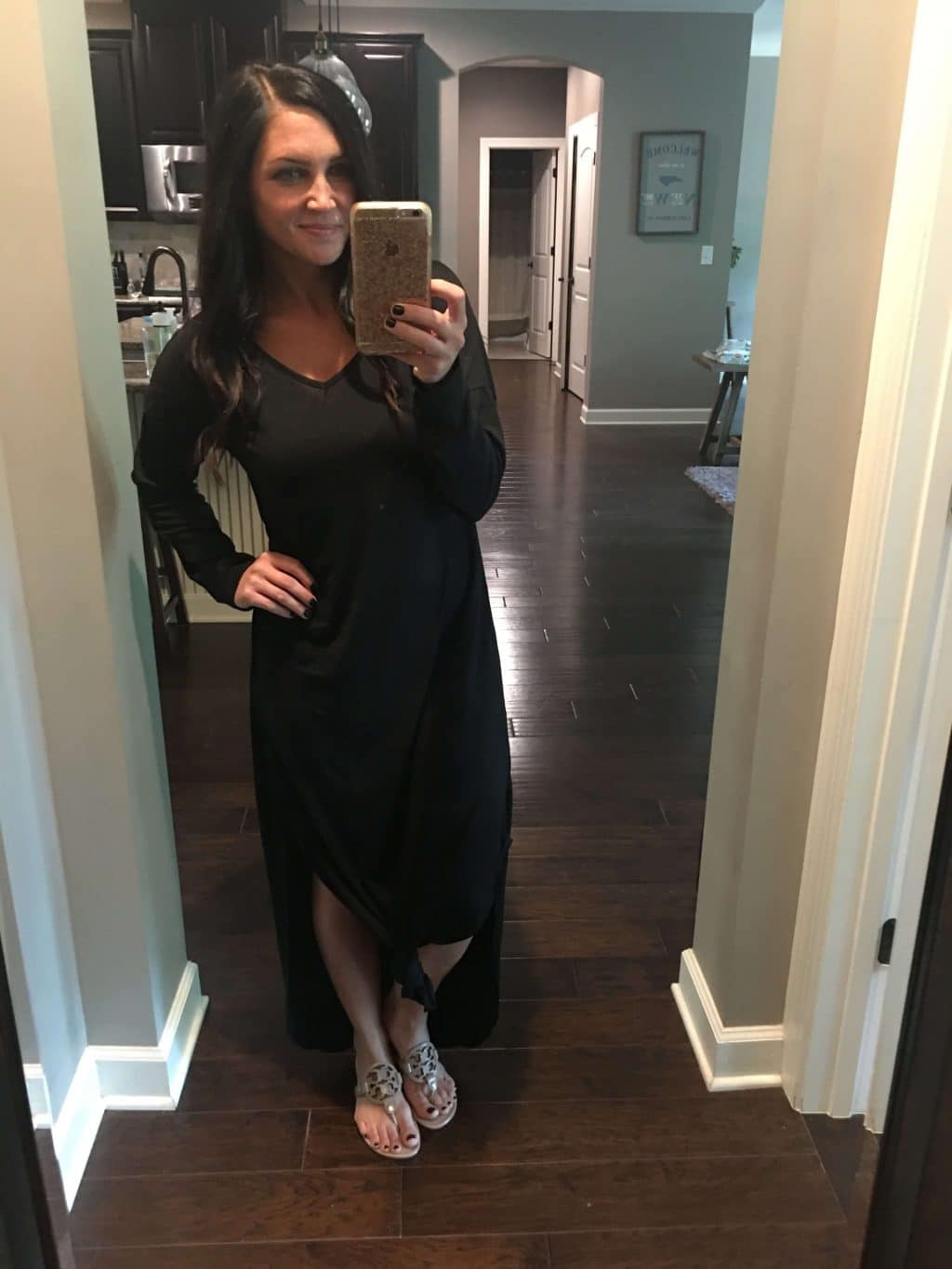 I have this dress in short sleeve and love wearing it in the summer. When I saw this long sleeve version, I was so excited! There really isn't much better than only having to pick one piece of clothing and this dress is great for fall. I tied the front into a knot and the side slits go about knee high on me. For now, I'll wear these sandals, but a bootie will be great when it's a bit colder.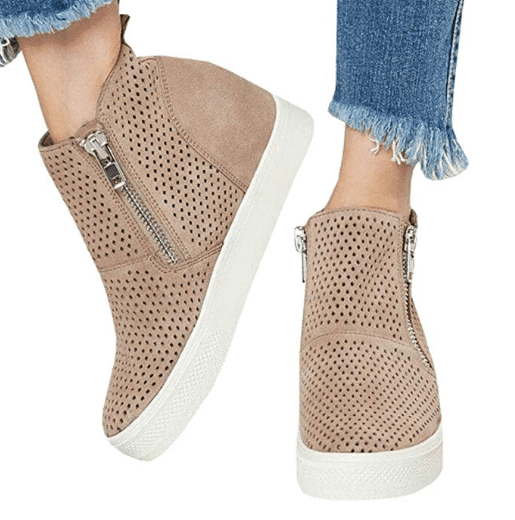 I ordered these booties because I've been eyeing their more expensive counterpart. They aren't Prime, so they aren't here yet, but I can't wait to get them! They get good reviews and I think they'll be great with jeans and a sweatshirt.
This one is a bit different, but since a lot of you are following my half marathon training, I thought you'd like to know about my favorite running socks! I wore these in my last half and just grabbed a couple more pairs to finish out this training. They're very cushy on the bottom and great moisture wicking.
If there's something specific you'd like me to try from Amazon, let me know! I love searching for good stuff for y'all! You can always see my favorites in my Amazon store and you can see September's haul here!