This post shows exactly how I host a blind wine tasting party, including a free printable for your guests and how I make the charcuterie board!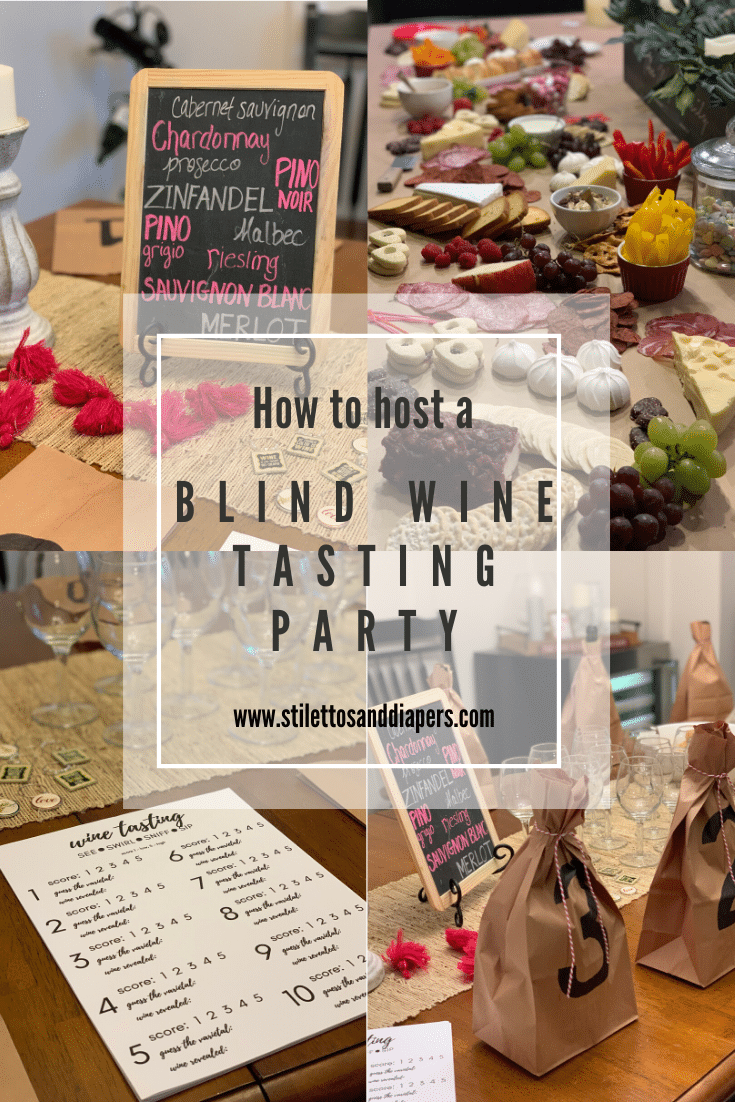 If there's one thing that speaks my love language, it's hosting a party. The planning, the prepping, the entertaining. It's just something I absolutely love doing. I know for some of you, throwing a big shindig isn't really your thing. But, that doesn't mean you don't want to have friends over for a good time! This blind wine tasting night that we threw last weekend turned out to actually be really easy and was a ton of fun. This weekend is Valentine's Day, so it's not outside the possibility to grab some friends and host one asap!
What is a Blind Wine Tasting?
A blind wine tasting is for wine drinkers or not and is a great way to see if you might like some wines you didn't think you did. I was first introduced to this concept a couple years ago by a sweet neighbor, who threw a blind tasting night just for girls. It was so fun! Each person brings an assigned wine, they're covered in a bag and you rotate around the table, sipping each one. You rate the wine and guess what varietal you think it is. Winner gets a prize! (yep, you guessed it, wine!)
How to Host a Blind Wine Tasting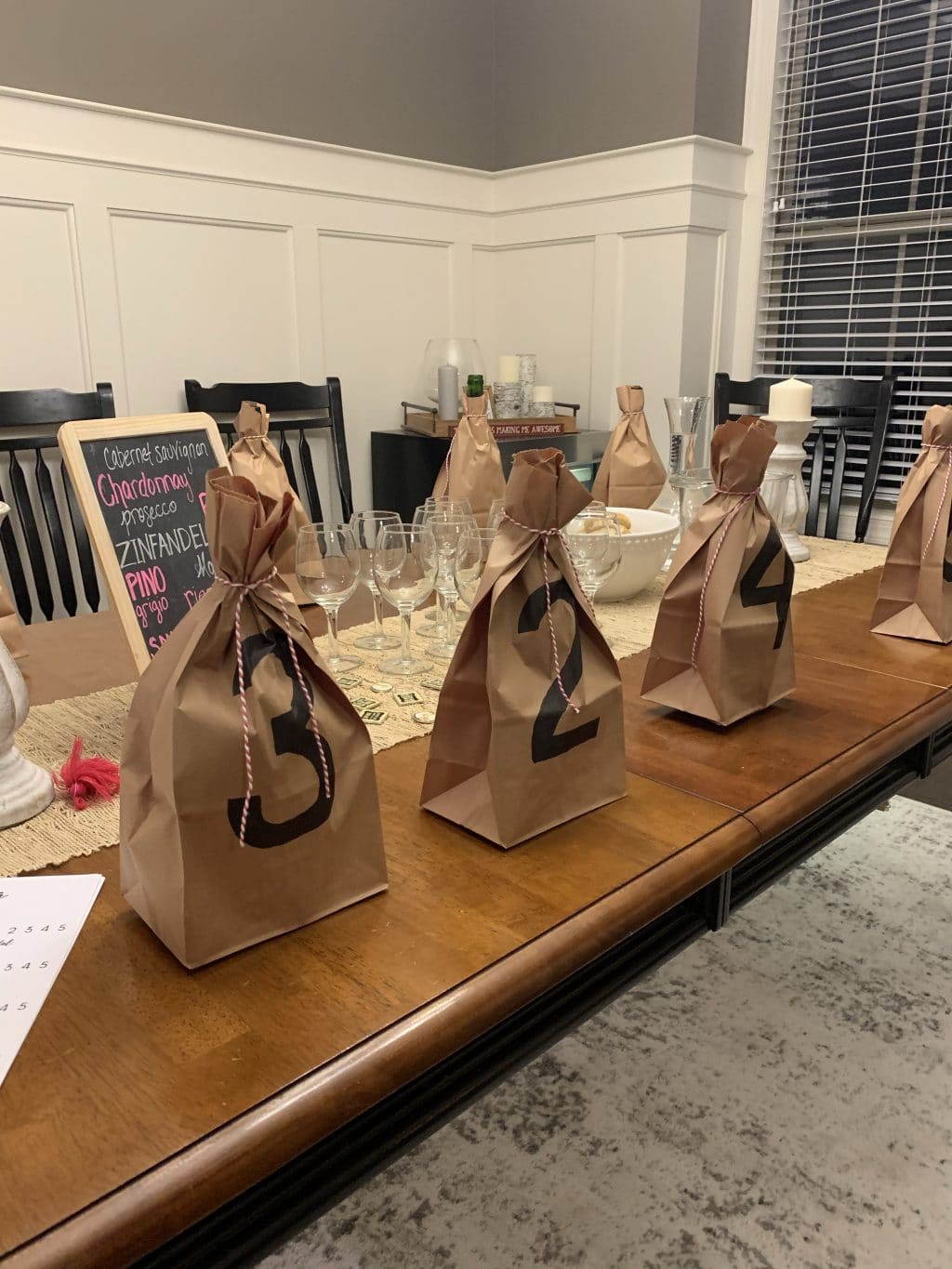 Create a guest list. This part is actually important because you need to know how many people are coming. I would suggest keeping it relatively intimate, since you will all be crowded around a table for the tasting. We had 12 people and could have had a few more, but not many.
Assign the wine. Once you know who all is coming, assign each person or couple a different varietal of wine. I also set a price limit of $20, because I didn't want anyone spending a ton. I went with 5 whites and 5 reds for our night and we just supplied anything that I didn't assign. The wines we used were:
Red: Cabernet Sauvignon, Merlot, Zinfandel, Pinot Nior, Malbec
White: Chardonnay, Pino Grigio, Sauvignon Blanc, Reisling, Prosecco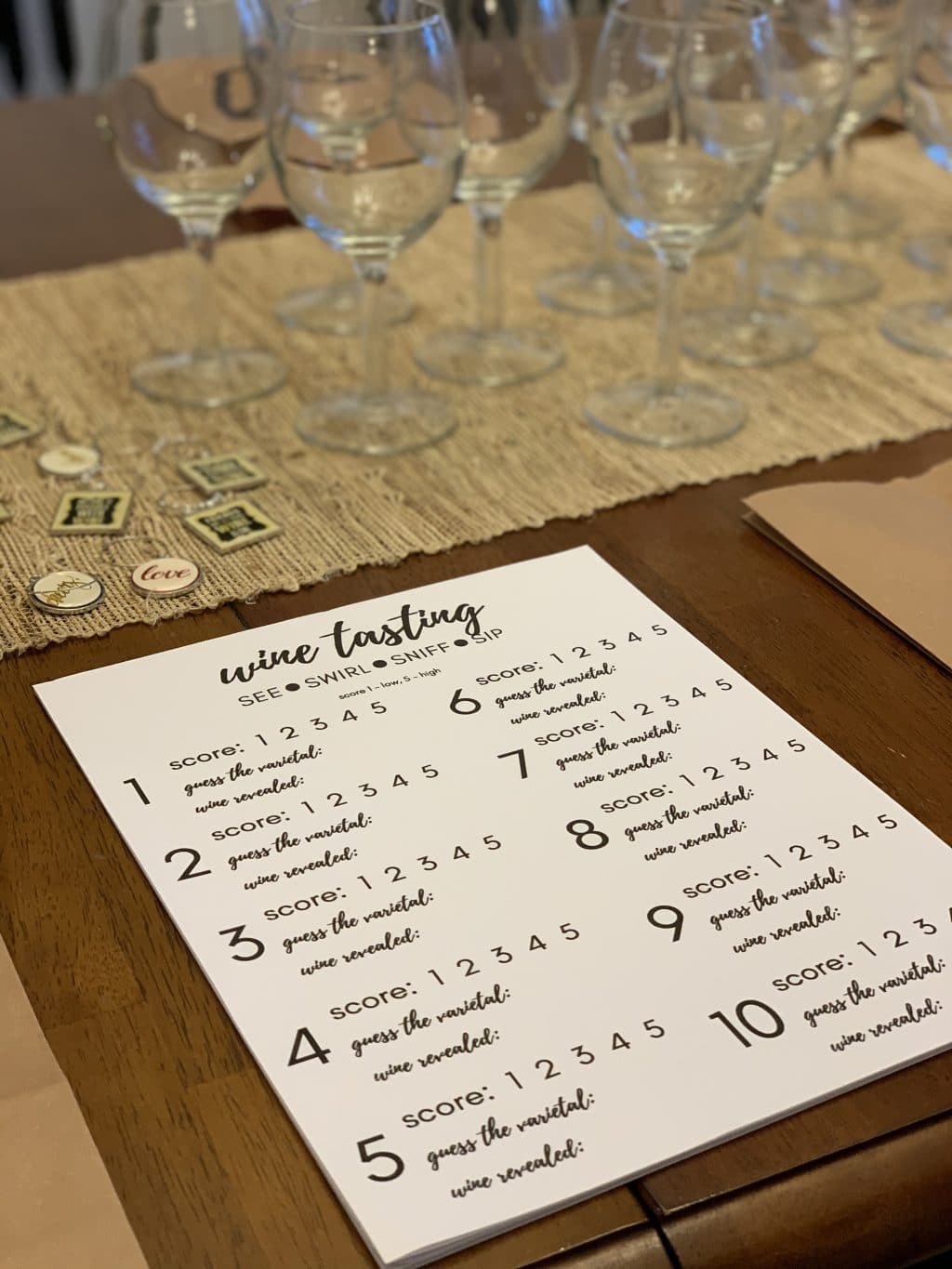 Prepare the table. You'll need:
Large brown paper bags: draw 1 number for each bottle of wine you're having.
A piece of twine for each bag.
Chalkboard: write the wine varietals on a chalkboard, so people aren't totally in the dark. (For this I recommend spelling Pinot properly!)
My free printable for each guest: printing on cardstock makes it look even nicer.
Bucket and pitcher of water: Guests can sip water in between, or be able to rinse their glass out. The bucket is for rinsing water or wine people don't like without having to run to the sink.
Sliced bread or crackers: guests will want to cleanse their palate.
1 wine glass per guests + wine charms, if desired.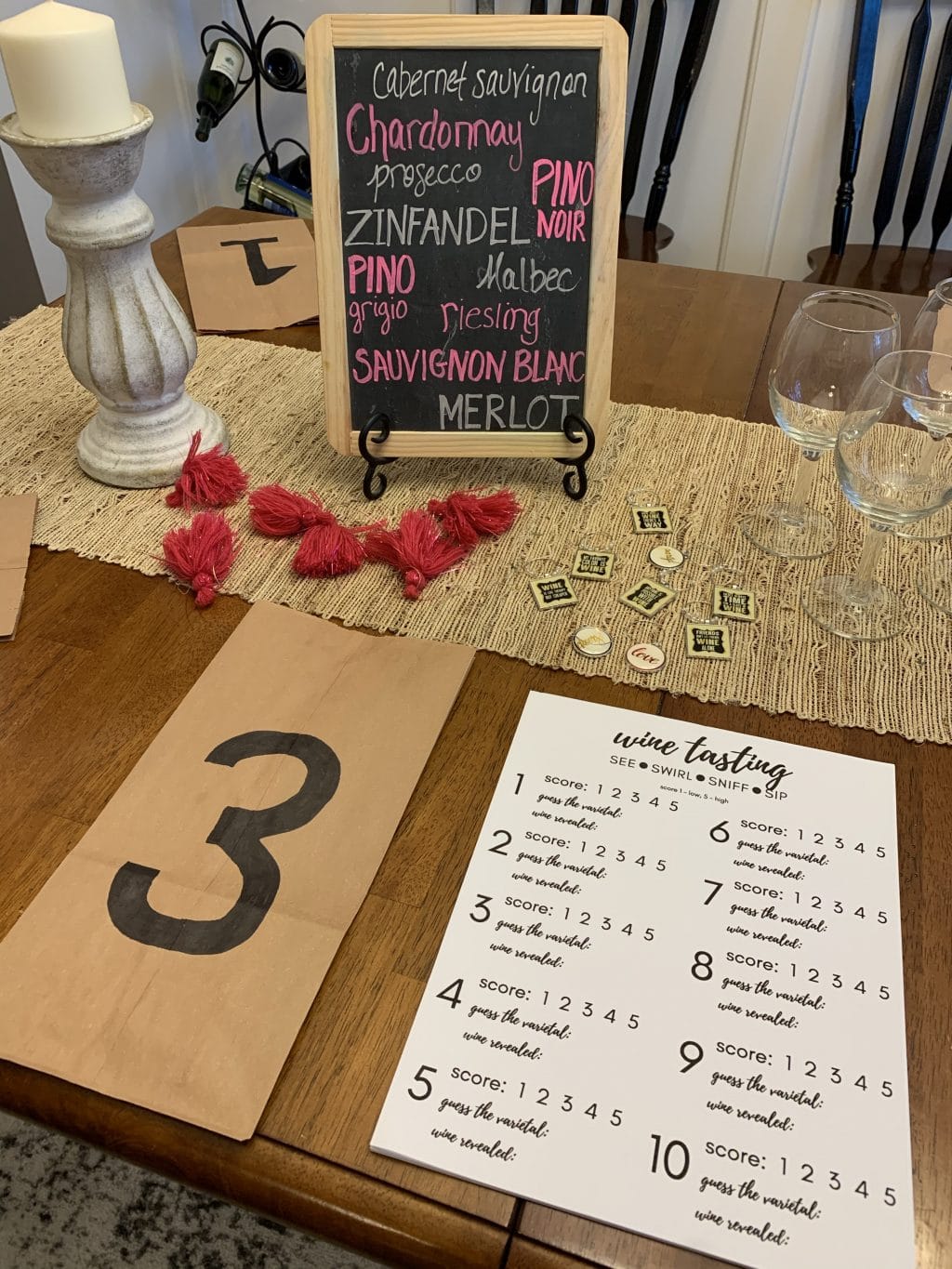 Prepare the food. You can serve whatever food you want, but I highly recommend a charcuterie board! You can watch my video of the setup process for this night on Instagram, but I also have a step-by-step tutorial for my last charcuterie spread. My favorite thing to do is put it all out on paper – chalkboard, kraft paper, whatever you prefer. For this night, I used a roll of dollar tree kraft paper and the cleanup was so easy! Since it's Valentine's week, I used lots of berries, chocolate shortbread hearts, meringues and festive candy alongside my cheeses and crackers. I also put in some hummus and peppers for this one. You really can't go wrong, just put whatever you would like alongside the basics!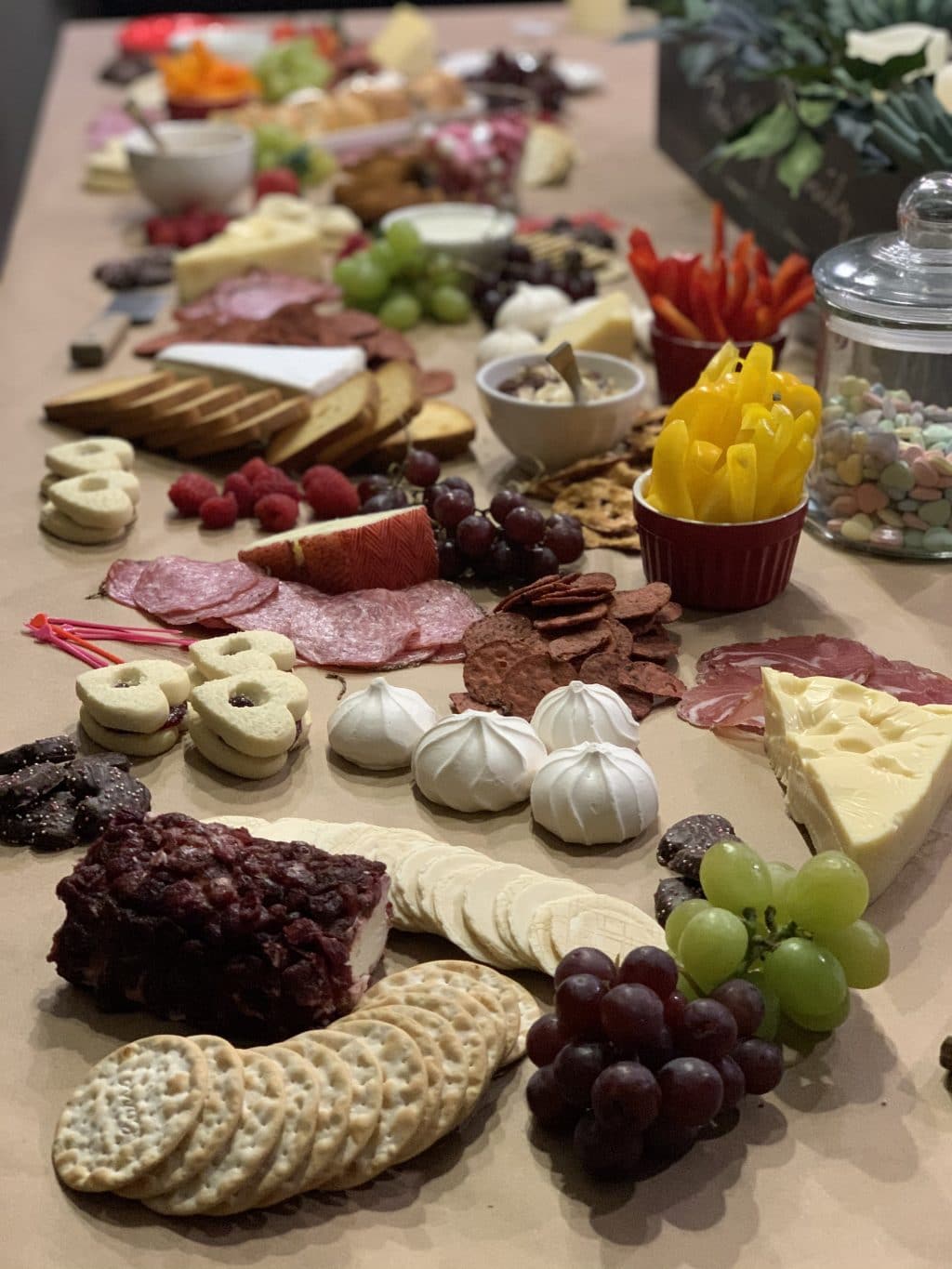 Time to host! As guests arrive, take their bottle of wine aside so no one sees them. Right before the tasting, put each bottle in a bag, tie it up tightly with the twine and uncork them. I did this with the numbered side of the bag facing away from me, so I didn't know what was going into what bag. Even though I wasn't going to take a prize if I won, I wanted to play along, too!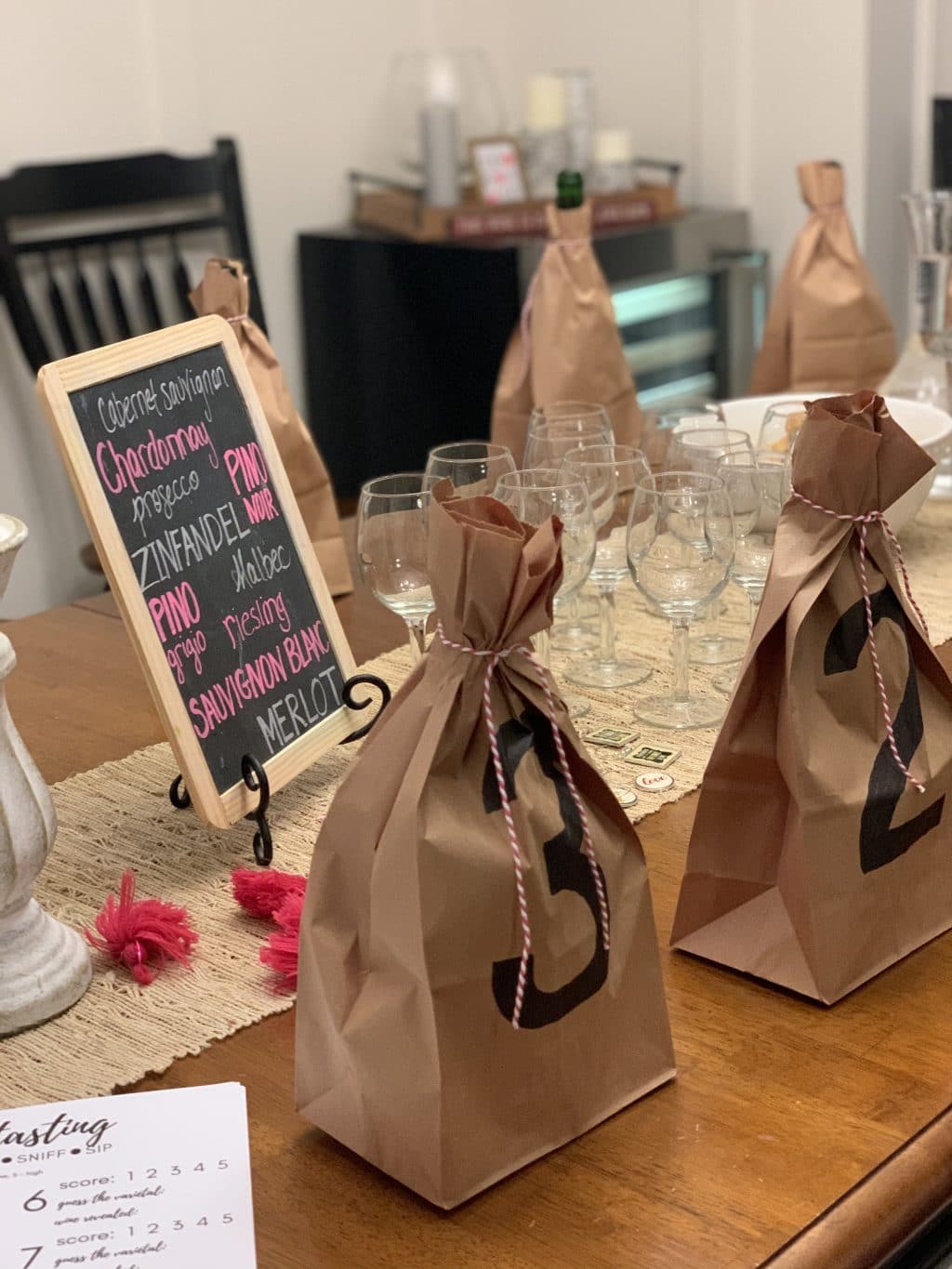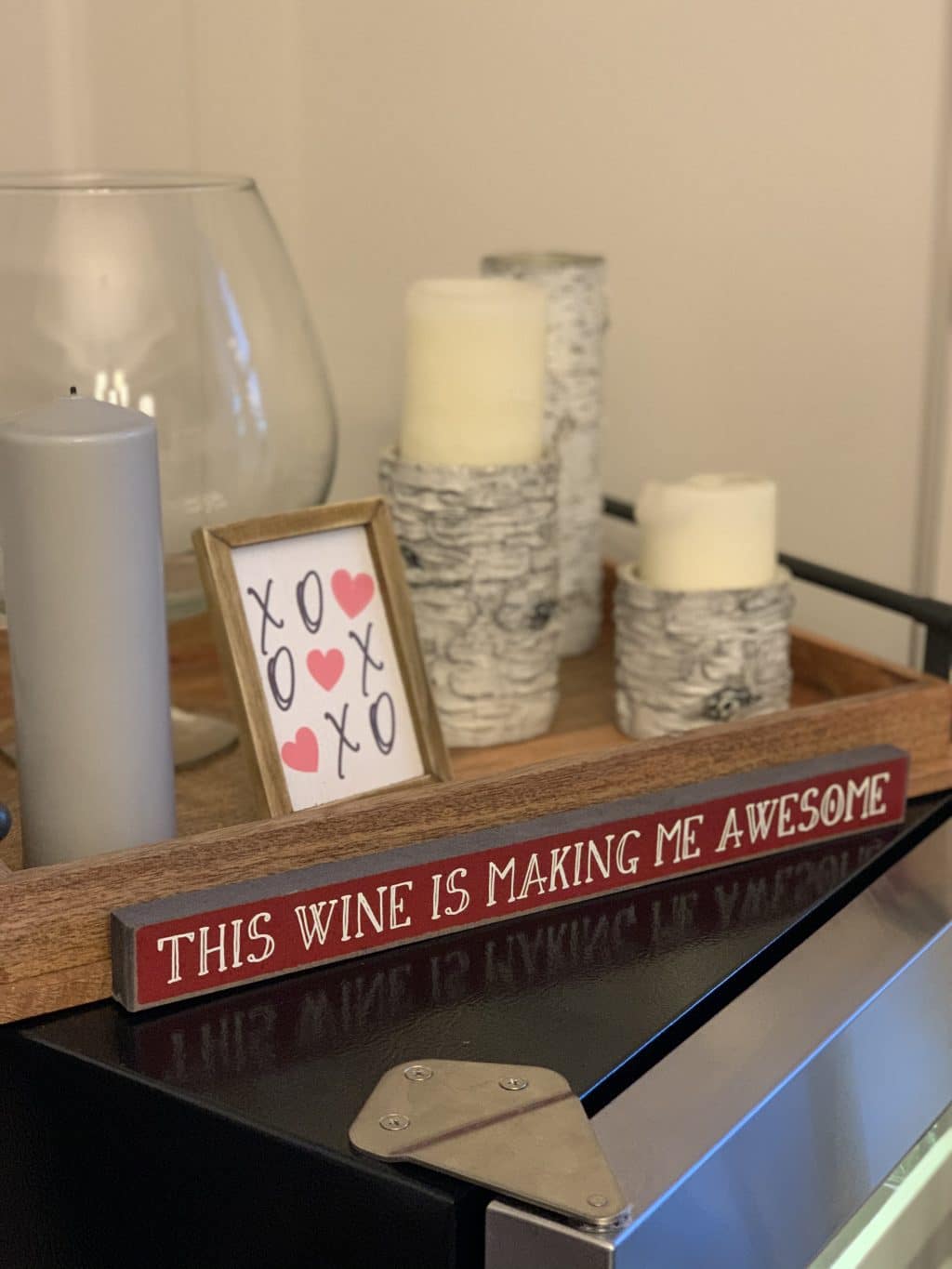 Start the blind wine tasting. As guest gather around the table, they can start at whatever number they want. Just make it all the way around! After 1 pass through, many people at my tastings went back and sipped again, changing answers and trying to figure out what was what. The real fun part is at the end as you tear off the bag and reveal what the wine is!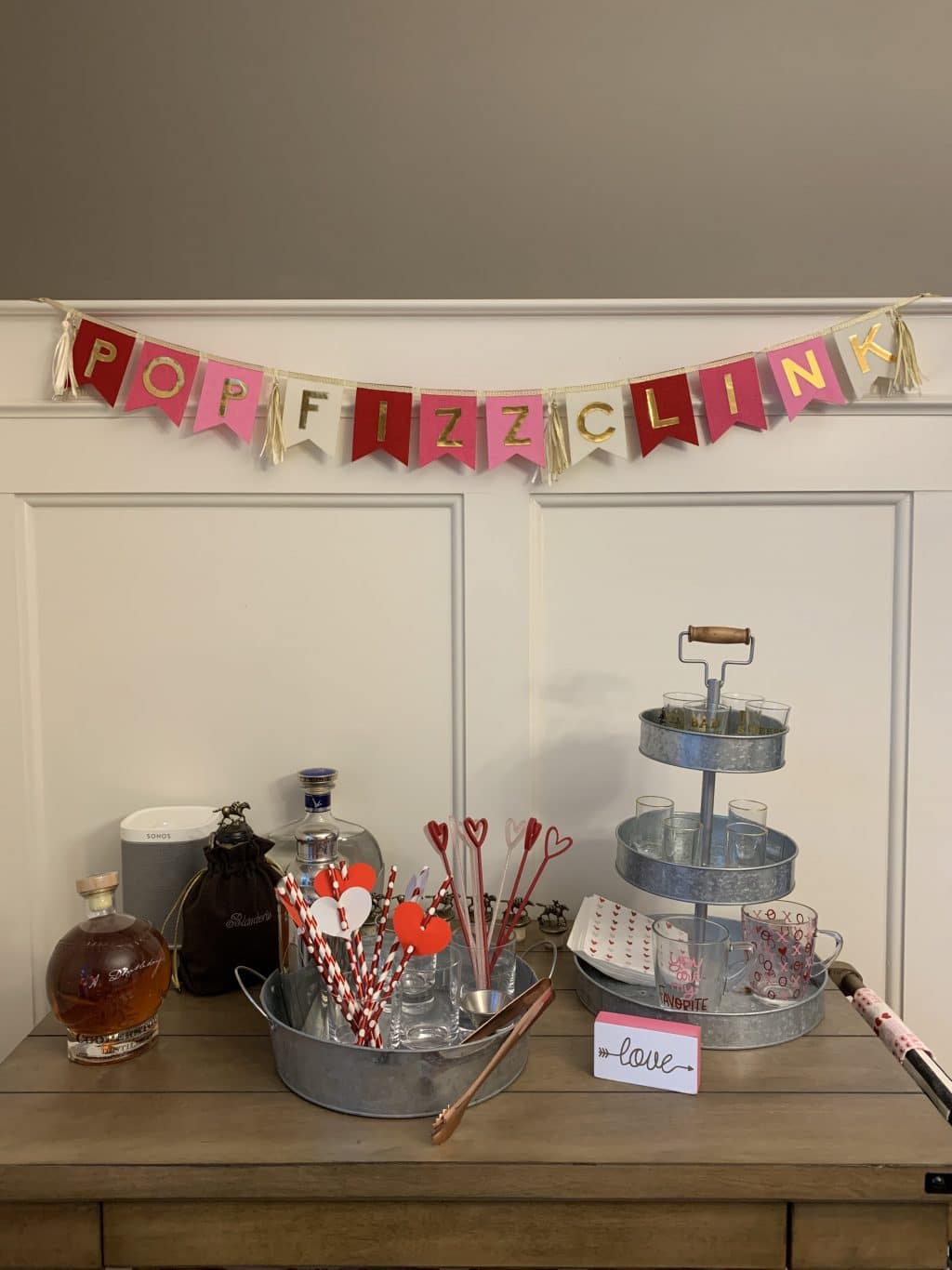 I didn't get a single picture of the actual tasting portion of the night. I guess that's the sign of having fun! But it was a fantastic night and I can't recommend a wine tasting night enough!
Have you ever hosted a blind wine tasting? Did this post inspire you to host one?