When I go grocery shopping, I like to do a haul video over on Instastories, because y'all are curious! I decided to break down my Trader Joe's favorites into this post, so that I can explain better what I like and what I use it for! Since completing Whole30, we try to stick mostly to that style of eating, with the addition of brown rice, beans and some corn. I like to maintain that at least 80% of the time, then allow for some more flexible foods other times. Trader Joe's has so many good options at great prices, too!
Items that are Whole30 complaint at the time of this post are marked with an *
Main Dishes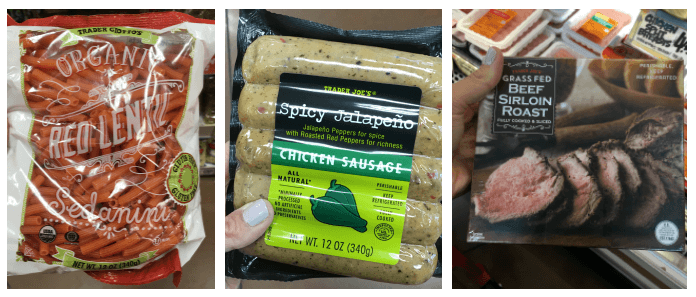 Red Lentil Pasta:
I do love a good bowl of pasta! I don't quite feel awesome if I eat too much of it, so I stick with this lentil version. It's very similar in taste and consistency to regular pasta, while packing in some protein and good fiber.
Spicy Jalapeño Chicken Sausage:
This is one of those things that some people will allow on Whole30, but technically not compliant because of a small amount of turbinado sugar. It packs just enough heat and is great for my
sheetpan sausage bake
.
*Beef Sirloin Roast:
 This is my favorite dish for busy baseball nights! It's fully cooked and just needs a quick reheat. I sauté some veggies with it or serve it over a salad.
Snacks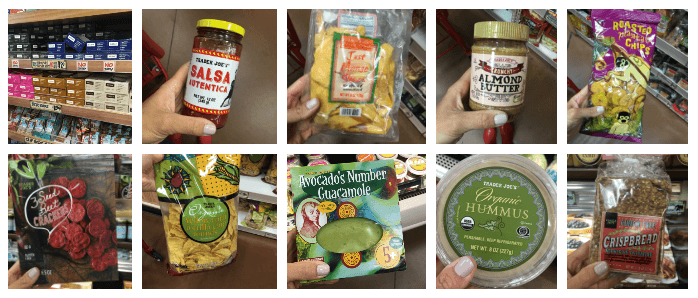 *RX and Lara Bars:
I love RX Bars for a snack and all the varieties are compliant. Lara Bars are great as well, with lots of them being compliant. I prefer the RX bars and my husband prefers Lara.
*Salsa Authentica:
This is the most requested Trader Joe's item in this house! My whole family loves it! It's a thin salsa that is chunk-free.
*Just Mango:
This dried mango without any sugar or sulfates is a great for a sweet tooth. Make sure you get this one, because they have another with added sugar.
*Crunchy Almond Butter:
I don't know what it is about this almond butter, but it's the best one, in my opinion. The crunchy variety makes me feel like I'm eating more than I am. I love it with apple slices for a snack.
Roasted Plantain Chips:
These are actually salty and more chip like, not fruit. The ingredients are compliant, but since they're technically a packaged chip, you aren't supposed to have them on Whole30. I love them now with a taco salad or dipped in hummus.
2 Seed Beet Crackers:
These are like a tortilla chip, but more dense and with more added nutrients from the seeds and beets. They're also pretty on a charcuterie board.
Yellow Tortilla Chips:
I buy these by the cartful. They're light, extra crispy and go perfectly with the salsa above or the guac below.
*Avocado's Number Guacamole:
I ate a lot of avocado during Whole30 and still do now. This is my favorite guacamole I've had and I enjoy eating it with veggies.
Organic Hummus:
Since we added in beans, I like some hummus for a snack in the afternoon. It's also good on a rice cake with turkey slices.
Gluten Free Crispbread:
These are very dense but tasty and great for piling on toppings. My go to is turkey slices with guacamole or hummus, tomato slices and lettuce.
Baking
*Roasted Cocoa Nibs:
If you decided to make your own RX Bars, these add just the perfect topping. They're also great sprinkled on fruit, or straight out of the bag for a little chocolate fix, without the sugar.
*Almond Flour:
I use this for paleo type baking, for breading chicken and even to thicken sauces.
*Pure Eggwhite Protein:
This is a great way to add protein into your smoothies and I also use it in homemade RX Bars.
Sauces and Spices
*Coconut Milk:
Both the coconut milk and coconut cream are amazing to use to make a rich and dairy like dish. It has a hint of sweetness, but add in salt and garlic and you would never know it wasn't heavy cream.
*Coconut Aminos:
The soy sauce substitute that Whole30 put on the map is actually affordable at Trader Joe's. Thank goodness, because it's a fortune everywhere else I've found it.
*Kale, Cashew and Basil Pesto:
I LOVE pesto because it has so much flavor. I smother chicken breasts in it before baking, use as a dip for grilled kabobs, or as a topping on roasted potatoes.
*Clarified Butter (Ghee):
I use this a lot for sautéing veggies or meat. You can also use it in place of butter on a baked potato, bread or whatever else you spread on.
*Everything But The Bagel Seasoning:
This is the best seasoning in my spice cabinet. I put it on my eggs nearly every morning and it's amazing. At $1.99 a jar, it's totally worth not trying to sprinkle all the different seasonings on yourself!
Veggies
*Riced Cauliflower:
I've grown to love using this in place of rice. It does have a cauliflower taste, but if you're serving with a sauce, it's hard to tell a difference.
*Riced Broccoli:
This is a great filler to soups (just like the cauliflower), or to add more veggies into stir fry type dish.
*Melange A Trois Peppers:
I like to have these frozen peppers on hand for breakfast, as I don't always have the time to cut fresh ones. I'll throw a handful in the pan, let them cook a couple minutes, then crack eggs on top.
*Green Goddess Salad Dressing:
I put this with the veggies because you'll find it in the produce section. It goes bad quickly because it's fresh, but it's a delicious salad dressing.
For the Kids
Cookie & Cocoa Swirl:
This section isn't exactly about health as much as it is better choices. My boys love this cookie and cocoa swirl with peanut butter on a sandwich. I don't mind licking the spoon afterwards either!
*Fruit Wraps:
These are what my boys like as a treat. They're just fruit, so they're great for a sweet tooth, too.
Turkey Corn Dogs:
If you're looking for a nitrate free corn dog, good luck. I was ecstatic to find them here and they're made with turkey. Definitely a much healthier option for corn dogs!
Cheddar Rockets:
Like Goldfish on steroids. I have a hard time resisting these, so I try to keep them in the back of the pantry for school snacks!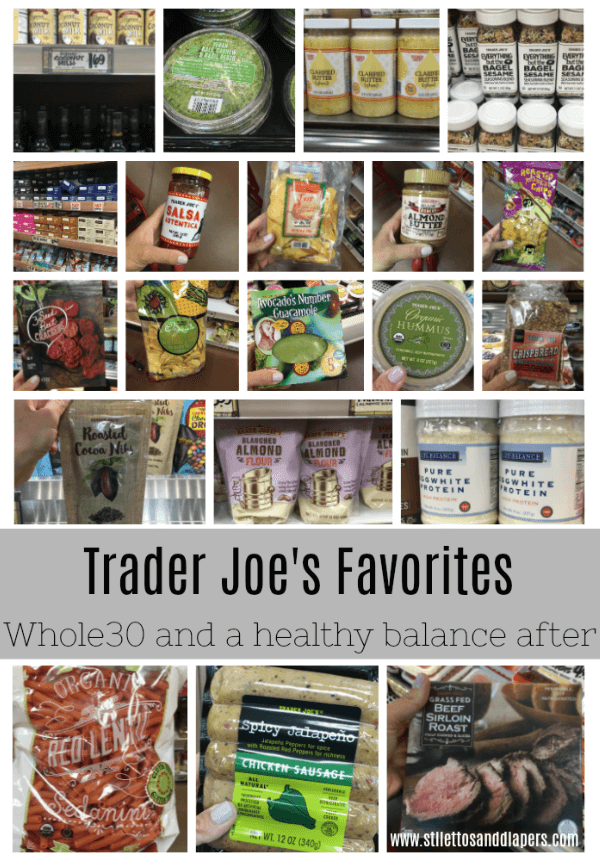 I hope this post helps you find some new Trader Joe's favorites!
Do you have any foods I didn't mention that you think I should try?