We've had company, so my blogging has been on hold. More on that trip to come, but first, lets finish Vegas.
Day 2 had us waking up here.
Trying on our new sunglasses,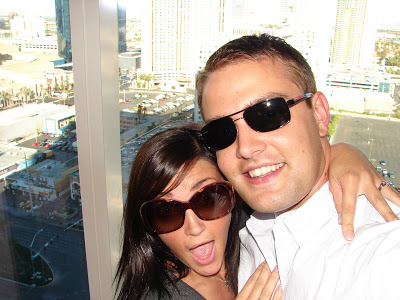 And heading here to take a tan.
I have the longest toes in the world.
I hit the spa while the hubs drove race cars at 140 MPH, then we met up for a poolside lunch.
And what is lunch poolside without a cocktail?
That night, we got all ready and took another awkward self timer pic.
Then went to see Jersey Boys.
If you don't know, Jersey Boys is about Frakie Valli and the Four Seasons. While I enjoyed the music, I was THE YOUNGEST person in the entire theater. The lady in front of me was getting her freak on and screaming over some 50 year old men. Awkward. She was actually crying at the end. I couldn't help but laugh.
Especially since the only song I knew was covered by Fergie.
If you're ever in Vegas, take your parents to see it. In turn, they will cheer and do a pseudo fist pump for the majority of the numbers.
We had dinner at Cut in the Palazzo after and it was incredible. Like to die for Wolfgang Puck food. And my favorite? The onion rings. Worth every calorie.
Back on the bloggy side of things, I'm going to the Momz Share event at Scary Mommy's house this weekend! I'm freaking a bit because I don't know what I'm going to wear. The inlaws are coming Friday, so I have some major cleaning to do and not much time to shop. Oh well. Hope I don't make a total fool of myself. If you're going, let me know!