We're big seafood fans around here and eat fish on a regular basis. A couple years ago, I started making crab cakes and they quickly became one of my "specialties". Fast forward to us eating clean and I knew this was a recipe I needed to revise. They're still delicious this way and super easy. 


In place of the crackers I used to use, I grind up Ezekiel bread in my chopper. 


Place everything in a large bowl and mix together. 


Shape into cakes and place on a griddle until just brown on each side. 


After both sides are lightly browned, about 4 minutes per side, you're going to finish baking them in the oven for 10 minutes. 


While they're baking, it's sauce time. This part that isn't exactly clean, but not exactly "dirty" either. It's delish, though. So make it! You just have to keep whisking. Don't leave it and don't worry that it's too thin. Just whisk! It must be kept over very low heat. This prevents the egg from scrambling, but cooks it through.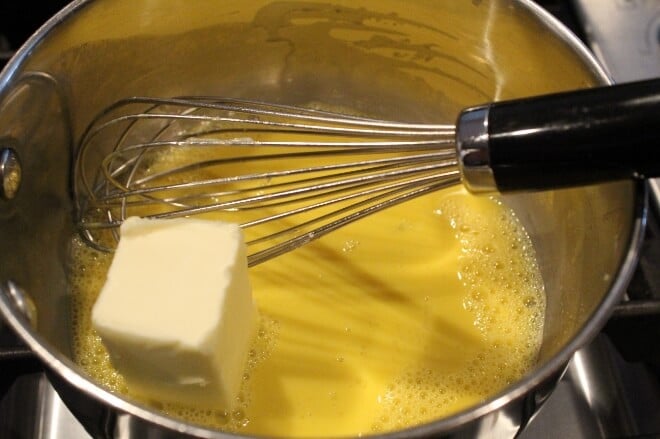 Ingredients:


16 oz Crab Meat (You can use artificial meat. It's usually made from cod and flavored to taste like crab)
2 slices Ezekiel Bread, ground (approximately 2/3 cup bread crumbs)
1 egg
1 tsp Worcestershire sauce
1/4 c Greek Yogurt
1 tsp Brown Mustard
2 Tbsp Lemon Juice
1/2 tsp Garlic Salt
1/2 c Bell Pepper, finely chopped
3 Green Onions, sliced or 1/4 cup finely chopped purple onion
Dash of Cayenne Pepper


Mix all together, shape into patties and brown for 4 minutes per side. Place on a baking sheet and finish cooking at 350 for 10 minutes. While crab cakes are baking, make the sauce. 


Sauce:


2 Egg Yolks
1 Tbsp Lemon Juice
4 Tbsp Butter
Dash of Cayenne Pepper

Whisk egg yolks and lemon juice together in a small saucepan over very low heat. Add butter and keep whisking as it melts. Whisk continuously for 4-5 minutes or until sauce starts to thicken. Add in cayenne pepper and serve immediately on crab cakes. 


Eat up and enjoy! 


I am not a dietician or nutritionist. I have no idea what I'm talking about, really. I am simply trying to feed my body and my family with more natural, healthy foods. My definition of "clean" may not be yours or anyone else's, but it's working for me. Hope it does for you, too!