We've had two weddings already this summer, and I wore the same yellow dress to both of them.
Its just one of those dresses that nothing falls out, you don't really have to hold your stomach in, and sweaty dancing pits don't show up. Can ya blame me?
The first one was the hubs cousin's wedding in upstate NY, and Coop tore up the dance floor.
It was under a tent on a gorgeous lake that made for perfect pics.
Aaaand, apparently, Coop gets his dancing love from his Mommy.
Oh, yeah. That's a definite.
The second was our first weekend away without Cooper, and I survived.
It was at an herb garden in a tiny town in Michigan, and was perfect.
Anyone who gives out dancing flip-flops at the reception is brilliant, right?
We got a nice picture of us that I don't think is awful and hubs isn't making a funny face or pretending to sleep. (his specialty…haha)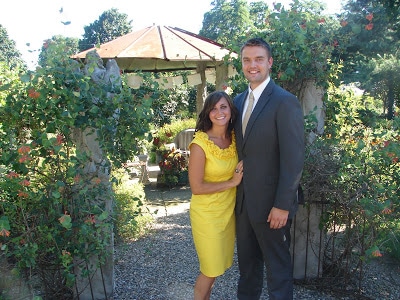 My sister had a wedding to go to back in May. We went shopping together and we both loved this dress. It fit us both. It was $90 on sale for $40. So we each forked over $20 and I have gotten my moneys worth, don't ya think? Hehe. I'm so cheap.
Dress – Macy's, Shoes – Marshall's, Ring – Stella & Dot.
Fashion Friday is brought to you by the fab, Summer.