I love this DIY maxi skirt. It's like leggings, but even comfier. And I feel a little dressed up when I wear it. And it's so easy to make.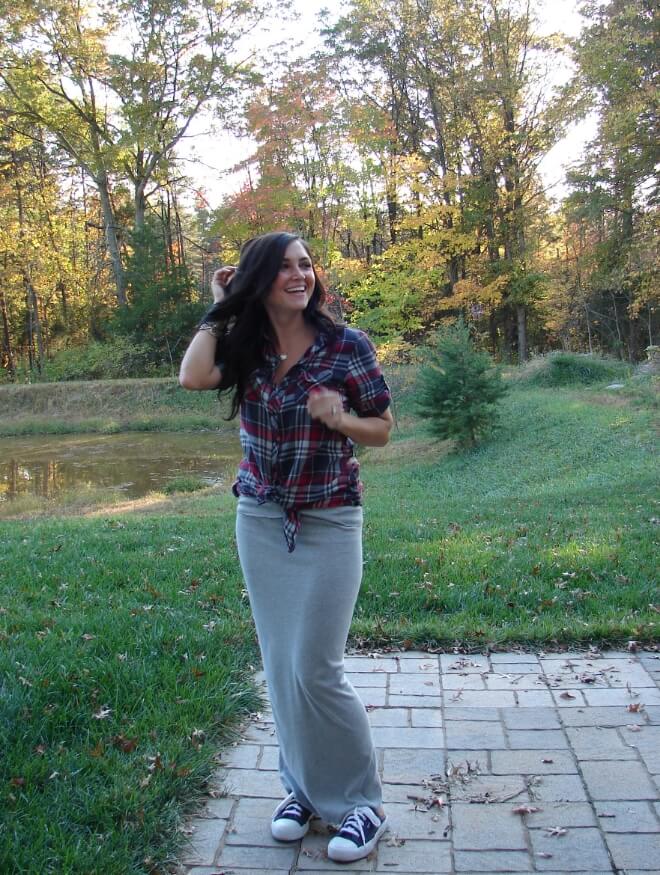 Now, I'm no professional seamstress. But, I made the skirt and got so many comments from y'all asking for the tutorial. So here it is. With no professional terms and badly lit pics taken in my basement where the sewing machine is. 
What you'll need:


Jersey knit
Matching thread
Sewing machine
Measuring tape
Pins
Scissors 


A lot of fabric comes 60″ wide. That should be plenty of length for most gals, so you'll need as much as you are wide, plus a little. I bought 1.5 yards for this skirt. 


You're going to be working with 3 measurements.


1. Top. This measurement needs to be taken around where you want the skirt to sit. I wear mine low, around my hipbones. I measure 30″, so 15″ is my top measurement. 


2. Length. This is the length from where you want your skirt to start, to the floor, plus 6-8″ for your folded waistband. It just depends on how much you want to fold. I fold twice and have about a 4″ yoga pant style foldover top. 


3. Bottom. This is your top measurement plus 5″. This gives you room to walk without too much of a flair. 


Get Started:


Fold your large piece in half and cut it to the desired length first. 


Then, start measuring from the folded side and mark the top and bottom measurements with a pencil or piece of chalk and cut the non folded side. You can lay your measuring tape out (or anything long and straight) at a diagonal between the 2 and cut into your skirt shape. Make sure you are not cutting the folded side! 


This is what you will end up with.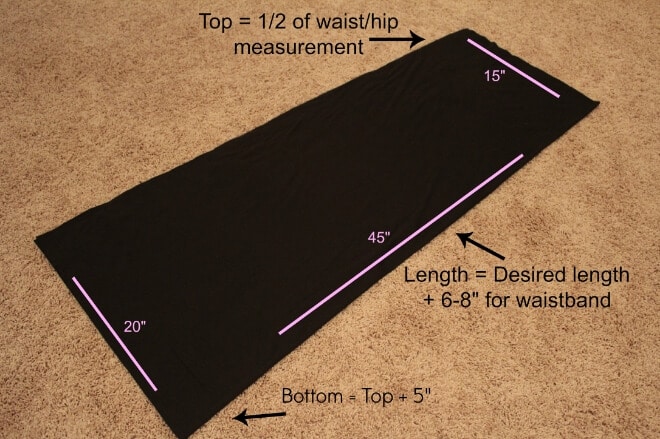 Put a few pins in to hold it together and sew all the way up the open side. I use jersey needles because they're easier. You can get a pack for a couple bucks wherever you buy your fabric. 


Trim the excess material off close to the seam and turn the skirt right side out. 

Notice I don't allow extra room for seams, because this is a fitted skirt. You want it to stretch a bit over your hips so it doesn't fall down. You can always stitch it in a little more if  it's too loose. 


That's it! You can fold the top down 1 large fold or 2 smaller folds. The jersey knit doesn't fray, so you don't need to do any hemming. I've washed my gray one countless times and although it has shrunk up just a bit, there was plenty of folded room at the top to make it long enough.


Here is the black one I made in the pictures. 
Now go make yourself one! Or 5. I won't judge you for living your entire life in them. Here is a good deal on the jersey knit fabric and in several colors!