Remember when I showed you this shirt that I DIY'd? The one that was $220 here?
Well, I made my own version for $8. I like the sound of that way better than $220!


This DIY is simple. I promise. I tried to make it complicated by sewing it, resulting in a mess, then a easy light bulb went off. Let me show you.


I bought a plain white shirt from Target. I love the Mossimo scoop neck tees and I have several colors and patterns. They are great for layering or wearing solo. They are usually $8, I think, but they run sales and have coupons all the time. I paid $3 for this one during a sale and using a coupon.


I grabbed this sequin ribbon at Michaels for $1. I guess it was leftover from Christmas since it says Holiday on it, but they did have more. It's not an only available at Christmas kind of thing.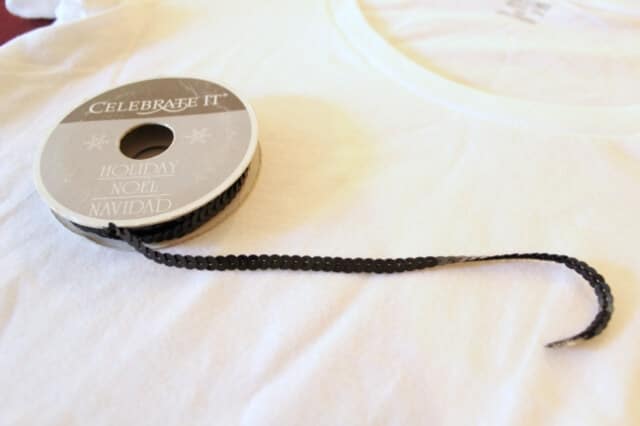 I cut strips for the letters and put them out how I wanted them. Sequins will fall off the end when you do this, so cut a little longer. You can trim the string off the ends after you're finished.


So that last C in Chic, I sewed on with the sewing machine. Bad idea. It was really hard to keep straight and ended up looking wonky. I decided to glue instead and used Aleene's Fabric Fusion.
This stuff is awesome. It's permanent and dries clear. Just make sure you slide a piece of cardboard in between the shirt so the front doesn't stick to the back!
Glue all your letters on and then repeat. You want to cut out another set of letters, laying the ribbon next to the letters you already glued on. This will make the letters thicker and they will stand out more.
I have only hand washed the shirt, but the sequins stayed on great! This project took me about 10 minutes, then I let the shirt dry overnight before I wore it. Happy crafting!