Hello preggo heat exhaustion. The heat index here today is 120. Redic. Yesterday, I had my second bout of heat exhaustion and I literally thought I was going to have to go to the ER. That crap is no joke. Being pregnant in the summer is much harder than the winter!
Anyways, today its day old hair, only wearing mascara, and y'all just be grateful I'm not walking around in my bathing suit. Hehe.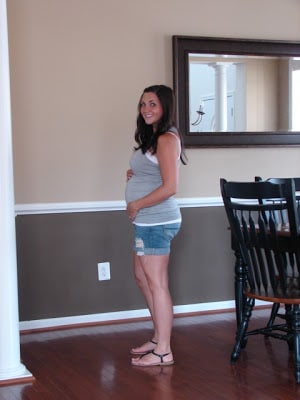 Coop's sweet kung fu moves going on next to me.
Size of baby: 1.5lbs, 12.5 inches and the size of an ear of corn!
Total Weight Gain: 16ish lbs.
Maternity Clothes: Nothing I'm wearing in the pic is maternity.
Gender: Boy!
Movement: Lots and lots. I had to get up and walk around one night this week because he was kicking so much that I couldn't sleep!
Sleep: Typically really good.
What I miss: At the moment, being able to go outside without coming close to death.
Cravings: Popsicles. Pretty sure this has been the only constant one from the beginning.
Symptoms: The heat exhaustion has made me uber tired.
What I'm looking forward to: 15 weeks or LESS from today and we'll have a baby here!
Shorts: Target
Tank: Ross
Shirt: F21
Sandals: Target
Oh, and by the way, last week's outfit was completely from Target! I couldn't write back to you no-reply commenters!