This crustless asparagus quiche is perfect for Easter brunch, a make ahead breakfast or just as a great low carb option!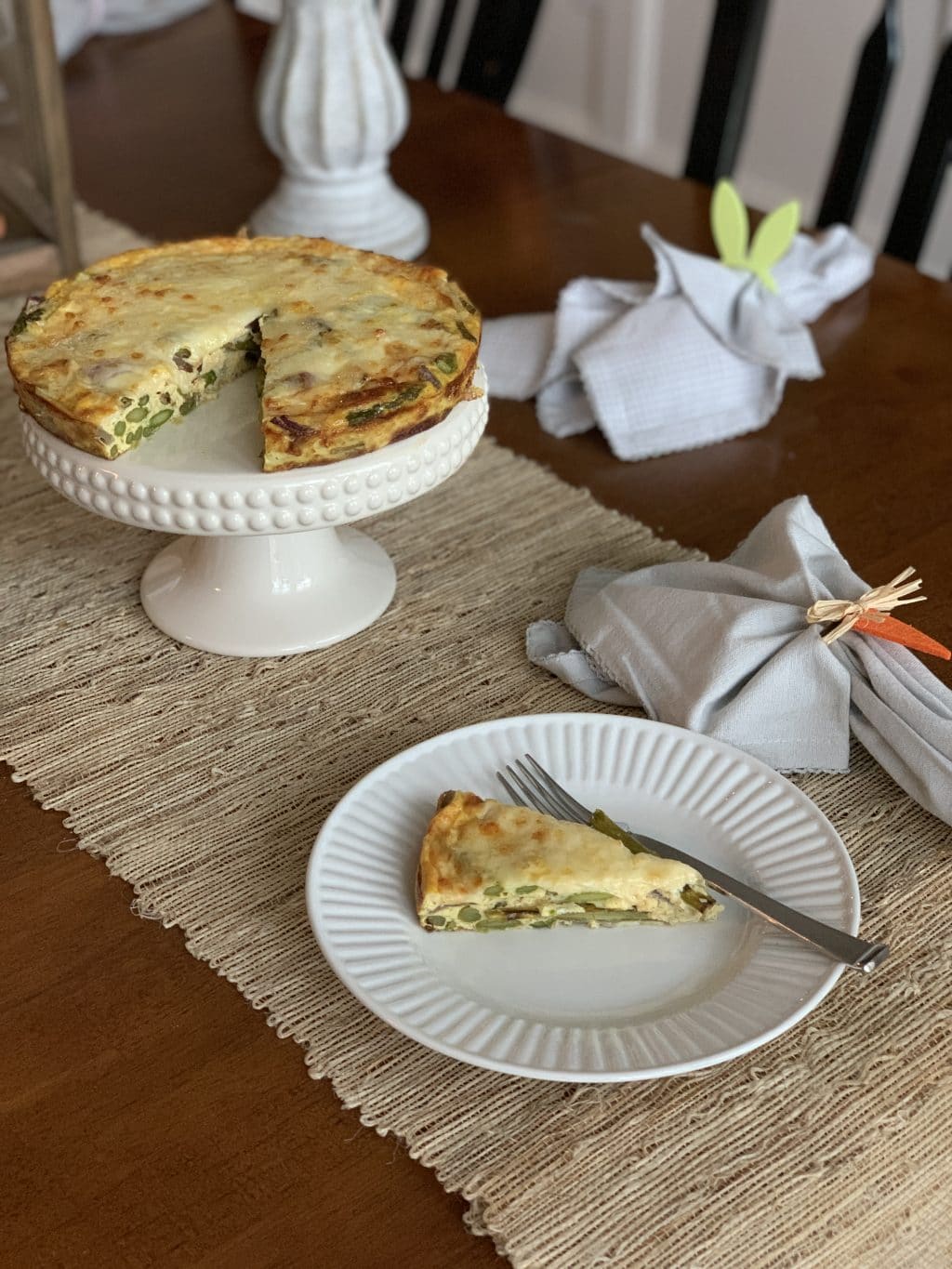 If you're joining me because of Faster Way To Fat Loss, this recipe was inspired by the low carb days! I wanted something that I could make ahead, fits into the plan and is easy. This crustless asparagus quiche turned out better than I expected and is so pretty! I wanted to share before Easter since it would be a great addition to an Easter brunch.
Recipe:
6 eggs
1/2 cup milk (can use regular, almond, oat, or whatever you prefer)
1 bunch asparagus, cut into thirds (thinner stalks are better)
1 purple onion, diced
1 cup swiss cheese, shredded
1/2 tsp salt
1/4 tsp pepper
1/4 tsp thyme
1 Tbsp butter
Instructions:
Preheat oven to 375. Melt butter in a saucepan over medium heat. Add asparagus and onion and sauté until lightly browned. About 4-5 minutes. When done, pour into an 8″, greased or silicone pie plate. Whisk milk, eggs and spices together in a large bowl. Stir in shredded swiss cheese and pour over asparagus mixture. (If desired, sprinkle some of the swiss cheese over the top of the quiche.) Bake at 375 for 35-40 minutes or until quiche is lightly browned. Allow to sit on the counter for about 10 minutes before serving. It will continue to set while cooling.
Feel free to prep the quiche a day ahead and simply bake when you're ready to eat. That's one of the great things about this recipe, because prepping ahead is key, especially when you're trying to keep your eating on track!
These friends of mine are all on the
Faster Way To Fat Loss Program
right now, so follow check them out if you're looking for more inspiration!