This is my very sad wallet, and thats how close it comes to closing.
Why? Because there are 57, yes,
57
plastic lovelies that live in there.
At least only 1 is a credit card.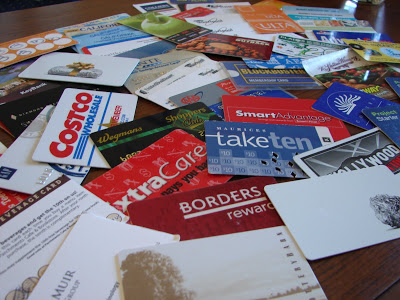 There are the ones that save me money.
The ones that make me remember California living.
The ones that are straight up free money.
And the ones that prove I am who I am.
(Now you've seen I can give CPR so you can skip asking next time ya need it.)

Oh, and we can't forget my rolls of cash $4. This was actually surprising to find because I NEVER have cash.
OVERKILL, I tell ya.
Our California friends, Lance and Maggie,
(who I get to see in less than 3 months!)
were giving me a hard time about how many I had in there right before we moved. Since then, I think I've added about 10 to the pile, resulting in a non-closing wallet.
So now I'm debating, should I get a bigger wallet and keep all the goods, or get rid of some?
Am I the only one with a massive amount of these cards?
Does anyone have an awesome big wallet I should get?