After getting back from our Carnival Cruise last month, several of you asked for tips on cruising with kids. This second cruise was as smooth as butta and I have some tricks that I think will help you on your next family vacay on the ocean!
Get a balcony room. This is probably my number one tip for cruising with kids. It is so nice to sit on the balcony after your kids are sleeping, especially if you have younger kids with early bedtimes. We put the boys to bed and would sit and drink a glass of wine together at night. It was perfect for nap time as well. One of us would go out with our older son, while one could sit on the balcony and read during the baby's nap. It also just gives you a lot more space, the ability to get some fresh air and a nice little snacking spot. 
Early dining. There is normally a choice of dining times. Carnival offers early, late, or on your own time. We request early dining, so you aren't keeping your children out too late, or waiting in a line to eat, if you choose to come as you please. 
2. Tips for packing: these are things that are easy to forget that I highly recommend you bring:
Power strip: for camera batteries, phones, iPads, etc
Medication: I put medication in sandwich bags by type, then into a large ziplock bag. Don't forget medication for motion sickness, upset stomachs, allergies and pain killers for both you and your children.
Water: most cruise lines allow a certain amount of bottled water. While the ship's water is fine to drink, it's nice to have bottles to take off the boat with you.
Notebooks and crayons: a blank sketch pad and a baggie of crayons for each child will help during meals and in lines. 
Laundry bag: You have to be organized in a small room, so keeping dirty laundry off the floor is a must!
Swim shoes: If your children aren't used to being in the water frequently, they can get blisters easily from the pools and ocean. Mine wear swim shoes and then it's even easier to make the trek from pool to lunch, then room. 
Bug Spray. Some of the ports can be buggy, especially if you're there at night. I kept the bug spray in my diaper bag so I always had it when we left the ship. 

Ziplock bag kids clothes. Before you go thinking this is a giant waste of ziplocks, hear me out. On a cruise, you will want to unpack your suitcases into the closets and drawers, so that you don't have suitcases taking up your space. If you put stacks of clothing into the closets, they're bound fall over as you search for the matching top to that bottom, it's easier to lose things and it will just be a general mess. I put matching top and bottom, along with underwear and socks in a bag and squeeze all the air out before packing. It is so simple to pull out a bag and hand it to the boys to get dressed. Also, your husband will have no excuse for "not knowing what to put on the kids" and has to help. Hehe. 

Bring an umbrella stroller. Last year, we had our full travel system stroller, which was perfect for naps on the beach and awful for fitting through the room door. If your 2 year old is anything like mine, he will be angry at the idea of going to the room for nap or bed and will be screaming as you approach the door. Last thing you want to be doing is taking him out and folding up the stroller to get in. We now have this Maxi Cosi stroller, which is small like an umbrella, but reclines like a travel system. It fit through the doors perfectly and carried lots and lots of kid essentials from the room to the pool, ports, shows and more.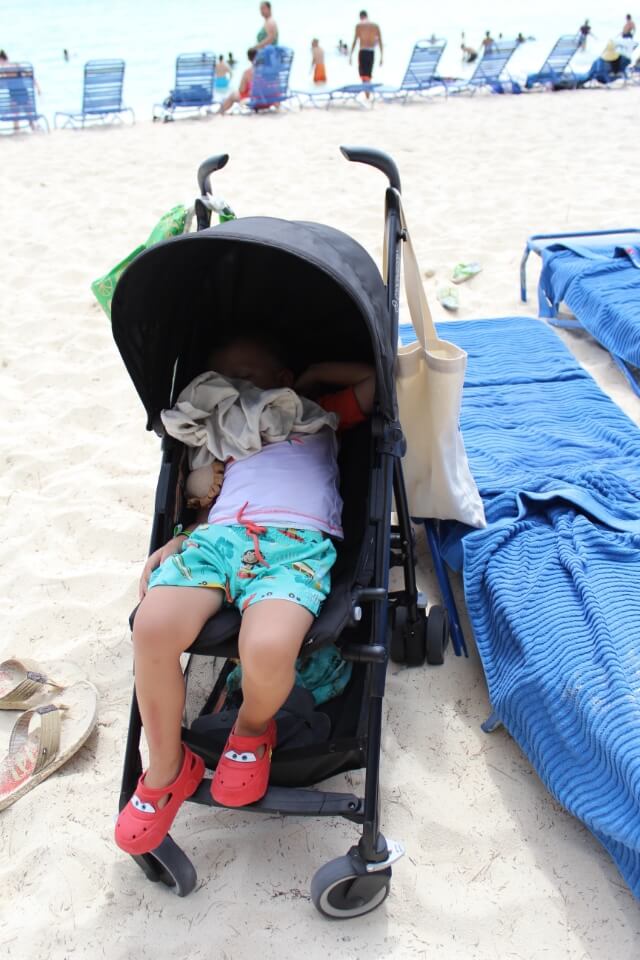 Keep your schedule. Nothing is worse than a sleepless baby away from home. Seriously. Try to maintain their schedule as much as possible! 
Rotate during naps. Just because you want to keep a schedule, doesn't mean the whole family is going to be bored for 3 hours at nap time. This is a great chance for one on one time with older kids, quiet time on your balcony, or a rare opportunity to hit up the adults only serenity areas!

Get out early. One of my favorite times of the day was the morning. Because we did keep to somewhat of a schedule, our kids were getting up within an hour of their normal time. The pools are way less crowded in the morning, as most people are still sleeping off the hangover from the night before. 
Utilize kids programs. Day 1, we went to Camp Carnival and got a schedule. They have everything listed from activities, to meals for each age group. We went through with the kids and circled the things they wanted to do, so we had a plan and didn't miss anything. They especially loved the evening activities, which usually included a craft, movie time and snack. That allowed us a couple hours after dinner each night, just adults! Making it even better? The childcare until 10pm is free at Camp Carnival! I loved the camp on the Breeze and felt very comfortable leaving my kids there. (Which is HUGE for me) 

Both of my boys made friends and have asked about the kids specifically since we got home. So fun!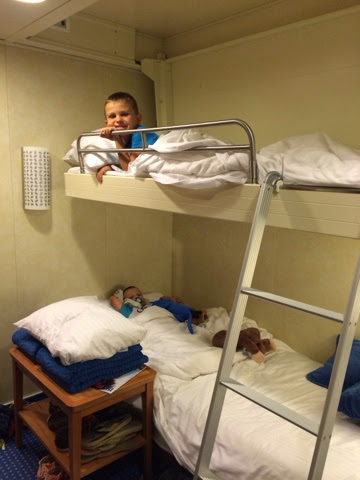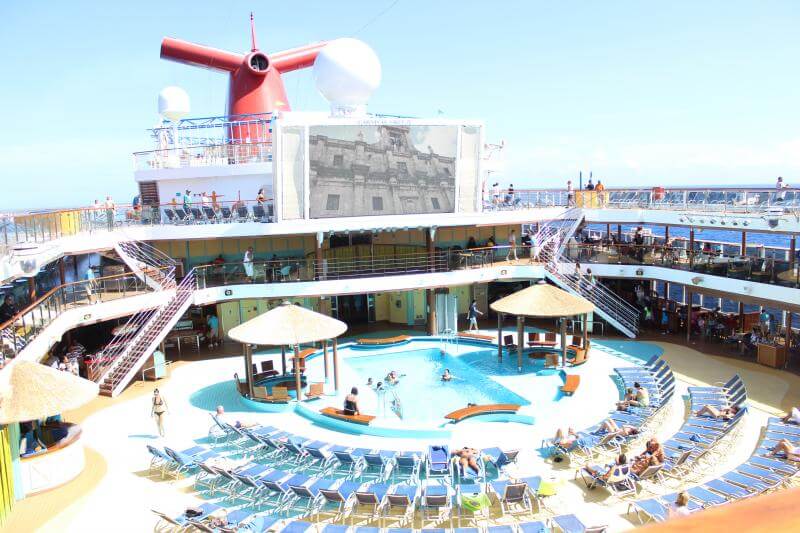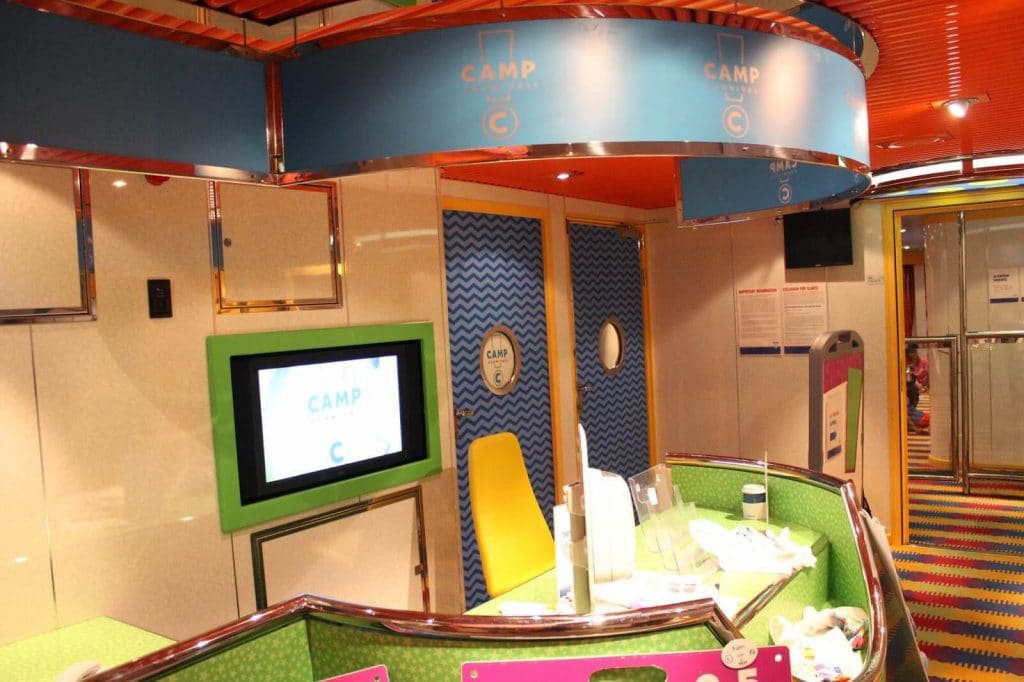 Dinner. This was the one of the most challenging  parts of the cruise. Asking children to sit for any length of time is difficult, much less having to keep quiet voices and eat all your food if you want dessert. We relied on electronics with movies that we loaded before the trip and blank notebooks with little baggies of crayons. This kept them pretty occupied. Also? Order a cocktail, ASAP.
Room Service. Room service was a godsend for us on a couple occasions. You can order it for breakfast, so the kids are buys while you're getting ready. We ordered it for lunch once, when we stayed at the pool a little too late and the boys started melting down. We also ordered it after we came in from a port and still had a couple hours before dinner. A couple sandwiches split between us was perfect to hold us over. Room service is free on Carnival cruises, you just need to give a tip. 
Sea Day Breakfast. It does get busy in the main buffet areas at peak meal times. Carnival has breakfast in the dining room where you eat dinner on the days that you aren't at a port. It was nice to sit and order food, instead of carrying the trays and kids through the crowds.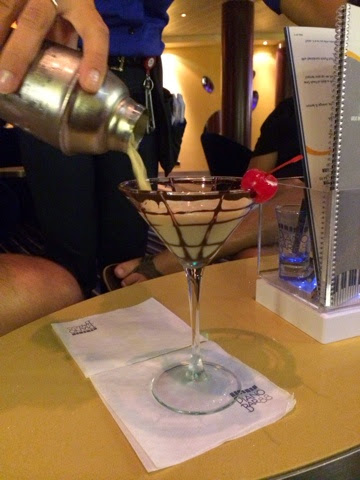 Packing. If you plan to be out the whole time at the port, pack accordingly! I let the boys grab a box of cereal and another kind of snack at the breakfast buffet to bring off the ship with us. We even brought sandwiches one day that we didn't disembark until noon. Make sure you bring those water bottles, a change of clothes (just in case!), diapers, wipes and hand sanitizer. Oh, and don't forget your camera! 
Excursions. The excursions we did were amazing. You do have a limited selection if you have young children, though. If you are going to places that have beaches, maybe think about bringing some sand toys and just spending the day relaxing. We also did some type of tour of the island at every port. All were child friendly and stopped frequently, giving them a break. We didn't have a hard time finding something at every port we've been to. 
I think that cruising is a great family vacation. There is something for everyone to do, together and individually. There are family friendly shows and shows you can see while your kids are in their age appropriate programs. With pools, food, music, games, casinos and so much more, there's no limit to the entertainment! 
If you have specific questions about cruising or the Carnival Breeze we were on, ask away!