With Father's Day being just a few days away, I'm coming in last minute with some of The Hubs favorite things! These items can be shipped quickly or some with store pickup options to get a great gift in the nick of time!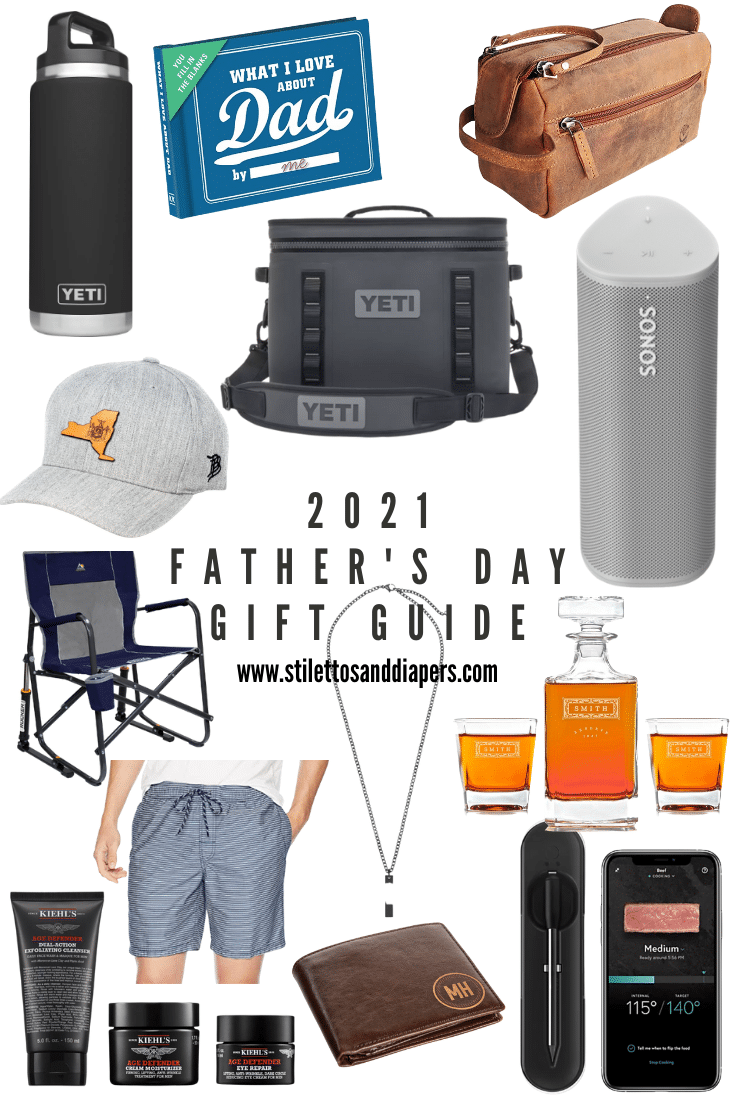 Father's Day Gift Guide 2021
Yeti Bottle – We're big Yeti fans and this is the most used cup by my hubby. It's large size makes it good for drinking from all day or to make a cocktail and It keeps drinks cold for so long!
What I Love About Dad Book – Personalized items are so fun to give. This is a great option to give from your little ones!
Yeti Cooler – This is THE BEST cooler. We use it on the boat all the time and after tons of research, decided this is the best size option. It's not so huge that it's super heavy, but holds plenty. They have some fun color options now, too.
Toiletry Bag – This is a really nice looking bag with great reviews! The one I got The Hubs is sold out, but he uses his all the time.
Branded Bills Hat – With tons of different color and patch options, as well as all the states, these hats are such an amazing gift.
Sonos Speaker – We have these all over our house, but now they have portable options! Great for a day on the lake, taking to the pool, or having outside while hanging in the yard. This one also syncs to your home system so it's usable for more than outdoors.
Folding Rocking Chair – We use these for ball games or anywhere you'd take a folding chair. They are so comfortable and are 100% worth the money!
Long Necklace – Chains for guys are a trendy thing right now and I am loving this dark gunmetal color.
Custom Decanter Set – I love a good decanter set and this one comes in lots of options for customization.
Shorts – Casual and stylish, these shorts are perfect for the man in your life. You can't beat the price either!
Skin Care – Women are all about their skin, but I think many men don't spend too much time on it. This line has an amazing mens anti aging line that will help keep your man's skin looking more fresh and youthful.
Wallet – Wallets are one of those things that get worn and need replacing. This customizable wallet is such a thoughtful gift!
Smart Meat Thermometer – We got one of these this year and it is literally amazing. You put it into whatever meat you're cooking and control it from an app on your phone. It gives you guides and photos to make sure your meat is cooked exactly how you want it. This is a great gift for making perfect steaks, burgers or any other meat you're cooking.