The adorable Melissa over at
Hanging with Mr. Cooper
tagged me. She is one of my new found bloggy loves, and has fabulous taste in baby names. Hehe.
Here are the rules.
1]. Go to your photos files and select the 8th photo folder.
2]. Select the 8th photo in that folder.
3]. Post that photo along with the story behind it.
4]. Then challenge 8 blogging friends to do the same.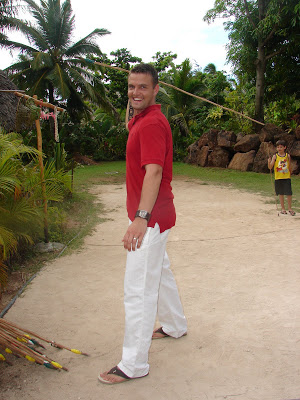 This is the hubs spear fighting on our trip to Hawaii last summer. It was the most amazing vacation ever. I want to go back. Now. Please?
I decided that I want to tag some new blog friends.
Monique @ Making Memories of Us
Suzanne @ So Stinkin Cute
Mrs. Dixon @ The Doll House
Molly @ The Fuchsia News
Nicole @ The Wallace Word
Jamie @ Pickled in Pink
Missy @ Life as Missy
Jimaie @ Jimaie.Marie
Y'all go meet these awesome gals!