Yesterday I had a Drs appointment. The Dr measured my belly, looked at the chart, looked concerned and measured again. Looks like this baby is trying to give his big brother a run for his money. I'm still measuring 5 weeks ahead. I am going for an ultrasound in 3 weeks so they can tell exactly how big the baby is. I know there is no way that I am off with my calculations, so I don't want them to push for me to deliver too early. They were talking about 36 weeks, but I think the hubs and I feel more comfortable at 38. We'll see what the u/s shows, but its looking like we may have an October baby!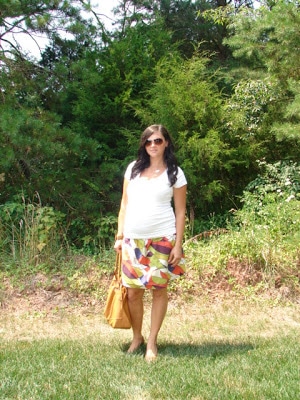 I feel like I am totally running out of things to wear, but I have no desire to buy more maternity stuff.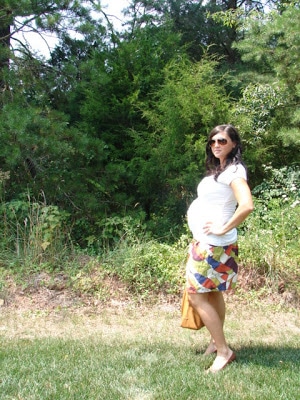 Wedgies! I am loving that this style is in so I don't loose my balance in high heels.
Remember this post where I revealed that this same "skirt" is not a skirt, but a maternity shirt? And now that I look back, I was like a second pregnant there and didn't know it. Must be a magical shirt. Hehe.
I'm a happy preggo, short and stout…
Size of baby: Same size as an eggplant
Maternity Clothes: Yes and regular one still, too.
Gender: Boy! A sweet, nameless baby boy.
Movement: Oh, yes. The hubs was laughing hysterically last night because he was kicking him so hard! Then he stopped and said, "Wow, that must be kinda painful on the inside, huh?" Ummm, yeah.
What I miss: Nothing now. I am overall enjoying being pregnant.
Cravings: Cheesecake frozen yogurt. Thank heavens we just got a froyo place 2 minutes away!
Symptoms: Hot, tired and breathless.
What I'm looking forward to:
Baby!!
Top: Liz Lange Maternity for Target
Shoes: Jonathan Martin from Ross
Purse: Nine West from Ross
Happy Weekend Y'all!