Happy first day of Summer! We've had summer warmth for several weeks now and I absolutely love it! I thought I'd share with you some of my favorite beauty picks for the summertime. I'm not a fancy beauty/makeup kinda gal and love me some drugstore finds. I'm not a pro, but these are things I absolutely love and use all the time.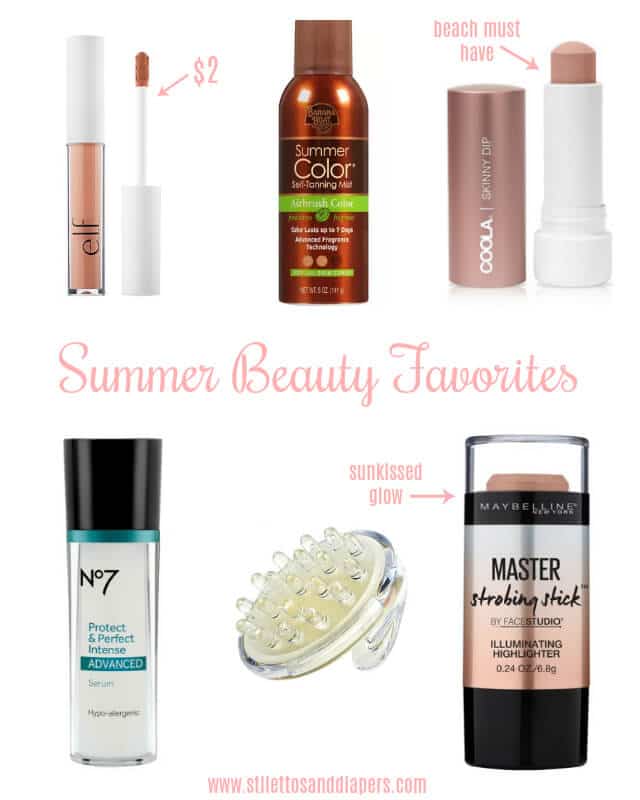 Elf Lip Lacquer – I wear this stuff every single day. I have the color natural and it's the perfect glossy nude.


Banana Boat Self Tanning Spray – I actually use this all year round and less in the summer, but it's the perfect way to get a little color before you thrown on that bikini. I spray it on, rub it in, then let it sit a few minutes before I put pjs on. The next morning, I have a light, natural looking tan. I seriously have never had any orange color from it.


Coola Mineral Liplux – This is new to me, but I am loving it for days on the lake or at the pool. I had a horrible sun blister when I was pregnant with Lincoln and I never go outside without SPF on my lips. This one is great because it has minerals in it, it exfoliates a bit and has a light tint. The color I have is Skinny Dip and it's a light nude.


No7 Protect and Perfect Intense Advanced Serum – I found a sample of this in my drawer from an Ulta order. I had just run out of my normal cream and thought I'd try it to hold me over. The little sample lasted 3 days and I was totally hooked. I have dry skin and this serum really moisturizes without clogging my pores.


Cellulite Massager – Don't y'all laugh at me about this, but I think this sucker is actually working. I've been using it for 1 week after seeing another blogger recommend it and while I've gotten some bruising, I can see a smoother appearance. Apparently the bruising goes away. The best way to treat cellulite is diet, but sometimes we can't all be perfect! I'm combining this with diet and exercise to hopefully get my legs back to how they were last summer after Whole30. Maybe I should just Whole30 again!

Maybelline Master Strobing Stick – Looking for that dewey AF look? Yeah, this is it. A little on your cheekbones and down your nose will give you the appearance of just leaving the beach. I don't notice it as much when I don't have a tan, but when I have a little color, I will often just add a swipe of this and call it a day.


I did see that Target has a $5 gift card offer when you spend $20 on beauty products and it works online! Whoop! Most of these products can be bought there, which is a total plus for me. And 5% when you use your RedCard. And no this post isn't sponsored by Target, or anyone else for that matter. Just love what I love and want to tell y'all about it!