It's Spring Break week! We start on Friday and man, the countdown is on. I just can't wait for it!
We kicked off this past weekend with an epic trip to BJ's with Brittany. Have you ever shopped with a friend? Let me tell you. It was WAY more fun than normal shopping! We both have growing little ones and piled in a ton of groceries. Although, my cart looks like that every week!
Saturday was finally the first day of baseball for my boys! We've had a lot of rainouts and field closures that delayed us a bit, so Callan's t-ball game started it off for us. He did a great job and absolutely loves baseball like the rest of us.
Cooper's game was next, requiring a bit of parent shuffle and car picnics. He played great and they won 10-6!


The Hubs is coaching both of their teams this year and of course chose for both teams to be the NY Mets. This is the first year he has head coached both of them and I couldn't be more proud of all my Met boys. I'm also so grateful for a husband that is willing and able to coach because I've heard horror stories of terrible coaches. He wasn't ever one of those people that loved little kids when we first started dating. Fatherhood has changed him a bit I guess, because he is so amazing with all the kids.
Sunday afternoon, it was sunny and we had to get out on the lake!
Callan did his typical naptime…


While Cooper hung out awhile, then got on the tube. The water is still freezing and I can't believe he went out there!
The one who really needed to nap was too busy yelling "weeeeeeeee!" off the front of the boat. He's going to love this summer!
This week is a really busy one around here, with baseball practices and games, a fun day I'm volunteering for at Callan's school (and also making a costume for him!) and I'm the coordinator for our neighborhood Easter Egg Hunt on Friday. We have 115 people rsvp'd already and I can't imagine that it won't be chaos!


We'll be coloring eggs at some point and I'm hoping to get some baking done. I'm planning to make these bird's nests that I made for an Easter party a few years back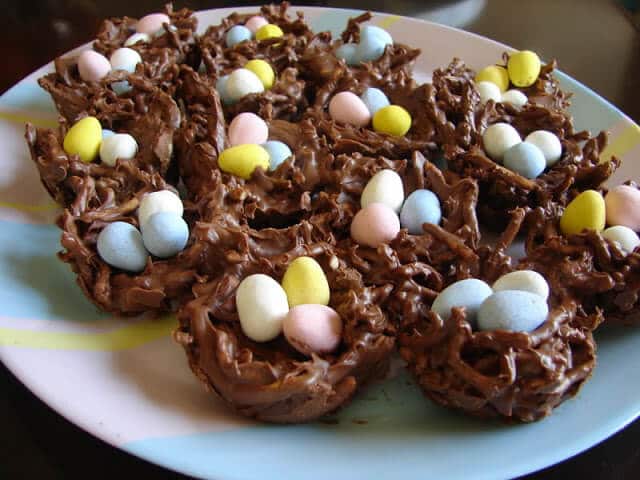 I'm going to be making my favorite Lemon Cheesecake bars for Easter Sunday and might even throw in some Easter Egg Cake Pops that I've made before. They're too cute!


We're heading to the beach for a few days over spring break and I can't wait to get away!


What are your Easter plans? Anyone have good recipes I need to try?