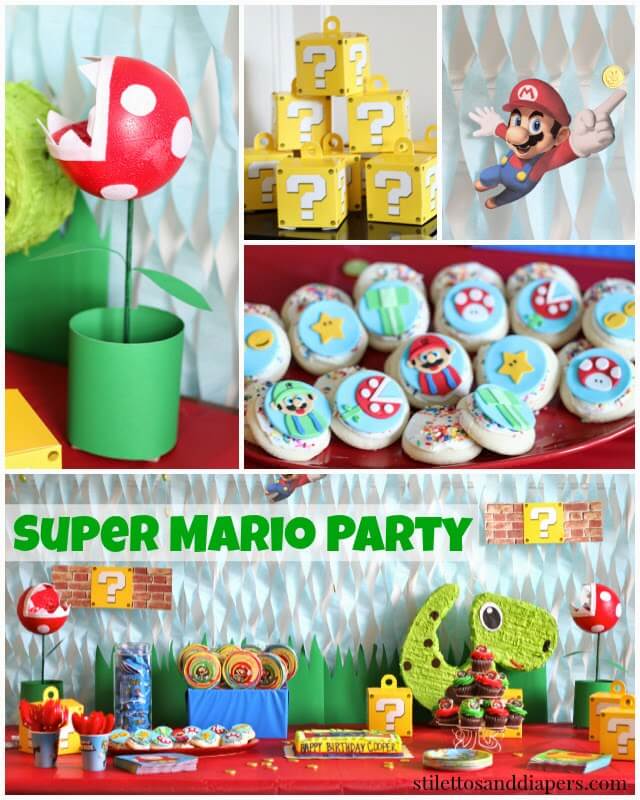 Cooper's 6th Super Mario Birthday Party was one of my favorite ones I've ever done. It honestly didn't take that much work and was so, so cute!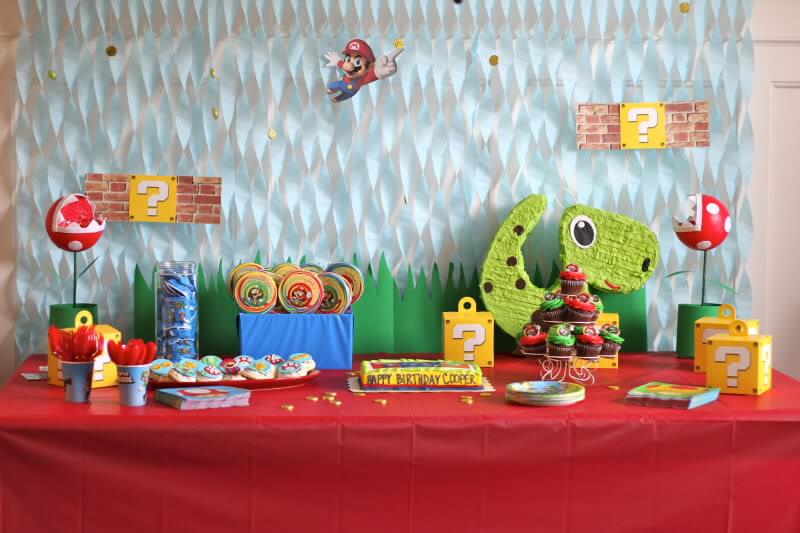 I covered the wall in strips of streamers, then twisted and taped them at the bottom. The grass is cut out of poster board and taped to the back of the table. The game pieces (which I think added lots of character!) on the wall are made out of the treat boxes cut apart and brick scrapbook paper. I made the piranhas and will post a tutorial soon. Pretty easy and a fun project! Add some chocolate gold coins hanging from the ceiling and Mario printed on cardstock and the scene is set!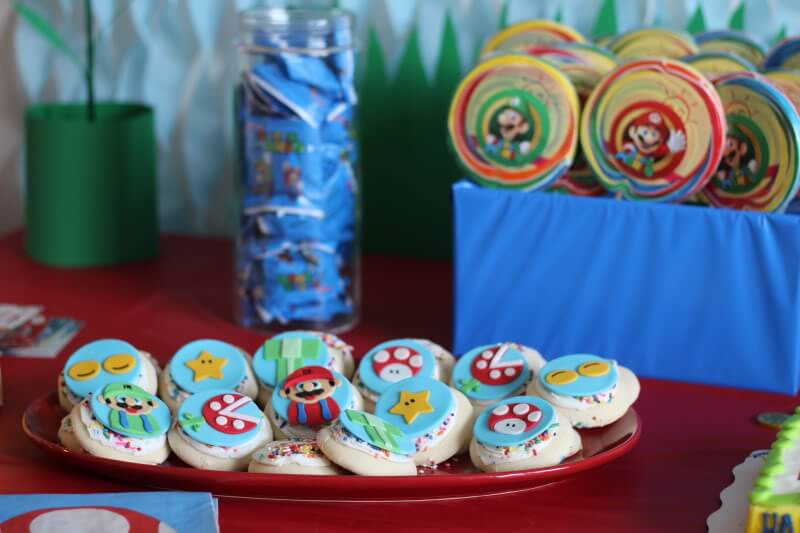 Y'all. Look at these cookies from Sugared Up. Are they not the cutest things you've ever seen?! I was SO excited when I picked these Mario toppers up. You can put them on cookies or cupcakes. The detail is amazing and they ship these toppers all over the US, individually wrapped and safe in bubble wrap. You have got to see the rest of their work, too. (Theres even Frozen ones now!)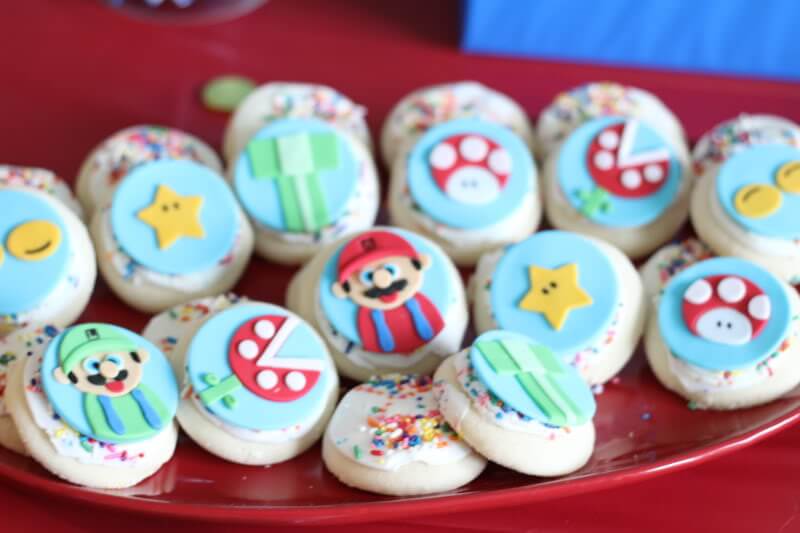 These little boxes made cute decorations and the kids then used them to put their candy from the piniata in.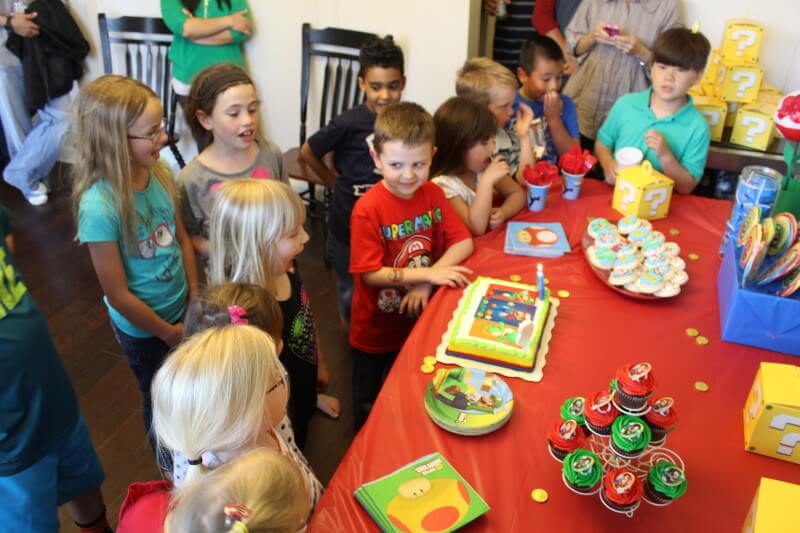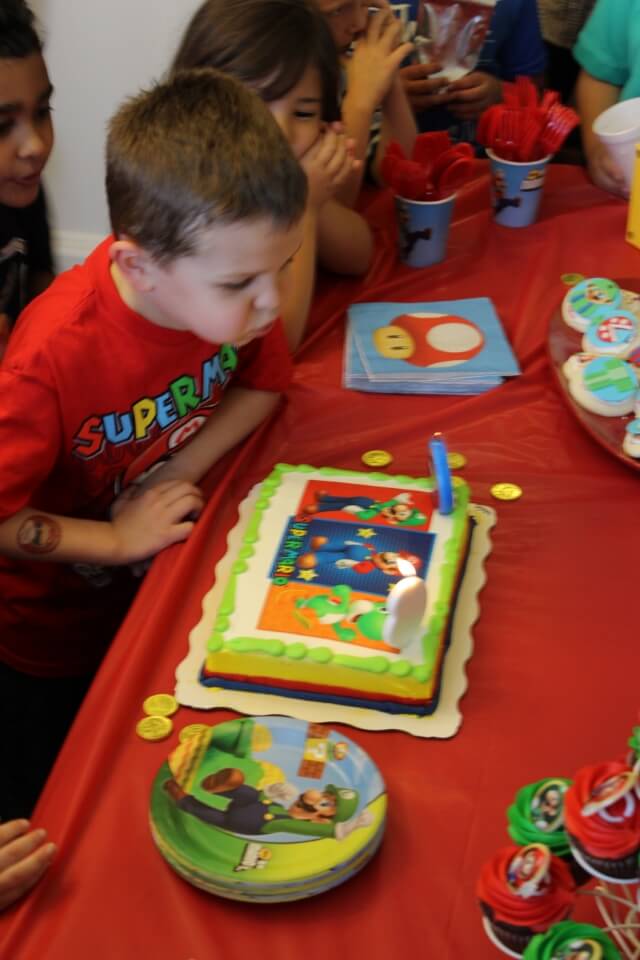 Now, lets talk party logistics. I think the rule applies to most schools, but here if you invite one kid from class, you have to invite them all. This means invites went out to 19 kids. Which also means I was terrified for my house's well being. So I contacted Astro Jump North Charlotte and got set for a big bounce house in the backyard. Well, the weather had other plans and we got rain on and off all day long. When I spoke with the owner the day of the party, he probably sensed the sheer terror in my voice. It wasn't safe to do an outdoor bounce house, so he got us a smaller bounce house that fit in our garage. It ended up being so perfect.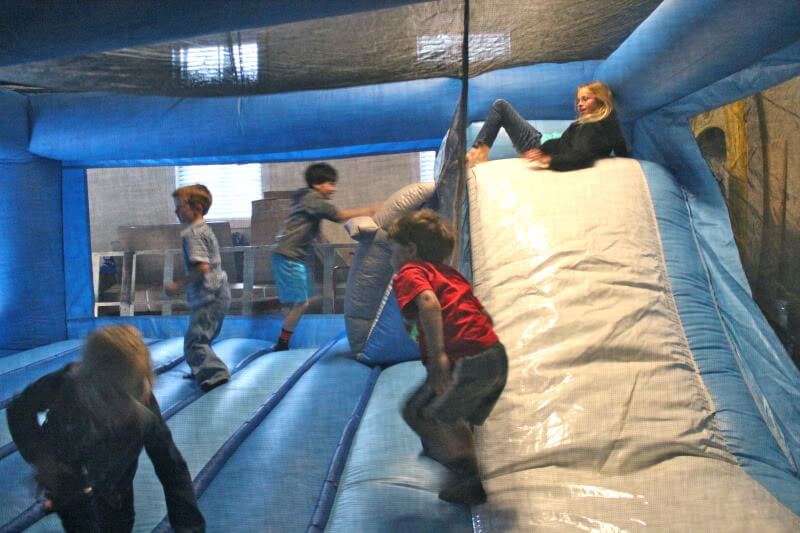 If you are anywhere in the Charlotte area, contact Astro Jump for your next party or event. They were fantastic to work with and have obstacle course bounces, water slides and lots more fun for your party. This was our second year with a bounce house and I don't think I'll have another birthday party without one anytime soon!


I can't believe my baby is 6!! Happy Birthday, sweet boy!



As you'll see below, I hit a little Mario jackpot at Walmart. They were the only bakery that had a Mario cake around here and I found some other stuff while I was looking there.
Here is where all the goods came from:


Cookie Toppers: Sugared Up
Cake and Cupcakes: Walmart (You can buy the rings on the cupcakes from Amazon below if you want to make your own)
Bounce House: Astro Jump North Charlotte
Lollipops: Walgreens (they were $0.99)
Piniata: Walmart (not technically Mario, just a baby dinosaur that passed as Yoshi)
T-Shirts: Walmart
Scrapbook Paper: Michaels (brick decorations on wall)

Everything Else: Available from Amazon