There's nothing better than a delicious meal that's super simple.
Am I right, mommas!?
This easy breakfast dish is perfect to prep in bulk for rushed mornings, or to eat as brunch on the weekend. I'm a big fan of cooking breakfast in big batches so that our mornings are less rushed. I have a few recipes that are go-to's for us and this one is going right into our rotation. I think the pretty basket-like shape makes it a great choice for Easter morning, too!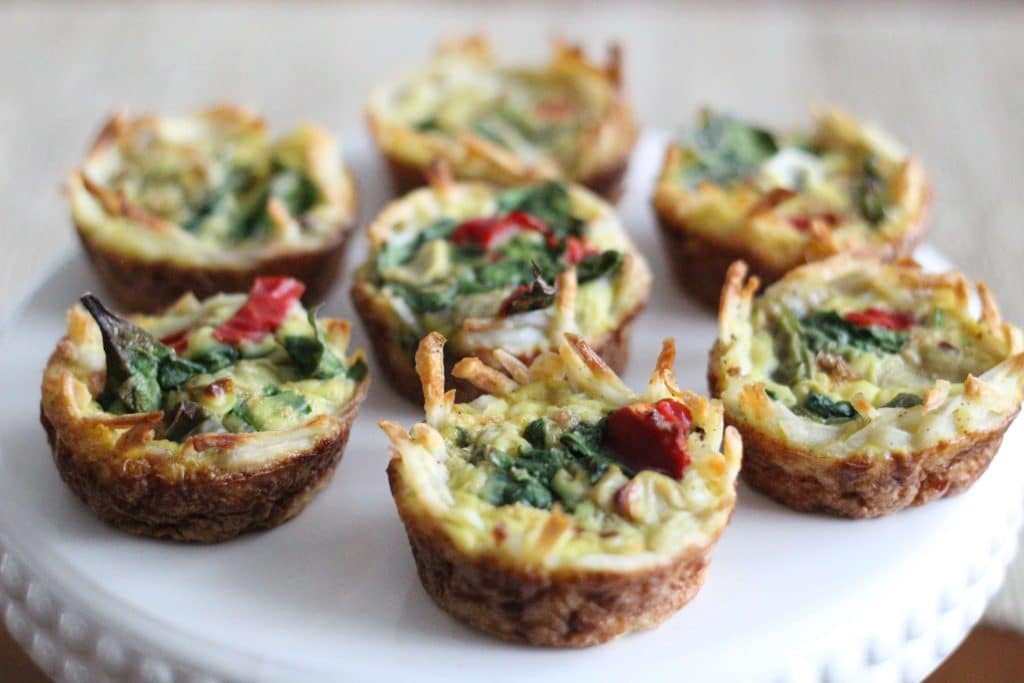 4 cups shredded potatoes (you can use fresh or compliant defrosted frozen hash browns)
6 eggs, divided
3/4 tsp salt, divided
1/2 tsp pepper, divided
1/2 cup chopped spinach
1/2 cup peppers, diced
1/4 cup onion, diced
Preheat oven to 400 degrees. Spray a 12 cup muffin tin with olive oil spray.
In a large bowl, whisk 1 egg, 1/4 tsp salt and 1/4 tsp pepper. Stir in hash browns. Divide into muffin tins, pressing into bottom and up the sides. Bake 15 minutes, until the edges are a golden brown.
Whisk remaining 5 eggs, then add spinach, peppers, onion, remaining 1/2 tsp salt and remaining 1/4 tsp pepper.  Divide evenly into prepared crusts and bake 10-15 minutes, until toothpick comes out clean. Let cool 5 minutes in the pan, remove carefully and serve warm.
(If you wanted to add cheese, you could put 1/4 cup in the potato mix and 1/2 cup in the filling.)
If you like Whole30 or want to try another easy breakfast dish, make sure you check out my
Prosciutto Egg Bake
! It's one of our family favorites. I have lots of
meal plans and recipes
posted if you're interested in some healthy new meals to try out. I love mixing it up in the kitchen and adding plenty of new things into our rotation!