We had a fun, long weekend, with Cooper having yesterday off school. It's amazing what one morning of not having to wake before sunlight to drag littles out of bed, make breakfasts and pack lunches can do for a momma! I'm finally feeling more like myself today, after 10 days of a miserable cough and cold. I don't know how people with the flu do it, because this crap is awful!
Cooper had been asking for "date time" with each of us individually. I love when he wants that and we've been making more of an effort to do it. Him and the hubs went out kayaking around the lake on Saturday and sent me this pic. I watched trashy TV for the duration of nap time and caught up on some serious, much needed relaxing time.
On Sunday, we went to church on a gorgeous 60 degree day. It was so spring-like, that I had to bust out all the pastels.
Sunday afternoon was my turn to go on a date with Coop. He had been telling me that he wanted to take me to see Annie since it came out. I wanted to take him to see something he actually wanted to see, but it wasn't working. It was "my special day" according to him. Sweet boy. We saw the movie, then stopped for cookies and cannolis afterwards. He held my hand without me asking and was over the moon polite and obedient. Seriously, a dream come true.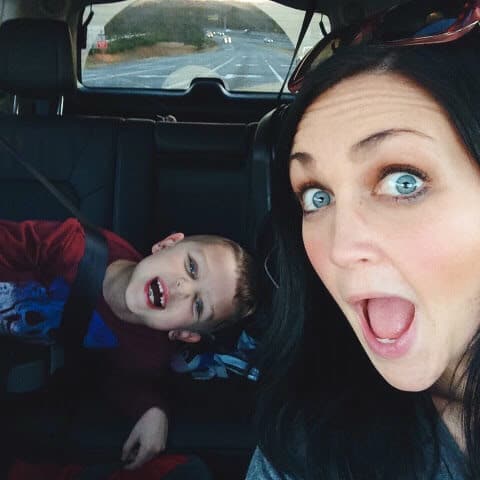 Monday, we got to go to the Charlotte Hornets game with Cooper's Junior Hornets team. It was fun, although the seats were so high up in the stadium, I was terrified of letting the boys alone!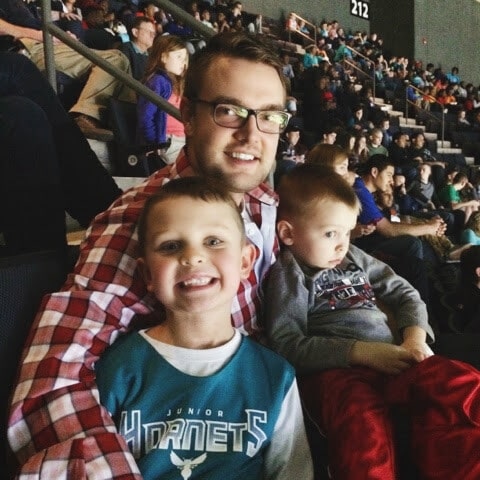 It was another gorgeous day and really felt more like fall than winter. I love living here in Charlotte!
Hope you all had a fantastic weekend! I'm off to tackle 5 loads of laundry that made it's way to cleanliness, then into a pile on my couch. Worst chore eveeeeeer.