A complete guide to your Hilton Head family vacation 2020! Where to eat, what to do, where to stay and how the crowds were!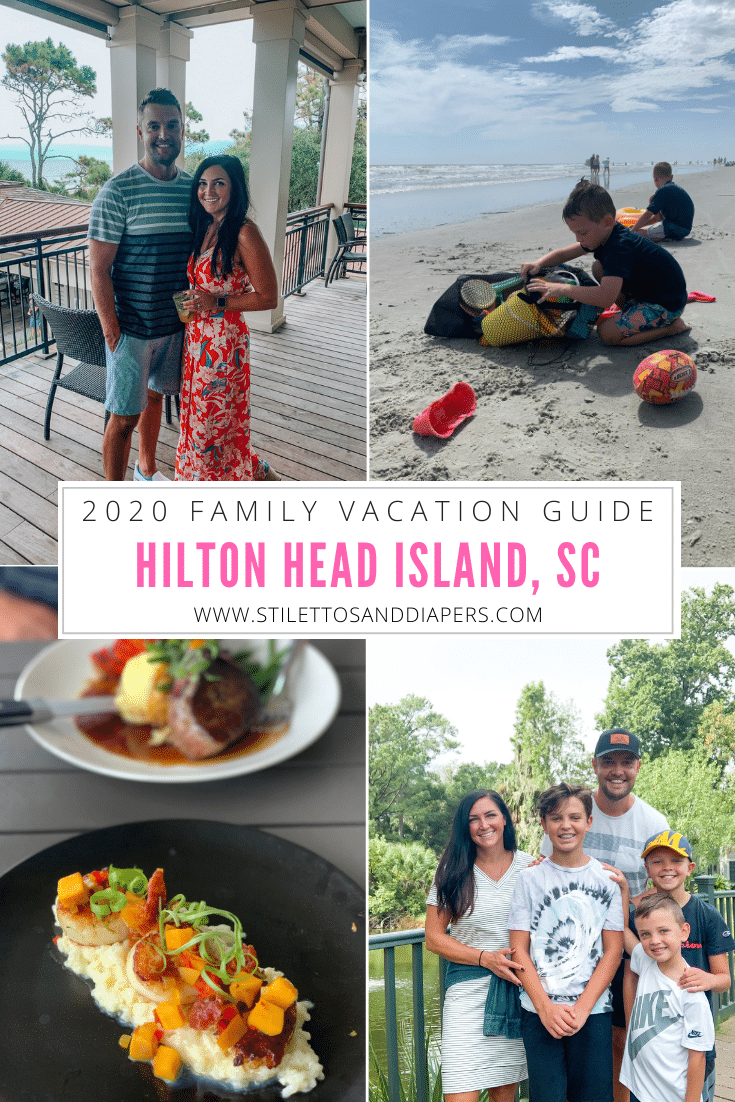 What a wonderful trip we had getting away to Hilton Head Island last week! We made a very last minute choice to shift gears and get some beach time in with our little crew and it was so needed. We booked a house and were in the car in less than an hour! The Hubs and I took a trip to HHI 3 years ago and were so excited to get the kids back. After our trip there last year for Spring Break, we were all in love and knew it would be somewhere we will visit as often as we can! If you're looking to take a trip to Hilton Head Island, here are all the things we did and suggest for your family!
About Hilton Head
Hilton Head Island is an island off the southern coast of South Carolina. It's made up of several individual "plantations" that have their own feel, hotels, beach access, etc. This time, our house was in Shipyard and I really liked the feel of that plantation. It's covered in bike trails, is in a close proximity to the popular shops and restaurants, but has a private beach area.
Covid Precautions
We got really nervous that South Carolina might not have the same precautions as here in North Carolina. They have been a bit more loose overall with their restrictions, but we felt very safe in Hilton Head. The island itself currently has a mask mandate for indoor places, plus I saw a lot of people wearing a mask while passing on tight boardwalks to the beach, or crowded park areas. That said, we never felt like we needed our masks, outside of walking into restaurants or grocery stores.
Where We Stayed
We knew we wanted to stay longer than we did last year and also knew we wanted a house instead of a hotel. It's really just so much easier with a family, plus you aren't having to be passing people in elevators and hallways. The options were honestly limited with such short notice, so we didn't have very high hopes for the condo we booked. We were SO pleasantly surprised when we pulled into the grounds of Shipyard. Our condo was in Evian, a neighborhood of Shipyard. It was about 1 mile to the beach access and overlooked the golf course. There was a big master bedroom and bathroom, a second bedroom with a queen and twin bed, a second bathroom, a living room, dining room, well appointed kitchen and covered and uncovered portions of the balcony. The house was clean and exactly what we had hoped for!
Day 1
When we arrived, our bikes had already been delivered from Hilton Head Bike Rental. We got 4 bikes and a bike trailer and the total was under $100 for the whole time. I couldn't believe how affordable it was! The bikes turned out to be amazing because we not only had so much fun riding on the plentiful bike paths, but we loaded up the trailer and baskets and rode to the beach. You can ride bikes on the sand and since it's hard packed, it's not difficult at all. There is a 22 mile bike trail around the whole island, plus tons of trails through each plantation. You do have to be careful as the trails cross back and forth across streets sometimes.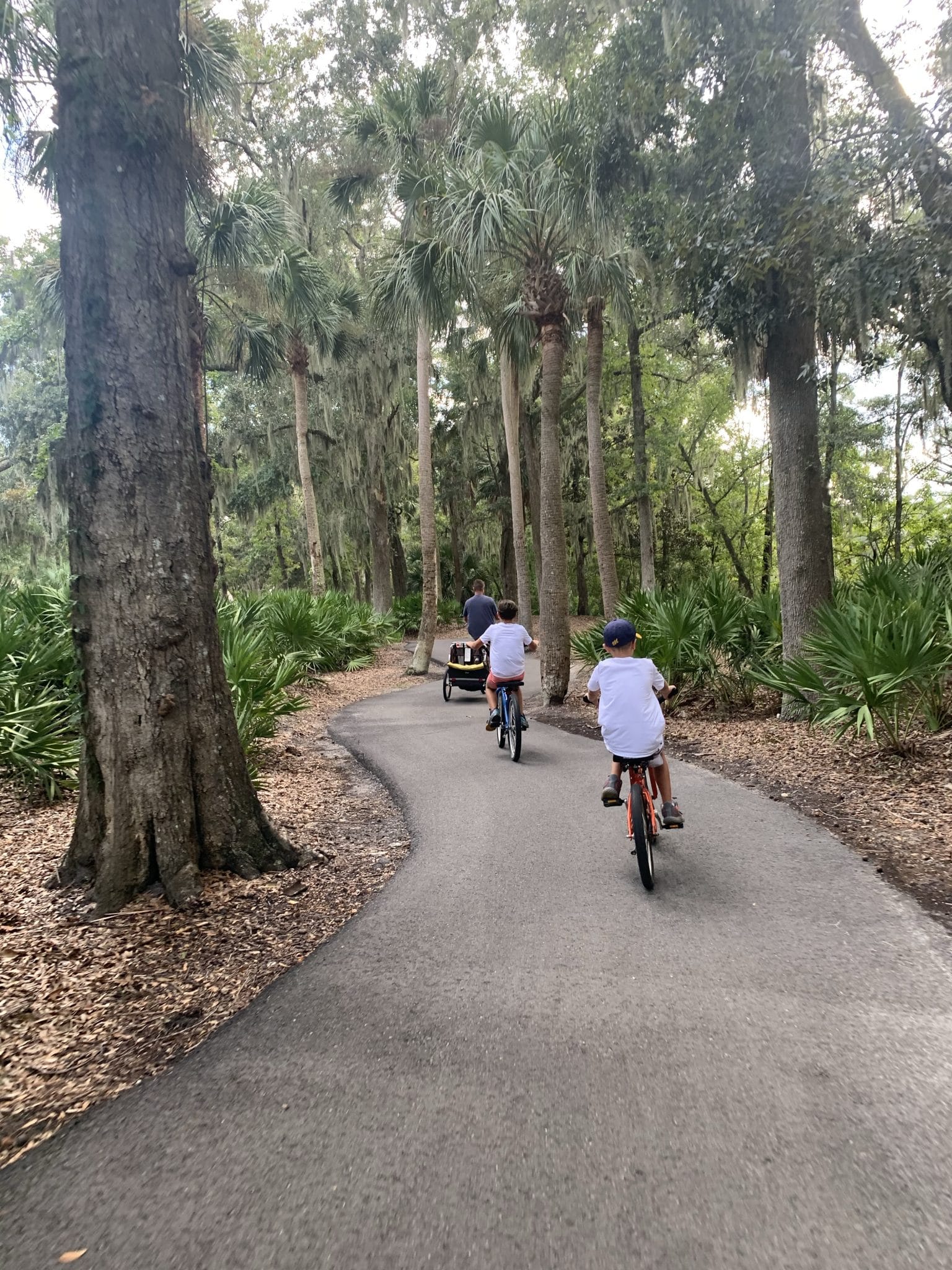 We searched for the best pizza on Hilton Head and after unloading the car, went to grab a few from Dough Boys. The pizza was really good and we were able to store leftovers in the refrigerator and eat on them for the next couple of days!
Day 2
The next morning, we packed up for the beach. The beach access point in Shipyard is nice, with bathrooms and showers to rinse off, plus chair rentals on the sand. It was a bit crowded right at the entrance, so we just rode just a couple minutes down to a very quiet spot. The kids had a blast building sand castles and swimming while The Hubs and I did some serious relaxing.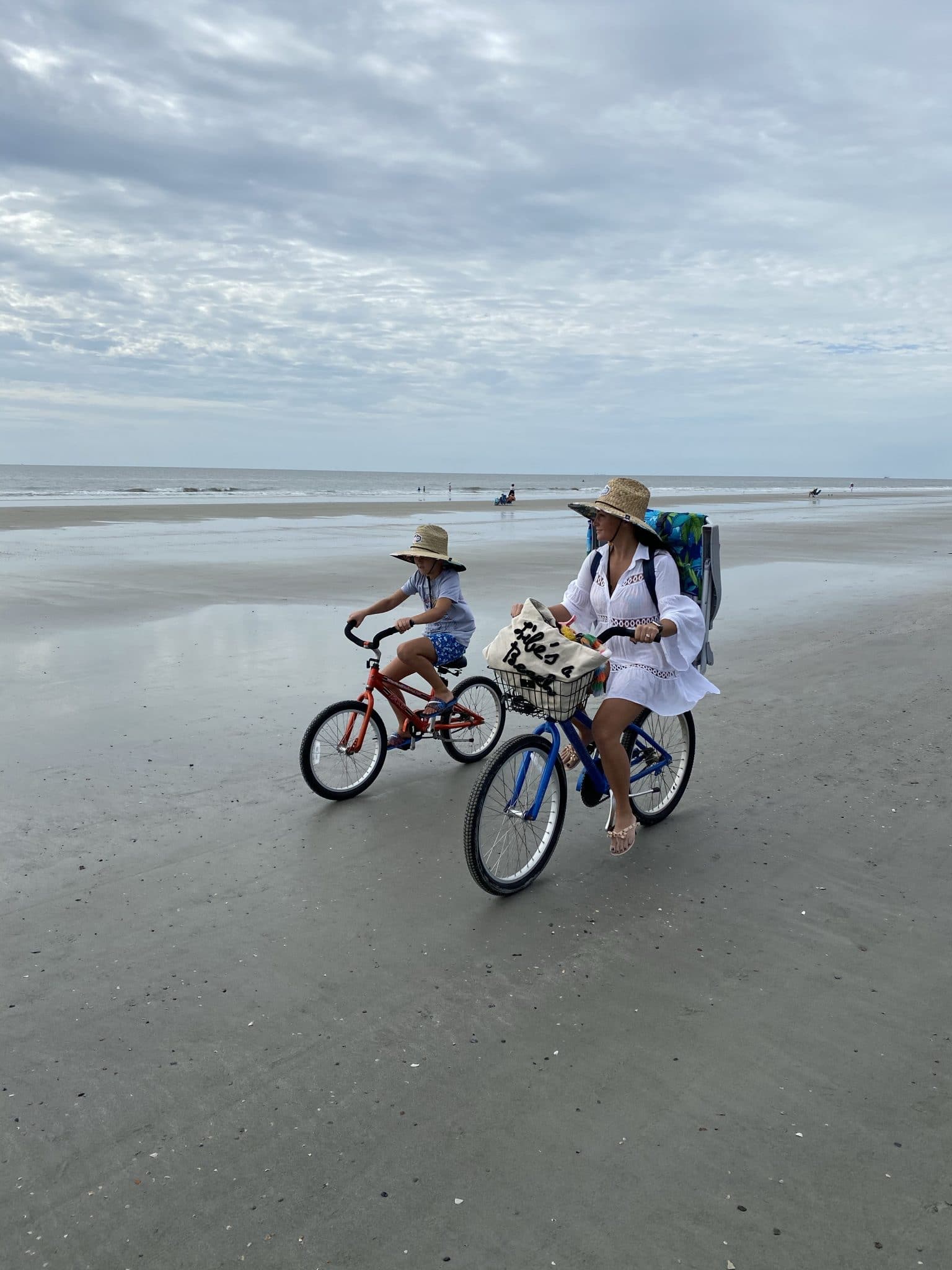 That night, after a recommendation from Brittany, we went to Coast in Sea Pines. You do have to pay $9 to enter Sea Pines, even if you do have a reservation. I tell you this because it's cash only and we dug up some change to just get to our reservation in time. Hehe. They currently only offer outdoor dining and it was dreamy. There was live music, views for days and absolutely incredible food. I can't recommend this place enough!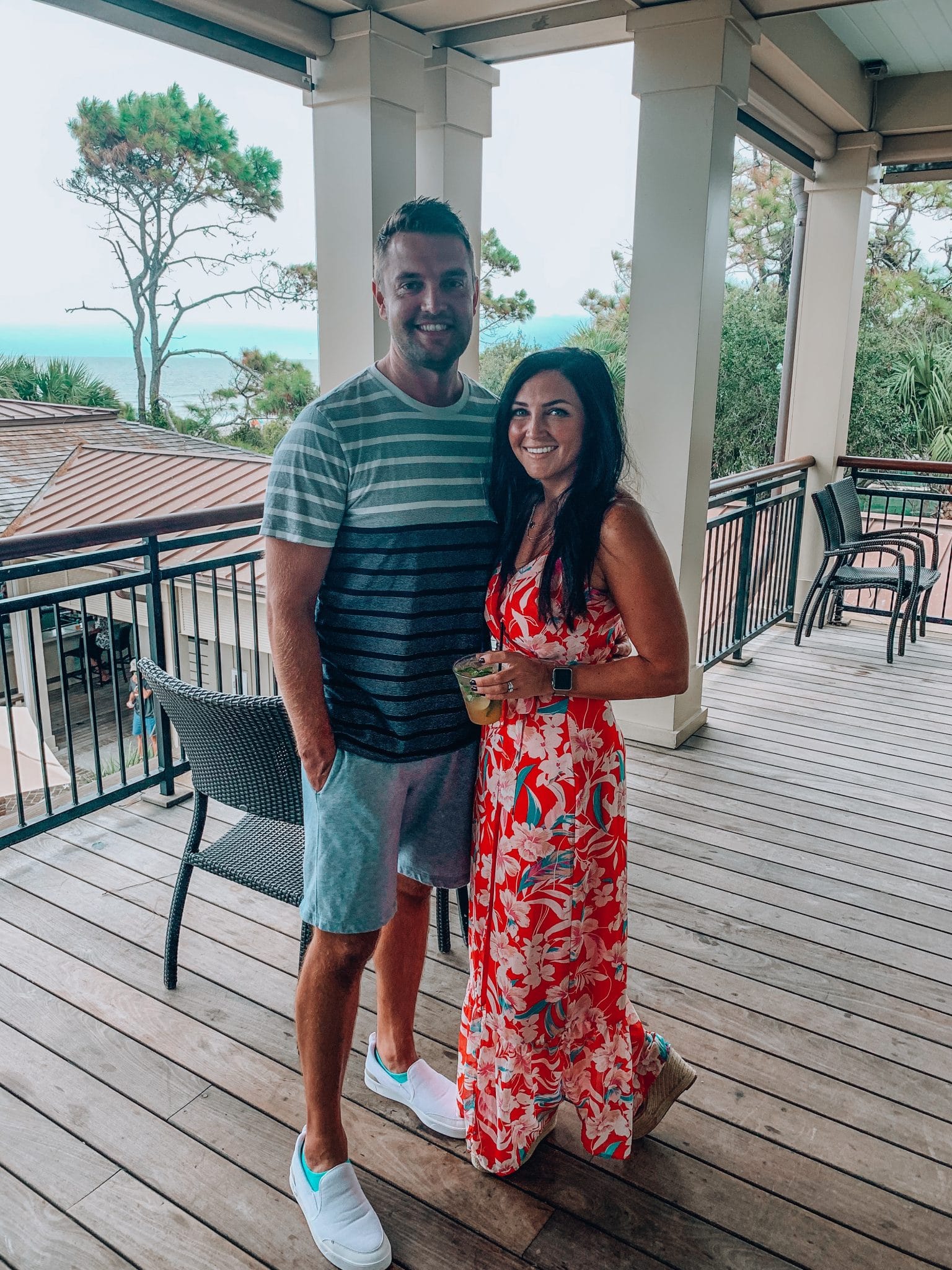 Day 3
The boys had some school and The Hubs had some calls, so we spent the morning being productive. After lunch, we took off back to the beach for a bit. I was pleased to find the same, non crowded section just down the beach, even though it was afternoon by then!
Everyone wanted burgers for dinner and a quick search brought us to Charbar. They've won best burgers on HHI several years and also have a good sized sushi menu. I had their Baja Chicken Wrap with rosemary truffle fries and a strawberry bourbon lemonade. To say I was a happy girl was an understatement! Our table was outside, right next to the live music stage and Lincoln cheered between every song. Since our house was so close, we biked to and from dinner, which was really fun!
Day 4
We had heard from friends about alligators in the lakes around, so we set out to find them! I've actually never seen a gator before and never need to see another again! But the boys thought it was really something special.
We worked up an appetite from our morning walk, so we went to grab brunch at Watusi. Another Brittany suggestion! I put our names on the list online, so when we got their, we only had to wait about 5 minutes. The people behind me were told 45 minutes, so I suggest putting your name on the wait list ahead of time! Everyone loved their breakfast and it kept us full until we were home for dinner!
Scattered through the trip, we took several bike rides, played a lot of our favorite games (Ticket To Ride, Sequence and Kids Against Maturity) and made plenty of good memories. I can say for a fact that we will be back to Hilton Head in the future!
If you have a favorite place in Hilton Head, feel free to share it so others can see! I also have a travel highlight on Instagram if you want to see more of the trip!